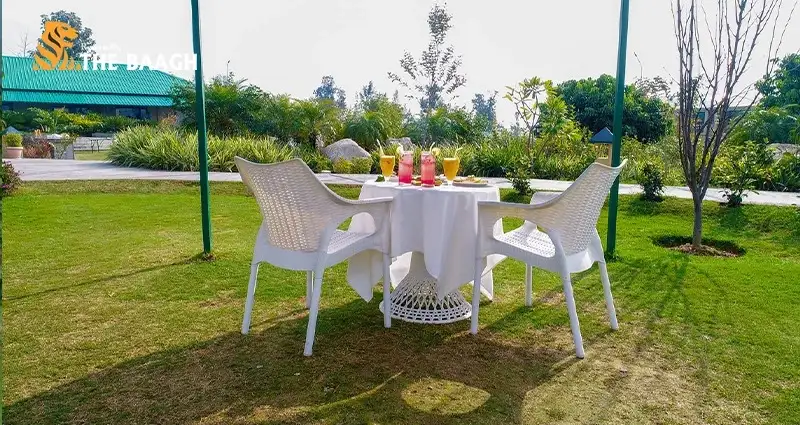 August, 01 ,2023
What Resorts By The Baagh Hospitality Has To Offer
Wouldn't it be amazing if you could enjoy the excitement of navigating Jim Corbett's stunning forested landscapes without the hassle of planning and prepping? It's certainly feasible! Visit the best resorts in Bhimtal and enjoy the benefits of a comprehensive stay experience. This place is a haven of mystical natural beauty nestled among the picturesque hillscapes of Uttarakhand. A walk into the marshy woodlands of Bhimtal, known for its eye-catching flora and animals, is nothing short of an extraordinary and thrilling experience.
Don't you enjoy relaxing in the lap of luxury while sightseeing and discovering new and beautiful sights? Resorts By The Baagh is a vibrant and attractive resort in Bhimtal, ensuring your vacation is memorable and unforgettable. Are you unsure whether investing in luxury Bhimtal Resorts is worthwhile? On the other hand, the benefits of a luxurious stay quadruple the experience of exploring the gorgeous hillscapes of Bhimtal. Are you looking for additional reasons? Let us now read:
Why Are 5-Star Hotels The Best Of Their Kind?
Unsurprisingly, cheerful and five-star hotels exquisitely cater to every guest's requirements and aspirations. The resorts include distinctive and exquisite attention to detail and top-tier architecture adorned with cutting-edge facilities and furnishings. Resorts By The Baagh is no exception. Vacationers can enjoy an exciting escape at the premium hotel in Bhimtal. Are you eager to discover more about the benefits and services available at Resorts By The Baagh? Here are a few examples:
1. A perplexing concept
Resorts By The Baagh provides a lovely and opulent spread in the middle of the charming valley. Enter a world of exquisite pleasures, breathtaking views, and world-class hospitality at the magnificent resort. Choose from three various categories of lively suites and rooms and bask in the pleasures of breathtaking alpine vistas, verdant heights, and sunrises as dreamy and charming as a picture.
2. A culinary adventure
A rich feast of gastronomic goodies prepared by top chefs offers a fantastic and tasty holiday experience. Feast on delectable and special cuisine and spoil your taste buds while nestling in the embrace of luxury and peace.
3. Unrivalled hospitality
Do you know what distinguishes the best resorts in Bhimtal from conventional accommodations? The guests were treated with cheerful hospitality and service. Enjoy the convenience of services at your fingertips, a variety of rapid in-room services, and exceptional guest experiences.
4. Luxurious extras
Do a comfortable and fluffy bed, a cutting-edge LED television, a mini-fridge, and a cozy tea or coffee nook sum up your notion of a luxury stay? When you live in Resorts By The Baagh, you can do so much more. Enjoy the conveniences of private sit-outs and amenities such as in-room laundry services, dining alternatives, and so on. Furthermore, the opulent premise's plethora of recreational activities vastly improve your stay experience. Here's what you can look forward to:
A luxurious and revitalizing spa treatment
A beautiful pool to swing by, swim in, or relax in.
A well-equipped amusement center where you may enjoy indoor gaming, board games, and other activities.
A sophisticated and well-equipped business center for holding meetings and formal seminars.
Grand and elegant banquet halls for weddings and other special occasions.
In a nutshell, luxuriating in Resorts By The Baagh's beautiful and large rooms is out of the ordinary. You have no idea how difficult it is to find the best resorts in Bhimtal. The charming and magnificent burrows of Bhimtal are less well-known than the bustling metropolis of Nainital. A stay at the sumptuous and gorgeous Resorts By The Baagh is certainly one of a kind if you enjoy hanging hats in calm and wondrous valleys.
Bhimtal Tourist Attractions
The lovely mountain slopes of Bhimtal are home to exquisite landscapes and landmarks inspired by the legendary and mythological character of Bheem. Do you want to learn about some of Bhimtal's tourist attractions? Let's have a look:
Bhimtal Lake - Did you know that this stunning salty water lake is the largest in the whole Kumaon Himalayas? The lovely body of water, nestled at an elevation of about 4500 feet, provides a breathtaking panorama. Relax on the lake's shores or take part in the daring activities available here.
Aquarium - Do not confuse the well-known Bhimtal aquarium with any other. The dazzling aquarium is home to uncommon and rare species brought from several countries. Furthermore, the view and ride to the aquarium, which is located on a small island in the Bhimtal Lake, are breathtaking.
Bhimeshwar Hindu Temple - Bhimtal has far too many temples, making it one of the top pilgrimage destinations in Uttarakhand. Tourists come to see the magnificent architecture of the Bhimeshwar Mahadev temple, which is located on the banks of the Bhimtal Lake.
When traversing the hilly heights of Bhimtal, there are plenty of other locations to visit. Don't forget to look at the best luxury resorts in Bhimtal to round up a relaxing vacation.
By: Resorts By The Baagh