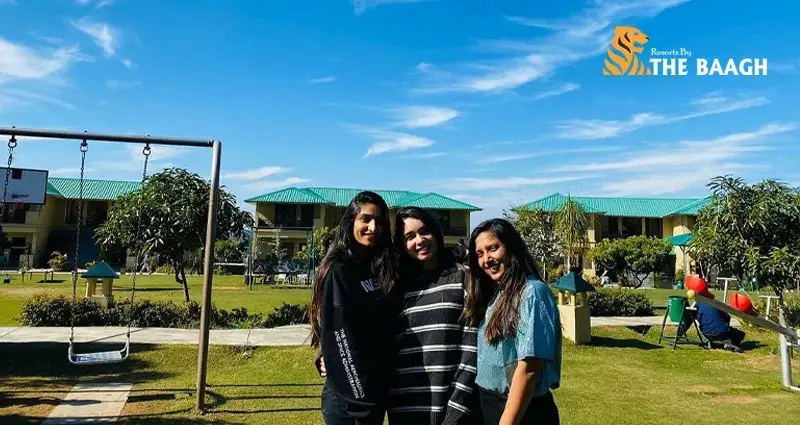 August, 29 ,2023
What Are The Best Locations In Bhimtal For Corporate Team Outings
With its outstanding natural beauty and serene settings, Bhimtal is a great place to hold business gatherings. Bhimtal, which is located in the Kumaon area, offers a tranquil retreat from the hectic, busy city life and a revitalising setting for successful business meetings. The beautiful Bhimtal Lake and the surrounding verdant hills provide a calming and inspiring environment that encourages creativity and teamwork among visitors. A flawless event experience is guaranteed by the area's selection of top luxury resorts in Bhimtal, with the most outstanding conference facilities, where attendees may participate in seminars, talks, and team-building activities. Bhimtal is the destination for you if you're looking for a setting for your prosperous and fun-loving event tour. Curious about it! There are many reasons, but Bhimtal's most vital feature is that it offers an alluring fusion of breathtaking landscapes and contemporary conveniences; for this reason, Bhimtal certainly emerges as an alluring option for holding successful and unforgettable corporate events.
Bhimtal: The Ideal Location For Successful And Enjoyable Corporate Tours
When it comes to holding business gatherings, the perfect venue may make or break the event. Bhimtal, a tranquil town in Uttarakhand's Kumaon region, offers a unique amalgamation of natural beauty and modern conveniences, making it an outstanding choice for holding unforgettable corporate events. From its stunning scenery to its well-equipped best resorts in Bhimtal, Bhimtal offers all you need to ensure the success of your next business event. Here are a few examples to help you understand why Bhimtal is the greatest spot for a corporate visit.
Breathtaking Bhimtal is known for its stunning beauty
The stunning beauty of Bhimtal is characterised by a clean lake surrounded by lush green hills. The serene ambience provides guests with an environment favourable to relaxation and attention, giving a pleasant getaway from the rush of daily life. The tranquil settings may considerably promote team cohesion and creativity during business vacations.
End Number of Venues:
The area features various best resorts in Bhimtal, ideal for many types of corporate gatherings. The town provides alternatives for varied event sizes and requirements, from luxury resorts with spectacular high-tech conference facilities to lovely lakeside getaways. These locations are ideal for conferences, workshops, team-building exercises, and other events.
Activities for Adventure and Team Building:
Bhimtal's natural landscape provides several chances for adventure and team-building activities. Trekking, boating, and nature excursions may be smoothly integrated into business agendas, fostering team cooperation, problem-solving, and leadership development in a fun and engaging way.
Professional Services and Cutting-Edge Technology:
Bhimtal is surrounded by nature, but it does not lack contemporary infrastructure. When you book a business tour at one of the top luxury resorts in Bhimtal, you will receive professional services such as audio-visual equipment, high-speed internet, and spacious conference rooms. This guarantees that commercial transactions go smoothly while also providing a sense of elegance and comfort.
Note:- This depends entirely on the type of resort you choose, so do your homework!
Peace and Focus:
Bhimtal's tranquillity provides for a concentrated setting that promotes productivity and concentration. Away from the distractions of city life, guests may participate in in-depth conversations and brainstorming sessions, resulting in more meaningful solutions.
Local Culture and Delectable Cuisine:
Incorporating local features into business events may give a distinctive touch. Bhimtal's rich cultural past and delectable food may be included in the event experience, giving participants a sense of the local way of life and flavours.
After reading these pointers, I hope your thoughts will surely agree on the location. Nobody can deny the beauty of Bhimtal. So, now that you've decided on a location let's look at the best resorts in Bhimtal for your business excursion, where you can relax and enjoy the greatest amenities.
"Resorts By The Baagh: An Ideal Retreat For Corporate Team Outings"
Corporate team building fun-loving activities are an important part of developing a cohesive and engaged staff. Finding the ideal location that provides both leisure and team-building activities may be difficult. Enter "Resorts by The Baagh," a refuge created to meet the specific demands of business teams looking for an exceptional retreat from the stresses of everyday life.
Resorts by The Baagh, best resorts in bhimtal, offer an exquisite setting for team-building activities and leisure, nestled within lush nature and away from the urban turmoil. The tranquil setting sets the tone for a refreshing experience that promotes team building and friendship.
Cutting-Edge Technology:
The baagh bhimtal has cutting-edge amenities customised to business organisations' needs. Spacious conference rooms with contemporary facilities are ideal for meetings, presentations, and brainstorming sessions. Even in this peaceful location, high-speed internet access means that business never takes a second place.
Team-Building Activities:
The diversity of team-building activities at Resorts by The Baagh, one of the top luxury resorts in Bhimtal, sets it unique. The resort provides a number of entertaining alternatives that encourage cooperation, communication, and problem-solving abilities, ranging from adventure sports to trust-building exercises. These activities break the ice and build lasting memories that transfer into better collaboration at work. Continue reading to learn more about this resort's different types of activities.
Personalised Packages:
Recognising that each business group has different tastes and needs, Resorts by The Baagh provides personalised packages. The resort's flexibility allows organisers to build an experience that corresponds with their team's aims, whether a one-day team retreat or an extended weekend trip.
Culinary Delights:
The route to a team's heart is frequently through its stomach. The culinary selections at the resort leave no stone left in fulfilling a wide range of tastes. The meal experience is meant to feed the body and significant talks among team members, from extravagant buffets to themed dinners.
Relaxation & Wellness:
Resorts by The Baagh recognises the value of relaxation and wellness in the middle of all team-building activities. The resort provides a variety of spa treatments and wellness activities to assist team members in relaxing and recharging, allowing them to return to work with renewed vigour and focus. So, if you book Resorts by the Baagh, the top luxury resorts in Bhimtal, you may have a wonderful time with your friends by participating in the activities listed below.
Team Building Activities In Baagh Resorts
At Resorts by The Baagh, we provide various entertaining and team-building activities for corporate event attendees to enjoy during their downtime. Among the common choices are:
Outdoor Games: Compete in friendly games such as volleyball, cricket, badminton, and tug-of-war. These games foster teamwork and togetherness.
Nature Walks: Enjoy the beauty of nature by taking a leisurely stroll in our lush surroundings. It's an excellent way to unwind, clear your thoughts, and interact with coworkers.
Treasure Hunts: Plan an exciting treasure search throughout the resort grounds. This practice promotes collaboration, problem-solving, and strategic thinking.
Culinary lessons: Attend culinary lessons to learn how to create local foods. This encourages teamwork and creativity; you get to consume your tasty creations afterwards.
Participate in arts and crafts workshops such as painting, ceramics, or DIY projects. These events foster creativity and serve as a forum for staff bonding.
Team Challenges: Take part in various team-based activities such as rope courses, obstacle races, and team-building exercises. These activities promote trust, communication, and teamwork.
Bonfire Nights: Enjoy storytelling, music, and s'mores over a warm fire. It's a laid-back environment that encourages staff to unwind and socialise.
Host themed events complete with costumes and decorations. Such gatherings generate a dynamic atmosphere, encouraging employees to be free and have fun.
Yoga and Meditation: Provide yoga and meditation sessions to participants in order to help them relax, rejuvenate, and achieve inner peace. These techniques can improve attention and reduce stress.
Relaxation by the pool: Use the resort's pool area for some leisurely swimming, sunbathing, and informal chats. It's a terrific way to relax while taking in the scenery.
The secret to Resorts by the Baagh's success is providing various activities that cater to a broad range of interests and tastes. This guarantees everyone a good time while establishing a pleasant and collaborative workplace. Check out our website and book your stay immediately to ensure a happy and healthy staff.
By: Resorts By The Baagh