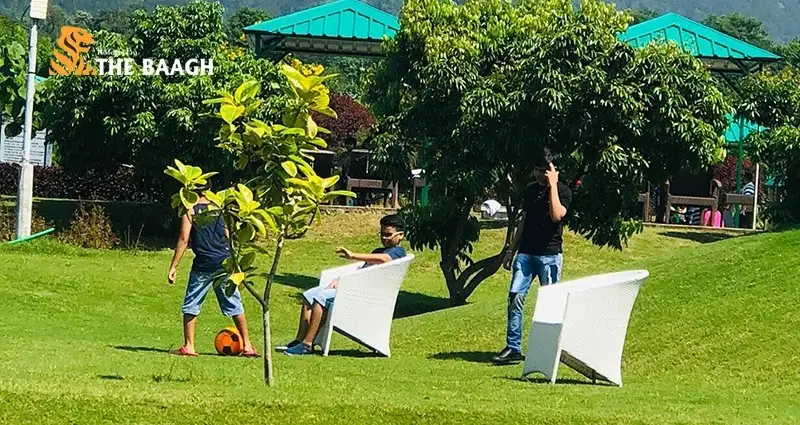 September, 25 ,2023
Resort Retreat: Best Hotels At Bhimtal Nainital A Luxurious Escape
Unquestionably, the Nainital Bhimtal tour excursion is alluring. This spotless location provides an escape from the rush of daily life and is tucked away in Uttarakhand's lovely Kumaon area. The selection of lodging becomes crucial as travellers look for comfort in the splendour of nature. There are many accommodations available in Bhimtal, a picturesque town close to Nainital, but the top hotels in Bhimtal Nainital call to those seeking luxury and magnificence. Resorts by the Baagh stand out as the pinnacle of comfort and elegance among them.
Why Should You Choose A Luxury Hotel Over Airbnb
One frequently has to decide whether to book a luxury hotel or an Airbnb when arranging a holiday. Both have their benefits, but if you want a memorable trip without any hassles, a luxury hotel has clear advantages.
Exceptional Service: Top-notch customer care is something that the best hotels at Bhimtal Nainital take great delight in. You are given royal treatment from the time you arrive to the time you leave. Your every need is taken into consideration, making your stay absolutely luxurious.
Remarkable Amenities: Spa services, fine dining restaurants, swimming pools, and other extras are all available at the Bhimtal 5 star hotel, namely, Resorts by the Baagh. These amenities make sure that your trip is a good mix of rest and fun.
Attention to Intricacies: Luxury accommodations give close attention to every last detail. Every aspect has been thought through, from the tastefully decorated rooms to the unique welcome facilities.
Safety and Security: The level of security can differ among Airbnb properties. Security is crucial at five-star hotels. You may relax and enjoy your stay to the fullest since we take your safety seriously.
Establishment: Prestigious hotels are frequently placed thoughtfully in picturesque areas. A really immersive experience may be had at resorts along the Baagh, which provides breathtaking views of Bhimtal Lake and the surrounding hills.
What Makes A Luxury Resort Different From The Rest
An experience in and of itself, a luxury resort is more than just a place to lay your head at night. The following qualities distinguish luxury resorts from other types of accommodations:
Exclusiveness: A feeling of exclusivity permeates luxury resorts. You'll feel as though the space is all your own thanks to the fewer rooms and more individualised service.
Scenic Locations: The majority of opulent resorts are skillfully positioned amid breathtaking natural landscapes. The surroundings, whether they are on a beach, in the mountains, or in a dense forest, are frequently a top draw.
Exceptional meals: Luxurious resorts are known for their fine meals. In stunning settings, you may enjoy delectable food made by renowned chefs.
Wellness and Spa: Spas and wellness facilities are available at the majority of five-star establishments. To improve your general well-being, indulge in rejuvenating therapies and treatments.
Activities and Entertainment: A variety of activities and entertainment are available at opulent resorts. There are constant activities available, including water sports, cultural events, and escorted nature walks.
Why Resorts By The Baagh Is The Top Resort In Bhimtal
For a number of convincing reasons, Resorts by the Baagh has solidified its position as Bhimtal's best resort, making it the ideal option for anyone looking for a sumptuous getaway:
Beautiful Setting: The resort offers stunning views of the tranquil Bhimtal Lake and the surrounding, lush green hills. It is located on the banks of this lake. It is an exceptional pick just because of the environment.
The resort offers a variety of sumptuous lodging options, from tastefully decorated rooms to roomy suites and private villas. Modern conveniences and antique beauty are expertly incorporated into the design of each space.
Fine Dining: The resort's restaurants provide a variety of delectable dishes that have been expertly prepared by chefs. There is something to entice you, whether you love regional food or flavours from around the world.
Wellness Retreat: Resorts by the Baagh's world-class spa and wellness centre are available to guests looking to unwind and rejuvenate. Relax while receiving healing treatments in a peaceful setting.
Adventure and Activities: There is a tonne to do here for adventure lovers. The resort provides a variety of activities to suit every taste, from boating on Bhimtal Lake to trekking in the adjacent forests.
Impeccable Service: The staff at Resorts by the Baagh is known for its warm hospitality and attention to detail. They go above and beyond to ensure that your stay is seamless and memorable.
In conclusion, when embarking on a Nainital Bhimtal tour, choosing the right accommodation is paramount to your overall experience. While Airbnb may have its merits, a luxury resort like Resorts by the Baagh offers unmatched comfort, service, and exclusivity. Its spectacular location, luxurious amenities, and exceptional dining make it the top resort in Bhimtal. Whether you're seeking a romantic getaway, a family vacation, or a business retreat with conference facilities, Resorts by the Baagh promises a luxurious escape that you'll cherish for a lifetime.
By: Resorts By The Baagh