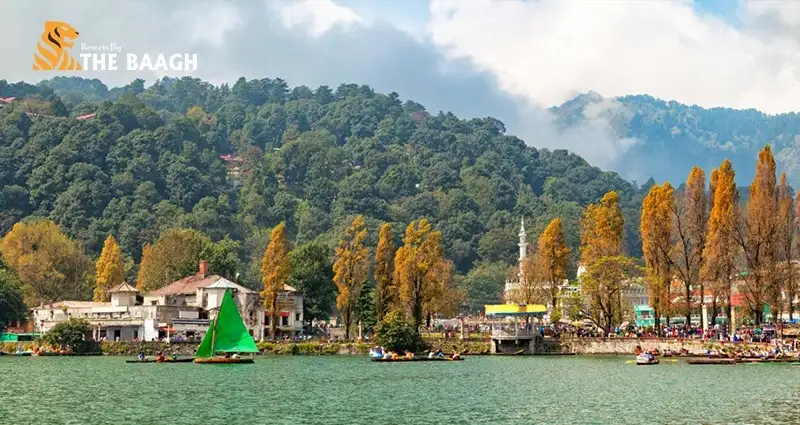 August, 01 ,2023
Uttarakhand Vacation Spots That Might Relieve Stress
Due to its incredible natural beauty and quiet ambience, Uttarakhand stands out as the ideal destination for a relaxing trip. This northern Indian state, nestled in the lap of the majestic Himalayas, offers a calm getaway from the rush and bustle of everyday life on your trip to Nainital. Every area of Uttarakhand emanates a sense of serenity and tranquillity, from the serene banks of the Ganges in Rishikesh, where one can engage in yoga and meditation, to the beautiful Nainital with its green lakes and foggy hills.
Why Is Uttarakhand The Finest Destination To Relax?
The stunning vistas, snow-capped summits, thick forests, and vivid meadows of Auli and the Valley of Flowers provide a rejuvenating escape for the mind, body, and soul. Furthermore, the beautiful weather and welcoming inhabitants contribute to the sense of serenity and relaxation. Whether seeking spiritual seclusion, connecting with nature, or simply relaxing in the forest, a trip to Nainital provides a fantastic experience that leaves visitors feeling rejuvenated and invigorated.
A tranquil escape becomes necessary amid our fast-paced lifestyles and stressful schedules. Uttarakhand, hidden in the Himalayas, is an ideal retreat for anyone seeking peace and tranquillity. This northern Indian state is a treasure trove of stress-relieving vacation places, thanks to its natural beauty, spiritual aura, and tranquil ambience. Let's take a virtual trip to five of Uttarakhand's most lovely spots, each promising to refresh your mind, body, and spirit.
Famous Uttarakhand Stress-Relieving Locations
Rishikesh, India's Yoga Capital:- Rishikesh, also known as the "Yoga Capital of the World," is a spiritual retreat for those seeking serenity and relaxation. Rishikesh, the beautiful place located on the banks of the sacred Ganges and surrounded by lush nature, provides a unique blend of adventure and tranquillity. The hypnotic murmur of the flowing Ganges and the echo of mantras from ashrams create a serene atmosphere. Please look into the many bhimtal tour packages available for your vacation to Nainital so that you can engage in yoga and meditation sessions, go river rafting, or take a leisurely walk down the riverbank to feel the therapeutic effects of this gorgeous town.
Nainital - The Lake District: If you want to spend a relaxing vacation surrounded by emerald lakes and foggy hills, Nainital is the place to go. The heart of this lovely hill village is the Naini Lake, which shimmers like a rare pearl. Boating on the calm waters and soaking in the spectacular views from Naina Peak can calm your nerves. Escape the stresses of everyday life by strolling down Mall Road and exploring the adjacent tranquil towns. Nainital is a wonderful rejuvenation destination due to the fresh mountain air and beautiful weather.
Auli - The Winter Wonderland: Auli is a winter wonderland for those who find refuge in the snowy embrace of mountains. Auli, located in the Garhwal region, offers beautiful vistas of snow-capped peaks such as Nanda Devi and Mana Parvat and should be included in your bhimtal tour packages. This tranquil hill station is well-known for its skiing opportunities during the winter. Auli also provides wonderful excursions, mountain biking, and camping adventures in addition to skiing. The beautiful scenery and cool mountain breeze will wash away your cares and leave you feeling invigorated.
Nature's Oasis: Valley of Flowers:- Nature has a way of healing, as evidenced by the Valley of Flowers. This ethereal valley, a UNESCO World Heritage Site, is a kaleidoscope of colourful blooms that reach beyond the horizon. The Chamoli district's valley comes alive with many flowers during the monsoon season, producing a stunning spectacle. The therapeutic scent of these flowers and the tranquil setting will definitely reduce stress and inspire awe and astonishment.
Jim Corbett National Park - Wilderness Retreat: If connecting with nature and its wildlife is your idea of relaxation, Jim Corbett National Park is a must-see place. India's oldest national park, named after famed conservationist Jim Corbett, is a wildlife enthusiast's paradise. Take an exciting safari to see gorgeous tigers, leopards, different animal species and a variety of bird species in their natural habitat. The enthralling sounds of the forest, the rustling of leaves, and the excitement of spotting wildlife can take you to a level of serenity unlike any other.
Resorts Bn The Baag For Complete Luxury Accommodation
Resorts by the Baagh is an idyllic hideaway for anyone looking for a truly peaceful vacation, nestled among lush foliage and serene views. This lovely resort is a hidden gem in the centre of nature's paradise. When you enter this hideaway, you are greeted by a peaceful environment that immediately wipes away the pressures of everyday life. The well-appointed apartments provide maximum comfort, and the polite staff ensures that every need is fulfilled with warmth and hospitality.
At Resorts by the Baagh, guests can partake in various revitalising activities, such as taking an unwinding dip in the crystal-clear pool or indulging themselves with a massage at the spa that revitalises both the body and the soul. The resort offers escorted treks and animal excursions for nature lovers, allowing guests to connect with their surroundings. As the day ends, a spectacular sunset paints the skies with stunning hues, setting the stage for a romantic evening beneath the stars. Resorts by the Baagh offer every part of your peaceful holiday, leaving you with treasured recollections to last a lifetime, whether you desire isolation and serenity or daring escapades.
Conclusion:
Uttarakhand, with its varied scenery and tranquil holiday destinations, has the ability to calm your soul and reduce tension. Whether you're looking for spiritual seclusion in Rishikesh, tranquil lakes in Nainital, snowy panoramas in Auli, colourful meadows in the Valley of Flowers, or wildlife encounters in Jim Corbett National Park or a luxurious resort Resorts by the baagh, each place has something special to offer. Embrace nature's beauty, immerse yourself in the tranquil atmosphere, and return from your Uttarakhand vacation with a renewed soul and a calm mind. So pack your bags, escape it all, and let Uttarakhand work its magic on you.
By: Resorts By The Baagh