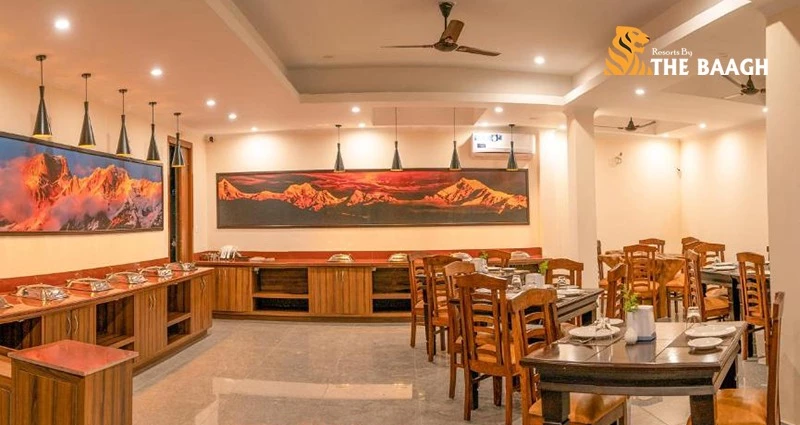 October, 30 ,2023
Unleash Productivity And Adventure With Corporate Tour Packages In Bhimtal
Developing a team, inspiring others, and taking time out are all quite important when it comes to corporate dynamics. Typical boardroom meetings, which are frequently conducted in sterile urban environments, have the potential to grow boring and uninspired. To differentiate their teams from the competition, team managers and corporate leaders are searching for innovative ways to revitalise their groups. Bhimtal is an excellent option for a business trip that is both fun and productive because it offers the perfect mix of business and recreation. Because Resorts by the Baagh is the best place to stay in Bhimtal, business vacation packages are essential to this amazing experience.
Explore Calmness With Corporate Tour Packages In Bhimtal
Bhimtal has a certain charm all its own that makes it an ideal destination for business visits, even though it is sometimes overshadowed by its more famous neighbour Nainital. This enchanting hamlet comprises the breathtaking Bhimtal Lake, verdant forests, and a subdued aura that can be the setting for both successful work meetings and exciting team-building activities.
Corporate tour packages in Bhimtal are developed to present a flawless blend of leisure and business. With a spectrum of activities, conference rooms, and lodging options to guarantee an immaculate experience, these packages are made to specifically address the requirements of business teams.
Best Place To Stay In Bhimtal - Resorts By The Baagh
The type of accommodation chosen has a major impact on how well a corporate tour goes. In the heart of the picturesque surroundings of Bhimtal, Resorts by the Baagh is the best hotel for business travellers. It's an elegant and comfortable sanctuary. Each and every room of Resorts by the Baagh is fitted with state-of-the-art amenities featuring comfort and peace. During your stay here, not for once will you experience the absence of the essentials. In fact, RBTB is often acclaimed as the best play to stay in Bhimtal due to the mindfulness with which the rooms are designed. The peaceful backdrop of the resort term it the ideal destination for corporate vacations.
Personalized Adventure Itineraries
Resorts by the Baagh are noted for offering personalized adventure itineraries to the corporate people. The itineraries are developed to cater to the preferences and wishes of every individual. Whether your organization is looking forward to a rejuvenating trip or team-building activities set to pump your adrenaline rush, RBTB's Bhimtal tour package is all set to offer you an unforgettable event. Your business trip to Bhimtal will undoubtedly be made unforgettable by the adventure activities and itineraries listed below:
1. Nature Walks and Bird Watching: Wander through the lush forests of Bhimtal on a guided nature walk. Explore the indigenous flora and fauna, and don't forget to bring binoculars for observing the diverse array of bird species that call Bhimtal home.
2. Boating on Bhimtal Lake: Offering peaceful boat excursions, Bhimtal Lake is larger and less crowded than neighbouring Naini Lake. Members of the team will have a wonderful opportunity to relax, bond, and enjoy the beautiful surroundings.
3. Trekking and Hiking: Bhimetal offers a range of trekking and hiking paths suitable for hikers and trekkers of all experience levels. Choose from easy walks in the forest to challenging excursions that end with spectacular views.
4. Team-Building Exercises: Resorts by the Baagh provides a range of exercises and games to foster cooperation and communication among team members. Participate in trust falls, obstacle courses, and puzzle-solving activities.
5. Bonfires and Outdoor Dining: Savour a barbecue dinner under the sky at dusk. Relax and enjoy the laid-back atmosphere while sharing a good laugh with your teammates around a bonfire.
Conduct Your Corporate Activities At Resorts By The Baagh
At Resorts by the Baagh, we understand the specific needs of business meetings thanks to our dedicated team. They are able to organise various corporate gatherings and seminars, including:
1. Conference & Meeting Facilities: With state-of-the-art audio-visual technology, Resorts by the Baagh provides conference and meeting facilities that are ideal for business meetings. A relaxed setting helps with focused discussions and ideas.
2. Workshops For Training: Create an environment that stimulates engagement and creativity for training sessions and workshops.
3. Outdoor Seminars: The beautiful natural surroundings will foster stimulating discourse.
4. Personalised Dining: Your employees can have delectable meals that are tailored to their preferences, whether it's an a-la-carte dinner, buffet, or special dietary requirements.
Resorts by the Baagh's corporate tour packages in Bhimtal are the ideal combination for a productive and unforgettable business getaway. The greatest place to stay in Bhimtal, Resorts by the Baagh, along with the natural beauty and specially designed adventure itineraries create a one-of-a-kind experience that effortlessly blends work and play. This enchanted location offers the perfect getaway from the hectic world of business, enabling your team to rejuvenate, strengthen their bonds, and return with a fresh lease on life and increased output. Take the risk and book a corporate tour to Bhimtal; you'll be sure to have life-changing experiences in addition to professional advancement.
By: Resorts By The Baagh