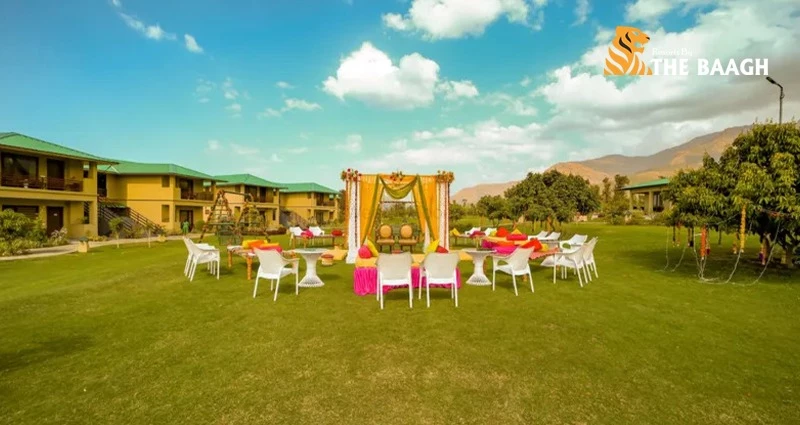 October, 30 ,2023
Romantic Ramnagar Resorts: The Perfect Wedding Destination
Every person yearns for a dreamy wedding at a mesmerizing destination. A wedding is certainly one of the most prime days for anyone. It exudes positivity, happiness, hope, belief, and a partnership for a lifetime. Why not arrange your wedding in a stunning place like Ramnagar? If you have always dreamt of a romantic, enchanting, and unforgettable wedding, then Ramangar is the place for you. Located in Uttarakhand and in very close proximity to the famous Jim Corbett, Ramanagar is a picturesque town. It is tucked in the foothills of the Himalayas and is the epitome of beauty. Wish to have a fairytale wedding in this remarkable place? Resorts by the Baagh, among the top Ramnagar resorts for wedding is at your service not only for offering the most luxurious accommodation but also as your wedding planner.
Why Is Ramanagar Hailed As A Classic Destination For Weddings
1. Natural Beauty: Ramnagar has unparalleled, spectacular natural beauty. Add to its appeal is the fact that it is close to the well-known Jim Corbett National Park. A gorgeous ambience that is ideal for a romantic wedding is created by the verdant surroundings, thick forests, and the beautiful Kosi River.
2. Attraction Points: Your wedding guests can visit neighbouring sites such as the Jim Corbett National Park, which features exciting safaris and a wide variety of wildlife. Enjoyable activities await your wedding party at the Corbett Waterfall, Durga Mandir Temple, Hanuman Dham, and other locations. Your wedding celebration will take on a new dimension thanks to these attractions.
3. Perfect Climate: You certainly don't wish to get all drenched with humidity as you get ready for your special day. Ramnagar, because of its perfect location near the Himalayas, offers pleasant weather throughout the year. Therefore, regardless of which month you are planning to get hitched (even the most summery ones), you can proceed without any stress.
Exploring the Stunning Attraction Points of Ramnagar
Apart from relaxing in a 5 star hotel in Ramnagar, there are some engaging sightseeing that will quench your adventure spirit.
1. Jim Corbett National Park
The forever famous Jim Corbett National Park is in the vicinity of Ramnagar, and this fact already makes it even more preferable for your wedding. Isn't it? As one of the nation's renowned national parks, Corbett is hands down a wildlife enthusiast's paradise. The park is home to diversified flora and fauna, especially the endangered Bengal tiger. Apart from that, you will come across leopards, elephants, and plentiful bird species. Resorts by the Baagh's skilled travel planners will chalk out a hassle-free plan for you.
2. Corbett Waterfall
This calm and gorgeous spot is home to the Corbett Waterfall. A peaceful diversion from the bustle of the city is provided by the sound of the cascading water and the lush green surroundings. It's a fun place for engagement photos or a relaxing retreat after the wedding.
3. Durga Mandir Temple
This location has spiritual value due to its distinctive architectural style and calm atmosphere. The location is perfect for a conventional wedding celebration. An additional degree of sacredness is added to the occasion by the temple's peace.
4. Hanuman Dham
Hanuman Dham is a noteworthy religious destination for people who are looking for divine benefits. The place is extremely peaceful for meditation and offering prayers. In fact, this can be a fitting location for pre-wedding rituals or an intimate post-wedding visit.
Resorts By The Baagh - A Dreamy 5 Star Resort In Ramnagar For Wedding
There is no doubt about the fact that planning a wedding is a colossal work and often requires an army. What if your wedding is handled by proficient wedding planners possessing years of experience? Resorts by the Baagh boasts of terrific wedding planners who will always take that extra step in making your dream wedding come true. Not only these people are innovative but great risk managers. If this fact is not enough for you to consider RBTB - one of the noted resorts in Bhimtal for weddings, then we have other reasons as well.
1. Luxurious Lodging: Resorts by the Baagh provide large, lavish rooms and suites to meet the needs of your wedding guests. A pleasant and enjoyable stay is guaranteed by the sophisticated decor, contemporary conveniences, and stunning views.
2. Wedding Locations: The resort offers gorgeous locations for weddings and celebrations, complete with verdant gardens and lovely scenery. Resorts by the Baagh offer adaptable places to realise your idea, from the lavish wedding reception to private pre-wedding events.
3. Tailored Wedding Packages: Resorts by the Baagh provides wedding packages that are made in order to fit your budget and unique needs. Their team of professional wedding planners is dedicated to making sure that your special day is nothing less than ideal.
4. Savoury Treats: The resort's culinary staff creates mouthwatering dishes to suit a wide range of preferences. Your wedding guests are in for a culinary treat, featuring both international and traditional Indian fare.
An idyllic combination of scenic surroundings, cultural significance, and opulent lodging make a destination wedding in Ramnagar a once-in-a-lifetime experience. A touch of magic to your wedding celebration comes from the town's proximity to the Jim Corbett National Park, tranquil temples, and breathtaking waterfalls. Among the best resorts in Bhimtal for weddings, Resorts by the Baagh provides the ideal backdrop for your big day with opulent lodging, stunning wedding locations, and first-rate event coordination services. In the calm, picturesque setting of Ramnagar, exchange vows and make lifelong memories.
By: Resorts By The Baagh