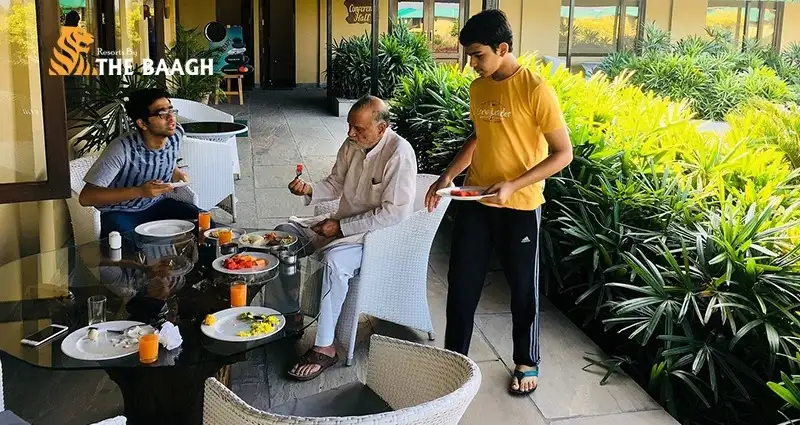 August, 29 ,2023
Reasons Resorts By The Baagh Is Bhimtal's Top Resort
With an exceptional deal that offers a revitalising holiday, indulge in the ultimate relaxation amidst the beautiful beauty of Bhimtal. Imagine relaxing in the lap of nature, surrounded by the quiet scenery and rivers of Bhimtal. This unique Bhimtal tour package provides a retreat and an experience of a lifetime. The magnificent "Resorts by the Baagh," where comfort meets elegance, is nestled in this paradise. Imagine yourself relaxing in luxurious lodgings, where every detail has been precisely crafted to create an unsurpassed degree of extravagance. Whether you're lazing by the pool, strolling around the gorgeous grounds, or dining on delectable food, every moment at this resort is a tribute to luxury. This offer is undoubtedly a paradise for anyone seeking a combination of calm and grandeur, with the mesmerising views of Bhimtal serving as a backdrop.
Resorts by The Baagh in Bhimtal should be at the top if you're looking for a refreshing and pleasurable break. This resort offers an exquisite respite from the frenetic city life, nestled among the calm hills and overlooking the magnificent Bhimtal Lake. With its sumptuous rooms, quiet environment, excellent Bhimtal travel packages, and beautiful vistas, you'll be immersed in a world of tranquillity. Take part in various leisure activities, such as nature hikes, sailing, and birding, to make your trip both relaxing and exciting. The resort's warm welcome and superb service guarantee you love every second of your stay. Resorts by The Baagh guarantees a memorable and fun-loving experience that will leave you with lasting memories, whether you're travelling alone, with a companion, or with your family. Here are a few points to help you prepare for the resort immediately!
For A Tranquil And Comfortable Vacation, Choose "Resorts By The Baagh":
Luxurious Accommodations: Let's start by highlighting the range of opulent lodging options offered at Resorts by the Baagh. These options include expansive rooms and private villas, all created to offer the utmost comfort and relaxation. Each one also has a private balcony, allowing you to take in the scenery while spending time with your favourite people.
Swimming pools and wellness: The resort offers clean swimming pools where you may take a deep breath and let the water's splashes relieve your body's tension. All you receive when you reserve one of the top Bhimtal travel packages provided by the resort is the wellness amenities, including spa treatments, yoga classes, and fitness centres, along with the expert guide who may help to contribute to a healthy and refreshing stay.
Resorts by the Baagh provide you with the perfect position in attractive surroundings, such as lush gardens, peaceful lakes, or stunning mountains, on your Bhimtal tour, which gives visitors a chance to relax and connect with nature.
Delicious Dining Experience: Highlighting the resort's culinary choices, including on-site restaurants providing various cuisines from fresh, locally sourced ingredients. To make your vacation memorable, you may decorate a theme dining room or a private eating space.
Recreational Activities: The resort offers a variety of recreational pursuits, including guided nature hikes, bird-watching excursions, and adventure sports like zip-lining and horseback riding, demonstrating how visitors may have fun and keep active while visiting. By reserving your selected corporate tour packages in Bhimtal, you may book the resort for your team-building activities before conducting your company's corporate event in this lovely location.
Entertainment & Events: The resort offers a variety of entertainment alternatives that improve the whole experience and keep visitors amused, such as live music, cultural shows, or movie evenings.
Children's Amenities: The family-friendly resort Resorts by the Baagh offer amenities and programmes for kids, including play spaces, kids' clubs, and babysitter services, to ensure families can unwind during their Bhimtal tour.
Adventure & Exploration: Because the resort is near tourist sites or natural marvels, visitors may easily explore the surrounding region and adjacent attractions, giving an element of adventure to their stay.
Favourable Guest evaluations: The Resort has received several favourable guest evaluations highlighting their fantastic experiences with the resort's facilities and services, with the smooth and warmest facilities significantly contributing to a joyful and healthy stay.
Booking & Special Packages: So, without further ado, book the fantastic Bhimtal travel packages on our official website. If you are having trouble booking, don't panic; follow the points below for a smooth booking procedure.
Pre-booking A Resort In Bhimtal:- Resorts On The Baagh
Begin your investigation by visiting the resort's official website. Examine the many Bhimtal travel packages and select the one that best suits your needs.
Online Booking sites: Alternatively, you may visit well-known online travel booking sites such as Booking.com, Expedia, or MakeMyTrip. These portals frequently allow you to look for and book our Bhimtal resorts.
Check Availability: Before making a reservation, ensure the resort is available on your desired dates. Some platforms provide real-time availability, making planning easier.
Lodging sort: Select the lodging or accommodation that best meets your needs. Resorts often include a variety of accommodations such as premium rooms, suites, cottages, and so on.
Enter the following information: Fill in the essential information, such as check-in and check-out dates, the number of guests, and any special requirements.
Payment: To secure the booking, enter your payment information. To protect your information, our platforms use secure payment channels.
Confirmation:- Following payment, you should get a booking confirmation through email or on the official website. This validates the success of your reservation.
Contact the Resort: It's a good idea to contact the resort a day or two before your arrival to confirm your reservation and any special requirements.
Cancellation policy:- Ensure you know the resort's cancellation policy. If you need to amend or cancel your reservation, it will make understanding the terms and restrictions easier.
In the calm beauty of Bhimtal, Resorts by The Baagh provides an unrivalled chance for a genuinely relaxed Bhimtal tour. This resort offers the perfect getaway from the hustle and bustle of daily life thanks to its magnificent setting, plentiful amenities, and great service. Every traveller may find something at Resorts by The Baagh, whether looking for a peaceful escape by the glistening lake, reviving spa treatments, or thrilling outdoor excursions. Enjoy the ideal fusion of comfort and natural beauty as you make lifelong memories in this tranquil hideaway. Resorts by The Baagh's exclusive experience will enhance your vacation in Bhimtal. Visit our official website right now and make a reservation!
By: Resorts By The Baagh