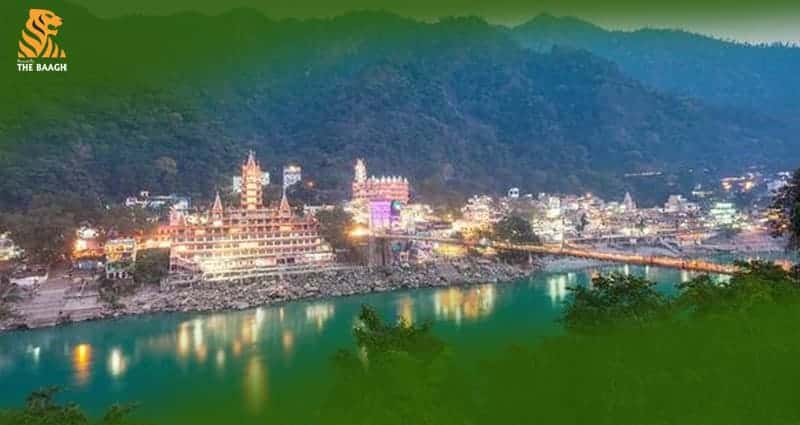 November, 04 ,2022
Plan Your Special Day in the Arms of Uttarakhand's Beauty
You've come to the right place if you're thinking about planning a destination wedding! It's no surprise that destination weddings have grown in popularity over the last decade. Gathering all of your friends and family in a beautiful resort in Bhimtal for wedding is a dream come true for a variety of reasons.
Planning a destination wedding can sometimes be less expensive than planning a wedding at home, owing to the fact that destination weddings usually include a limited number of guests, which equals to less cost. If you want to marry in the beautiful location of Bhimtal but have a limited budget, don't worry because Resorts By The Baagh offers budget friendly wedding packages that include a beautiful location that will serve as the backdrop for your wedding photos.
Wedding at the best resort in Jim Corbett National Park
Resorts by the Baagh offers a lavish venue with an excellent professional staff to attend all of your needs and demands on your special day, ensuring that your destination wedding is truly magnificent. The area is charming and ideal for your wedding event because of the surrounding natural beauty.
Celebrate love, beginning with a ceremony in a lush, green and hilly setting, and ending with an extravagant affair under the star-studded sky. makes your special day even more special in this beautiful surrounding. Our elegant spaces leave a lasting impression on your invitees.
Aside from weddings, you can also hold corporate meetings or intimate social gatherings in our opulent venues at Resorts By The Baagh, which can accommodate up to 400 guests in your preferred style.
The magnificent Resorts By The Baagh provides the ideal setting for exclusive events ranging from weddings and award functions to fashion shows and corporate dinners. Whether it's a small wedding ceremony, a swanky reception, a private dinner, or a lavish pre-wedding soiree, proficient wedding planners at Resorts By The Baagh customise and cater to your every need and desire. We ensure that you relish in the festivities and carousels on your big day. Our wedding planners are committed to exceeding all of your requirements on your special day.
The best decoration, delectable food, and first-rate services all contribute to the complete success of your special day. Our banquet is fully equipped with CCTV cameras in all areas, ensuring a secure and private ceremony. Aside from CCTV, we also provide the following services:
The Resort's additional amenities
experienced staff and specialist electricians;
event consultation and show close monitoring,
LED, and smart lighting, superior sound systems, and much more.
theme choice tablecloths
napkin colors
Flowers:- We will be happy to recommend one of our preferred floral designers, or you can make your preferred choice.
You simply tell us what your wedding dreams are, and we will do our best to make them a reality. Our event staff has developed strong relationships with all of our guest requirements.
The resort offers specialized catering that provides you and your guests with an upscale dining experience. This special catering service is only available for high-end gatherings such as weddings, business events, and other special occasions. Gourmet cuisine, high-quality ingredients, and artistic presentation are all hallmarks of our luxurious catering. Indulge yourself in the soothing ambience of lush greenery that surrounds the beautifully wedding hall and unrivaled hospitality provided by the best hotel. The magnificent global cuisines take on new meaning at Resorts by the Baagh, with its magnificence, luxury and exotic tastes that take your guests on a culinary journey.
A wedding would be incomplete without mouthwatering food. In our specialized catering we serve delectable dishes from a variety of cuisines, including North Indian, Chinese, South Indian, and traditional Indian cuisine. You and your guests can select from among our special dining options or have a mouthwatering dining experience at a location of your choosing.
Resorts By The Baagh is the ideal location for your events and weddings due to its stunning surroundings, simple accessibility, selection of elegant venues, assistance of experienced staff, and the widest range of on-site amenities. We respect your individuality and ensure that every detail of your event is carefully planned.
You can hold your wedding and all related events under one roof with your family and friends. With exquisite floral and lighting decorations, our banquet hall, lavish lawns, poolside lounge, and open areas are available to host functions such as ring ceremonies, sangeet, haldi, cocktail parties, and wedding receptions. Our professional bartenders will keep your energy levels high with exotic mocktails and cocktails on the pass. So, leave the planning of your wedding at the hands of the resort's knowledgeable staff, and simply enjoy your special day.
By: Resorts by the Baagh