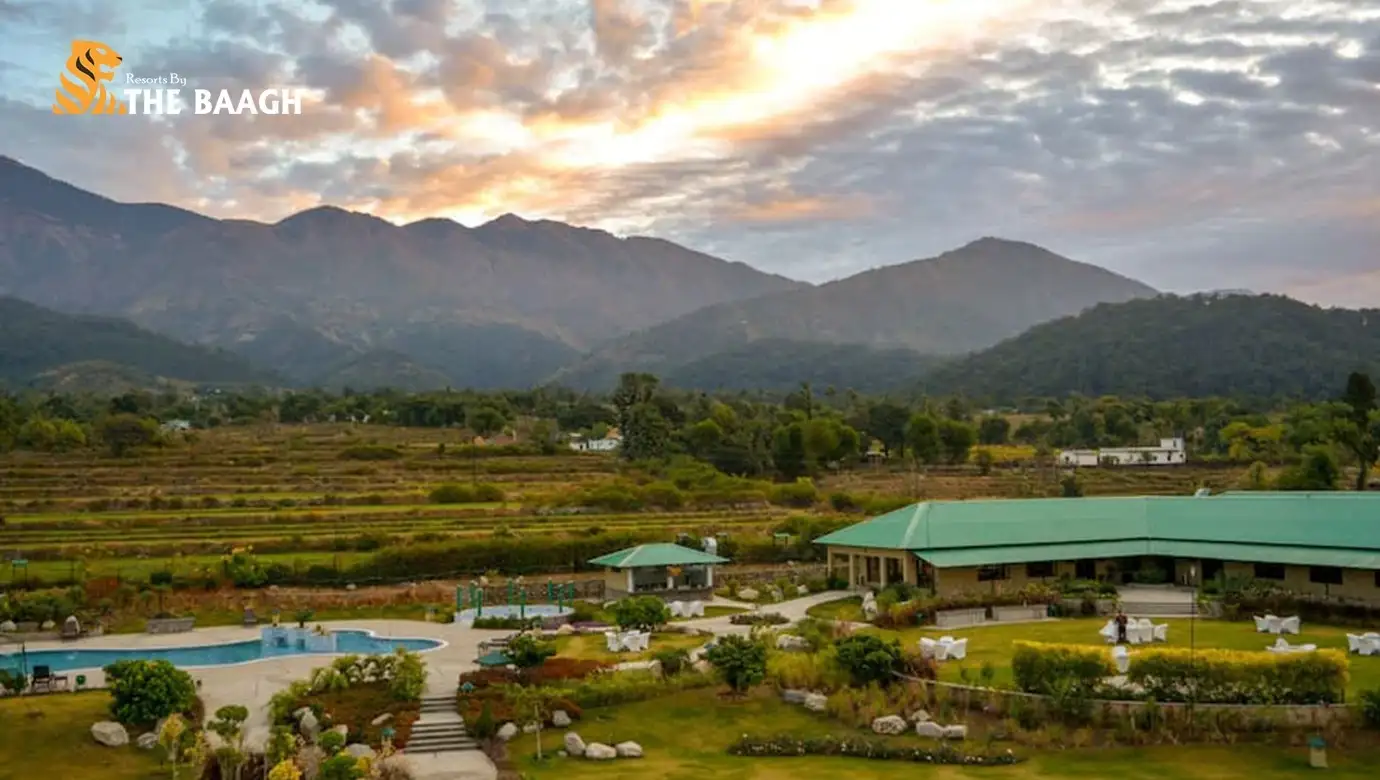 October, 27 ,2023
Choosing The Perfect Resort For Your Corporate Outing
If asked what employees like the most after a hefty salary hike, the answer will probably be a terrific corporate outing. Most organizations consider their employees as their second family, and who doesn't love an unforgettable outing with family? Corporate outings, which are popularly known as offsite events are regarded as the most preferred way to get along with various employees pertaining to distinct levels and departments. But one of the factors that dampen enthusiasm for planning offsite events is the rigorous search for a suitable resort for corporate outing. Speaking of the present-day corporate scenery, the workload is strenuous. As a result, every other employee yearns to escape to a place of serenity.
Resorts By The Baagh: A Leading Resort For Offsite Corporate Events In Corbett
One resort that has quite often stood out is Resorts By The Baagh, Jim Corbett. Very little can match the exclusivity of this splendid jungle which is home to the endangered Bengal tiger. Resorts By The Baagh is an all-inclusive destination for offsite events in Corbett, not simply a resort. Your team will be able to work effectively while unwinding and revitalising against the stunning natural surroundings of our resort. The calm environment encourages creativity and teamwork by helping participants detach from the strains of their everyday lives.
1. Exceptional Hospitality Team
RBTB has always been celebrated for its impeccable hospitality team which can do wonders. The team is very adept at handling diversified events - weddings to conferences, pre-wedding shoots to family functions. Their humble and affable approach has won the hearts of many visitors who have now become recurring guests. The team is inventive in their approach to addressing even the most difficult of hurdles. Therefore, from welcoming hundreds of your employees, catering to distinctive cuisines, arranging particular facilities, and assuring view-specific rooms - RBTB's hospitality team will readily get it all done.
2. Airy and Spacious Conference Rooms
Engaging in a meeting with hundreds of people during your offsite corporate events in Corbett would require massive space and advanced amenities. Guess what? Resorts By The Baagh owns acres of land where we have designed massive and well-equipped conference rooms. There are different room types to accommodate various group sizes. We have mindfully designed these rooms to give out a calming and aesthetic feel.
3. Cutting-edge Audio-Visual Equipment
For talks and presentations to be successful, cutting-edge audio-visual equipment is essential. Modern technology is provided by Resorts By The Baagh because they recognise this need and want to make sure that all participants receive a clear and concise message throughout their meetings.
4. Quick Service
Resorts By The Baagh understands that during business events, time is of the essence. The resort's effective personnel takes care of all your necessities and instantly handles any concerns. The team has a prolonged history of catering to diversified visitors.
5. Relaxation Amenities
After a long haul of corporate discussions, your employees would certainly look out for utmost relaxation in the midst of nature's lap. Arranging offsite events in Corbett has its own perks, the level of rejuvenation you will experience is quite some. Resorts By The Baagh has that all covered - we offer a rejuvenating spa by experts and a massive swimming pool to soothe your senses. Your employees would love to unwind after a tiring day of group discussions and meetings and totally destress.
6. Tailormade Activities
What is even an offsite event in Jim Corbett if you are not out on a jeep safari locating wildlife? Jim Corbett is noted for its enigmatic vibe filled with diverse flora and fauna. Resort By The Baagh's knowledgeable team will perfectly create a trip itinerary that will cover all attraction points. If you have always wanted to visit the jungle and be in direct touch with nature, this is the time.
7. Delectable Dishes
We cannot stress enough the magic that the chefs create. Resorts By The Baagh offers an array of dining options including distinct cuisines at 'Chaupal', our ultra-chic signature restaurant. Your employees will totally dig into the innovative recipes curated by our proficient chefs and enjoy them in either an Al Fresco or a palatial backdrop. 'Nivala' is our multi-cuisine restaurant nestled in the heart of Jim Corbett offering mouthwatering global flavours.
8. Tranquil Setting
Once in a while, every person residing in the urban cities, especially Delhi NCR, craves stillness. With Jim Corbett being just five to six hours from NCR, experiencing quietude has just become more convenient. On top of that, Resorts By The Baagh's beautiful location certainly adds to the relaxation quotient. At RBTB, you will relish the cool breeze as you sip your warm cup of coffee.
Choosing the ideal resort for corporate event is a crucial choice that will have a big influence on how well the event goes. In Corbett, Resorts By The Baagh provides a comprehensive experience that blends a serene natural environment with top-notch amenities and a knowledgeable hospitality staff. Resorts By The Baagh meets all the demands and expectations of a business adventure, offering everything from roomy meeting rooms and cutting-edge audio-visual equipment to individualised activity planning and leisure areas. Resorts By The Baagh is the preferred choice for memorable and effective off-site events in Corbett.
By: Resorts By The Baagh