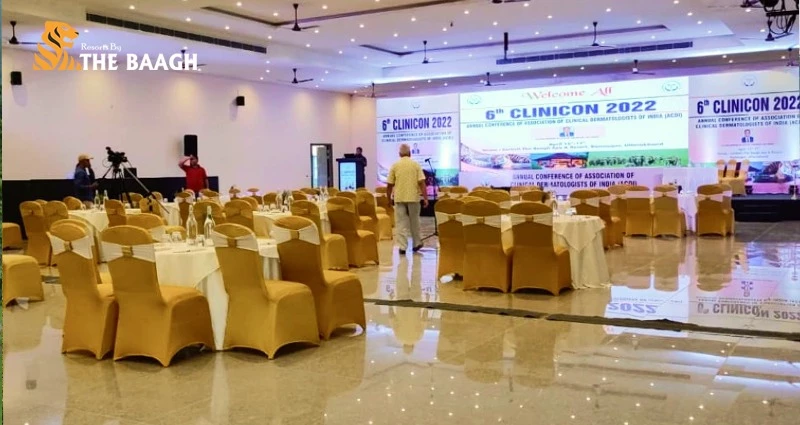 August, 02 ,2023
Planning A Successful Offsite Conference In Corbett: Tips And Recommendations
Offsite corporate events in Corbett may be both thrilling and challenging, especially when you select the scenic wilderness of Corbett as your destination. Corbett, surrounded by the spectacular majesty of nature and wildlife, provides a mesmerising location that can stimulate creativity and encourage team bonding. Extensive planning and attention to detail are required to ensure a successful offsite conference. In this article, we will look at helpful hints and advice to help you prepare for unforgettable and productive offsite corporate events in Corbett in the heart of Uttarakhand.
Special Tips For Organizing The Offsite Corporate Events In Corbett
Set Specific Goals: Before going into the details, define the goals of your offsite meeting. Are you want to improve workplace cooperation, generate new ideas, or simply provide a break from routine? Understanding your objectives can assist in designing the entire event and ensuring that all activities and seminars are relevant to your mission.
Pick The Right Venue: Corbett has several resorts and convention facilities, each offering a distinctive experience. Think about things like the size of your group, the amenities you'll need, and the atmosphere you want to create. To balance business and play, choose a resort for corporate events with well-equipped meeting rooms, cosy lodging, and recreational amenities.
Plan Fun And Interesting Activities: A successful offsite conference must involve fun activities promoting team development and relaxation. Make arrangements for guided wildlife safaris, outdoor walks, or outdoor activities to let your team relax and reconnect with nature. These outings can foster friendship and re-energise folks for the coming sessions.
Organise Group-Building Exercises: Group activities are important for improving relationships and encouraging collaboration among teammates. In your offsite corporate events in Corbett, Introduce activities that encourage problem-solving, communication, and trust-building, all of which will lead to a happier and more harmonious workplace.
Make A Balanced Agenda: Create a schedule that includes work sessions, breaks, and fun activities. Long and intense meeting durations can lead to exhaustion, while too many leisure activities can contradict the conference's aim. Plan your schedule carefully to maximise productivity while giving participants ample time to rest.
Utilise Technology: Ensure the venue has dependable internet connectivity and technological devices for seamless presentation and online collaborations. Reliable technology is essential in distant places like Corbett for remote attendees to ensure seamless communication.
Planning for Accommodation and Travel:
Plan ahead of time for lodging and transportation.
Check that your chosen resort for your offsite corporate events in Corbett can comfortably accommodate the entire group.
Arrange for convenient transportation for attendees to prevent any last-minute problems.
Resorts by the Baagh - Must Recommended Resort for your Offsite Corporate Events in Corbett
When it comes to offsite business events, selecting the right venue is critical to ensuring a pleasant and productive experience for your team. Resorts by the Baagh, the ideal resort for corporate events, emerges as the ultimate option for conducting offsite business events in the breathtaking wilderness of Corbett. From its tranquil setting to its outstanding amenities and first-rate services, this resort has anything you need to take your business conference to new heights. Let's look at the resort facilities and amenities to see why this resort is ideal for you.
Resorts by the Baagh are hidden among the natural magnificence of Corbett, providing a calm and inspiring environment away from the pollution of city life. The rich green surroundings and natural sounds create a great environment for encouraging creativity, teamwork, and focus during your corporate event.
Setting That Is Calm And Inspirational: Resorts by the Baagh is located away from the rush of city life in the midst of Corbett's natural magnificence, offering a calm and inspirational setting. For encouraging innovation, teamwork, and attention during your corporate event, the lush green surrounds and the soothing sounds of nature create the perfect ambience.
Cutting-Edge Conference Facilities: One of the key reasons Resorts by the Baagh excels as an offsite business event destination is its cutting-edge conference amenities. The resort guarantees that your presentations, seminars, and conversations run quickly and seamlessly by providing sophisticated audio-visual technological advances, high-speed internet connection, and spacious meeting rooms.
Customisable Event Decor: Resorts by the Baagh, a resort for corporate events, has customised event decor that may be tailored to match your individual needs, whether you are organising a big conference, a team-building retreat, or a board meeting. The resort can accommodate a variety of decor offering everything from small boardrooms to large conference spaces.
Specialized Event Planning Staff: The resort has a specialised event planning staff that is experienced in organising successful business gatherings. The skilled staff at Resorts by the Baagh will work closely with you from the starting planning phases through the implementation of your event to guarantee every detail is painstakingly taken care of.
Captivating Team-Building Activities: The resort offers a variety of fun team-building activities that will improve teamwork and develop friendships among your staff. These activities, which range from adventure sports to escorted nature hikes and animal safaris, help foster teamwork and raise employee morale.
Comfortable Lodgings: Resorts by the Baagh provides comfortable and luxurious lodgings that will rejuvenate your crew. After a day of busy sessions and activities, your team can unwind in comfortable accommodations with modern facilities.
Delectable Culinary Alternatives: The resort provides a great gastronomic experience with varied dining alternatives. The resort's restaurants cater to various tastes and dietary requirements, ensuring your crew remains motivated during the event.
Conclusion
The tranquil surroundings and different activities provide the ideal setting for an effective and relaxing gathering. You can build a memorable and rewarding offsite conference that fosters bonds and leaves lasting effects on your team members by setting clear objectives, selecting the correct venue, and including engaging activities. Resorts by the Baagh is, without a doubt, the greatest resort in Corbett for your offsite corporate events. Its tranquil surroundings, cutting-edge conference facilities, specialised event planning team, and enjoyable activities make it an excellent choice for strengthening team dynamics and meeting business objectives.
You can be confident that by organising your business event at Resorts by the Baagh, your team will have a compelling experience and make lasting memories in the midst of nature. So, start planning and preparing for a memorable vacation in the middle of Corbett's natural beauty.
By: Resorts By The Baagh