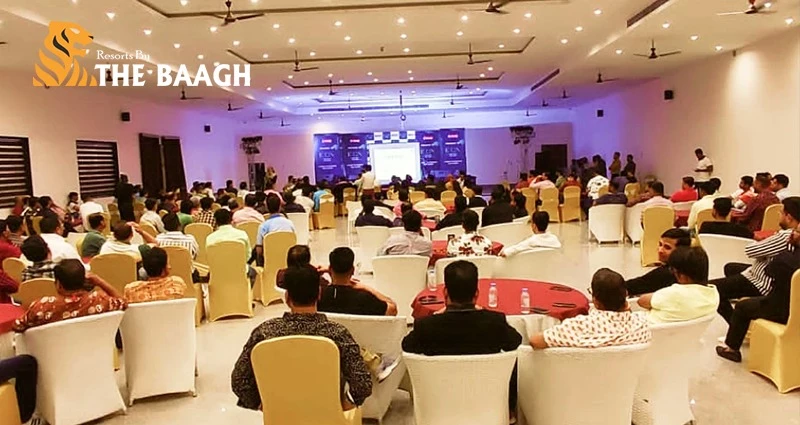 September, 28 ,2023
Choosing The Perfect Conference Facility In Corbett: A Guide
In addition to being a haven for wildlife aficionados, Jim Corbett National Park in Uttarakhand, India, is a well-liked location for business meetings and conferences. Finding the ideal conference facility in Corbett is vital to ensuring a successful and memorable event due to its tranquil environment and diversity of resorts. Resorts by The Baagh, a resort that provides outstanding meeting facilities amidst the woods, is a choice that is worth investigating. In this article, we'll examine the crucial criteria to take into account while picking the best conference venue in Corbett, with an emphasis on what Resorts by the Baagh has to offer.
Location And Accessibility
The first step in choosing the perfect conference facility is considering the location and accessibility. Corbett is known for its lush green landscapes and breathtaking wildlife. While these aspects contribute to the charm of the location, it's essential to ensure that your chosen facility is easily accessible for all your attendees. Resorts by the Baagh, strategically located on the periphery of the national park, offer a balance between accessibility and the beauty of nature. It can be reached by road from major cities like Delhi and Lucknow, making it convenient for your guests.
Capacity And Facilities
The capacity of the meeting space is the next crucial aspect to take into account. You will need to select a venue that can comfortably fit all of your participants, depending on the size of your event. Both small and large groups can be accommodated in the biggest conference hall in Uttarakhand - we are talking about the one in Resorts by the Baagh's. Whether you're organising a large conference or a small business retreat, the resort offers the facilities to satisfy your needs. Modern audiovisual technology and high-speed internet connectivity are available at their facilities to ensure a smooth event.
Accommodation
Excellent conference facilities are available at Resorts by the Baagh, with possibilities for guests to stay in cosy, opulent lodging. Possessing on-site lodging is a significant benefit when holding a multi-day event. Resorts by the Baagh provides tastefully furnished rooms and cottages for your guests' comfort and renewal. The lodging is charming on top of that, and being close to nature makes it an essential component of your conference experience.
Catering And Dining Options
Any event's success depends heavily on the food. The catering and dining options offered should always be considered when selecting a meeting venue. Numerous dining establishments in Resorts by the Baagh provide both domestic and foreign cuisines. The culinary staff at this venue can create a menu that adheres to your preferences and dietary restrictions, whether you're organising a formal banquet, a fun buffet, or a themed event. Additionally, they provide possibilities for outdoor dining, enabling your guests to enjoy their meals amidst Corbett's stunning natural surroundings.
Recreational Activities
Your attendees will have the chance to relax and get in touch with nature at Corbett, which offers more than simply conferences. You can incorporate several leisure activities during your offsite events in Corbett and Resorts by the Baagh will help streamline them into your event's schedule. Your guests will have several options to explore the Corbett wilderness, including jungle safaris, nature hikes, and bird watching. These activities can foster teamwork or as a means of unwinding and recharging between conference sessions.
Eco-friendly Initiatives
The importance of sustainability and environmental friendliness is rising in modern society. The resort's dedication to environmental preservation should be considered while selecting a meeting venue. Resorts by the Baagh is proud of its eco-friendly programmes, which include responsible waste management, energy saving, and community support. You can promote your organization's beliefs to visitors and help the environment by selecting a venue consistent with your organization's guiding principles.
Support And Planning Services
Careful preparation and execution are necessary for a successful meeting. Resorts by the Baagh provides specialised event planning and coordination services because it recognises the value of a well-run event. Your conference agenda design, logistical planning, and overall seamless operation can all be done with the help of their professional team. With this kind of assistance, you can focus on the goals and content of your conference rather than the stress associated with event planning.
Reviews And Testimonials
It's a good idea to read reviews and client endorsements before choosing your conference venue. You may learn a lot from this about the resort's offerings regarding the calibre of experiences and services. Numerous business clients who have successfully held events at Resorts by the Baagh have left good reviews. You might feel more confident about your decision after reading these testimonies.
Conclusion
Selecting the ideal conference facility in Corbett is a meaningful choice that significantly impacts how well your event goes. Resorts by the Baagh stands out as a top option for hosting conferences in the middle of nature because of its excellent location, top-notch amenities, opulent lodging, eco-friendly initiatives, and committed support team. You can make sure that your event in Corbett is both memorable and fruitful for all of your attendees by taking these important considerations into account and emphasising Resorts by the Baagh's conference facilities.
By: Resorts By The Baagh