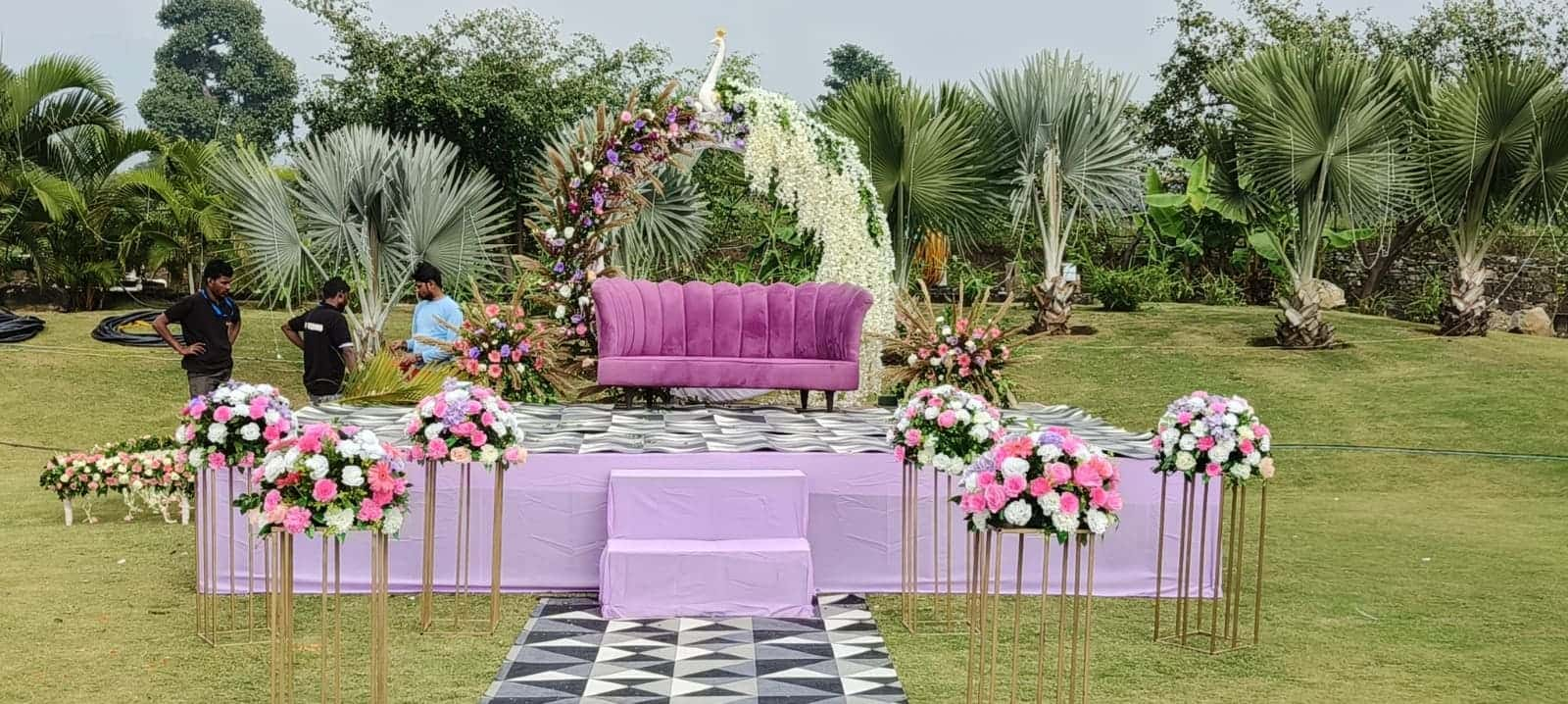 November, 14 ,2022
Which Is The Best Venue For A Luxury Destination Wedding In Jim Corbett?
The mystic landscapes and lush herbage of Jim Corbett attract leisure trippers and nature lovers to come, laze, and luxuriate in the solace of the wilderness. Did you know that the popular wildlife holiday destination is also a winning pick for weddings and gala events? You heard that right! Destination wedding in Jim Corbett is much-desired by modern-day couples looking forward to taking their love-filled vows amidst the breathtaking backdrop of the verdant acreage and the picturesque mist-shrouded Himalayan belt. The awe-inspiring views, balmy and pleasant weather, and the easy and quaint vibe of the marshy forests round up a perfect setting for a beautiful, close-knit, and memorable wedding affair.
It is no secret that pulling off an extravagant wedding soiree in secluded and offbeat locations is hardwon. Professional assistance and access to a world of amenities are quintessential. From innovative décor setups and a delectable spread of food to cosy accommodations and picture-perfect locations, there's much to keep tabs on when hosting a Destination wedding at Jim Corbett. Are you looking for a respite from the hassles and stress of putting together a grand affair? Selecting an upscale wedding venue is a great idea! Wondering why? Let'sLet's find out.
Why are 5-star banquets and wedding venues sought-after among the to-be-wed couples?
The craze to host pompous wedding soirees in upbeat and swanky 5-star venues is hard to ignore. The desire to plan a destination wedding in Jim Corbett is no different either. Aren'tAren't you curious to figure out why? Well, the perks of hosting weddings and pre-nuptial rituals amidst the grandeur of a lavish 5-star property are too many. For example:
5-star hotels and resorts reward you with the best infrastructural support to wrap up events seamlessly.
Weddings are also about hosting and accommodating guests travelling from elsewhere. An upscale premise welcomes guests into cosy and elegantly-designed rooms to nest away in comfort and in the lap of luxury.
Additional amenities, such as spa and wellness services, recreation centres, parking facilities, kids' play areas, and lavish and ornate swimming pools, ensure that stays here are an all-encompassing and leisurely experience.
The choice of grand indoor venues and picturesque al-fresco settings to organise a wedding bash are quite a few.
Why just logistics and cosy cocoons? 5-star properties arrange lavish spreads of culinary treats and delicious beverages to keep your guests entertained and happy.
Now that you are familiar with the perks of collaborating with a 5-star property to party and organise magnificent wedding festivities, are you eager to decide on an upscale resort in the pretty and quaint forest of the primordial tiger conservation? Explore the splendours, beauty, and richness of Resorts By The Baagh.
The marquee 5-star resort is impressively positioned amidst the lush foliage and the deciduous core area of the Sitabani forest zone. The sprawling property spread over acres of wild green lands features ultra-modern rooms, the latest-in-standard amenities, swanky suites, a modish restaurant, a rich oasis of wellness, expansive recreation hubs, a heritage pool setup, al-fresco barbeque arrangements, and a plethora of amenities. What sets Resorts By The Baagh class apart from other accommodations in the area is the world-class hospitality extended to all guests. A stay in this resplendent property is guaranteed to be an unmatched and luxurious retreat.
Resorts By The Baagh – The best venue for a destination wedding in Jim Corbett
Wildlife admirers, nature lovers, and leisure seekers, the solace and mindblowing vistas of the enchanting forested hillscapes attract vacationers of all kinds. Why, just impromptu weekend escapades or leisure holidays, the wondrous landscapes of Jim Corbett top the list as a preferred destination for weddings too. Resorts By The Baagh, standing tall as one of the best 5-star resorts in Jim Corbett, is a favourite among wedding planners and prospective couples. This definitely explains why the resort sells out in the peak wedding season.
Do you dearly wish to pledge your love and arrange an ecstatic destination wedding in Jim Corbett? You have certainly dropped your anchors in the right place. The beautifully manicured spatial lawns overlooking the gorgeous Himalayan peaks, the grandeur and decorous features of the palatial, pillarless, and well-equipped indoor banquet, and the iconic poolside setup rewards you with more than one gorgeous location to arrange the grand wedding fiestas. Are you worried about the logistics and the nitty-gritty of hosting an event in the far-off wilds of Corbett? Entrust the proficient and experienced team at Resorts By The Baagh. The staff here is incredibly skilled and seasoned to tackle all your wedding essentials and chores perfectly. Have a ball and relish in the frolic of your very own fairytale wedding, as our staff leave no stone unturned to ensure that everything on your checklist is well-catered and dusted.
Do you need more reasons to host a fabulous and memorable destination wedding at Jim Corbett, and especially at Resorts By The Baagh? Here are a few:
The idyllic property is a perfect place to tie the knot and begin your journey of love.
Cherish the pretty snaps in modish decors and alluring verdant lands that look straight out of a heavenly picture-perfect postcard.
Welcome your guests to unwind and indulge in the merriments in a lavish and hospitable retreat.
Win all hearts by hosting your guests in spacious, demure, and elegantly-appointed rooms furnished with the best amenities and cosy features.
A destination wedding in Jim Corbett or a regular upscale wedding in your bustling city - food is an inevitable part of all celebrations. The exemplary chefs at Resorts By The Baagh lay out elaborate spreads of delicious culinary treats inspired by popular world cuisine. It surely leaves your guests in awe and drooling for more scrumptious feasts. Open-air barbeques, al fresco lounge setups, and an ornate restaurant to feast away in comfort truly add spades of happiness to a big fat wedding carousel.
In a nutshell, Resorts By The Baagh is undoubtedly one of the best and upbeat places to host a lavish Destination wedding in Jim Corbett. Stop over to explore the magnificence of the picturesque resort or shoot enquiries at the earliest.
By: Rahul Tyagi