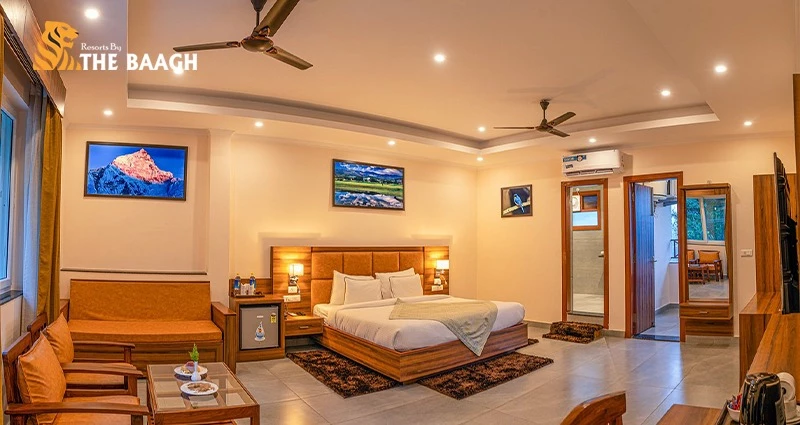 August, 29 ,2023
Unveiling The Beauty: A Guide To The Best Resorts To Stay In Bhimtal
Immerse yourself in the enchantment of Bhimtal, a destination with a unique and unequaled appeal. Bhimtal, nestled among the beautiful hills, provides a tranquil retreat where nature becomes the storyteller of a sumptuous escape. Away from the city's hectic schedule, this serene hideaway invites you to enjoy a refreshing vacation with its magnificent Bhimtal resorts for both mind and body. The calm journey begins with a lovely lake surrounded by verdant scenery. Every breath of fresh air revitalizes, and every rustling leaf sings of peace. Bhimtal is more than just a vacation; it's an invitation to unwind, refuel, and indulge in nature's lavish embrace.
Why Bhimtal Is Becoming The Most Popular Place For Exciting Vacation
Eye-Soothing Beauty: Bhimtal's beautiful lake, surrounding hills, and lush landscapes provide magnificent natural beauty, making it a visual feast for nature lovers. Bhimtal's calm ambiance offers a peaceful getaway away from the stress of city life, allowing guests to unwind and relax.
Adventure Activities: The resort provides a variety of adventure activities, such as boating, trekking, and paragliding, which add an exciting element to the vacation experience. Bhimtal has a varied assortment of flora and fauna, making it a heaven for wildlife enthusiasts and birdwatchers.
Cultural Importance: The town is historically significant, having temples and landmarks reflecting the region's rich cultural legacy.
Luxurious Accommodation: From lakeside resorts to quiet cottages, the area provides a variety of five star hotels in Bhimtal, giving travelers a touch of luxury amid nature.
Mild Climate: With good weather all year, Bhimtal is a perfect spot for travelers looking for a break from the heat.
Relaxing Atmosphere: Bhimtal's relaxed atmosphere enables guests to slow down, unwind, and completely immerse themselves in the natural beauty of the surroundings.
Local cuisine tantalizes the taste buds and gives a particular culinary experience to your stay.
Perfect place for creativity:- Bhimtal's tranquil atmosphere has also drawn painters, writers, and poets, making it a creative and inspirational hotspot.
Family-Friendly: The combination of adventure, nature, and cultural activities appeals to people of all ages, making Bhimtal an ideal destination for family vacations.
Overall, Bhimtal's distinct blend of natural beauty, adventure, and leisure has driven it to the top of the list of vacation destinations for those looking for an exciting and memorable getaway.
Here Are Some Pointers To Help You Choose The Top Resorts In Bhimtal:
Extensive Research: Begin by conducting extensive online research to compile a list of Bhimtal resorts. To learn about other travelers' experiences, look for websites, travel forums, and review platforms.
Set a Budget: Determine your hotel budget. This can help you limit your alternatives and avoid overspending.
Location:- Consider the resort's location with respect to the main attractions in Bhimtal. A lakeside or hillside resort may have excellent views and be closer to activities.
Amenities and Facilities:- List the amenities crucial to you, such as a swimming pool, spa, restaurant, Wi-Fi, or recreational activities.
Read Reviews: Look for feedback from recent Bhimtal resort customers to understand the resort's quality, service, and overall experience.
Examine Photos: Examine photographs of the resort's rooms, facilities, and surroundings. This can help you anticipate what to expect.
Please contact the resort:- Contact the resort directly with any inquiries you may have. Customer service can be reflected in their responsiveness and eagerness to assist.
Packages: If the resort provides them, compare them to find which best meets your needs and interests.
If you're traveling with your family, be sure the resort includes family-friendly facilities and activities to keep everyone entertained.
Special Needs: If you have unique needs, such as wheelchair accessibility, pet-friendly alternatives, or dietary restrictions, see if the resort can meet them.
Privacy: If you're looking for a tranquil and private comfort provider, Bhimtal Resorts, inquire about the resort's level of privacy regarding room layout and surroundings.
Advice: Ask friends, family, or coworkers who have visited Bhimtal for advice on resorts they liked.
Cancellation Policies: Be aware of the resort's cancellation policy in the event that your plans alter unexpectedly.
Book in Advance: Once you've selected a resort that suits your requirements, book your stay in advance to ensure you get your favored dates and accommodation type.
Trust Your Instincts: A gut feeling about a certain resort can sometimes lead you in the proper route. Consider alternate possibilities if something feels odd throughout your investigation.
By following these recommendations and considering your tastes, you'll be better equipped to pick the ideal resort in Bhimtal that meets your vacation objectives while providing a memorable and delightful experience.
Magnificent Resort With Breathtaking Views And An Inviting Atmosphere
Resorts by The Baagh - five star hotels in Bhimtal are the ideal choice for those looking for a magnificent getaway surrounded by breathtaking vistas and a wonderful ambiance. This resort, nestled among the grandeur of nature, provides an unmatched experience that caters to the desires of discerning travelers. Resorts by The Baagh, Bhimtal Resorts delivers a beautiful blend of richness and comfort with its awe-inspiring landscapes and meticulously built interiors. The resort's dedication to offering a tranquil setting allows guests to unwind and regenerate, making it a perfect relaxation getaway. Every aspect of the resort exudes elegance and friendliness, whether the lush scenery or the lovingly crafted amenities. Resorts by The Baagh is undoubtedly the first and foremost choice for people looking for an exceptional vacation where luxury perfectly combines with the natural world.
By: Resorts By The Baagh