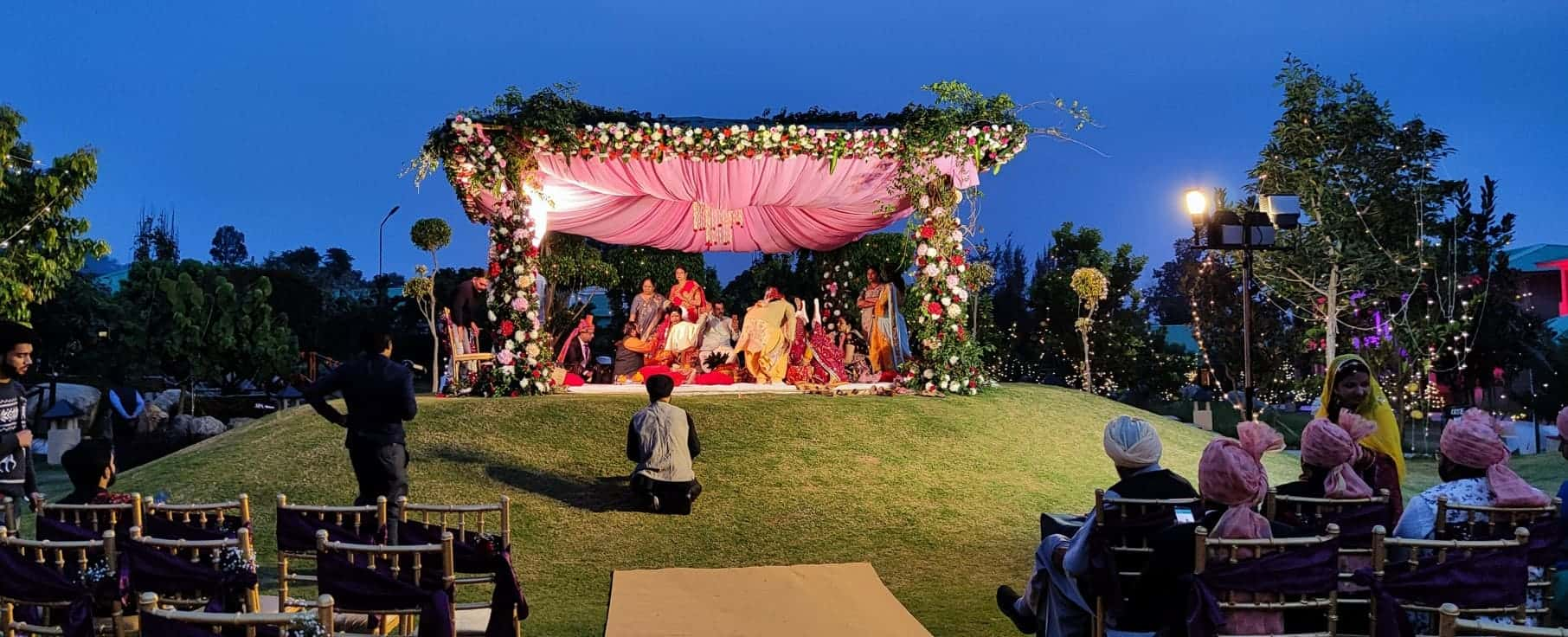 May, 09 ,2023
Unforgettable Nuptials Amidst Nature's Splendour: Celebrate Your Dream Wedding In Jim Corbett National Park
The hype around destination weddings is truly big. Do you fancy having a pompous wedding soiree of your own, and that too in a beautiful and distant land? Great! Of course, you have been busy shortlisting some of the most magical and enchanting destinations across the country. From the royal palaces of Rajasthan to the lively and picturesque beach venues in India, are you already feeling spoilt for choice? Well, here's revealing a wonderful destination that ticks off your wishlist and everything more. Curious to know more? Well, plan an offbeat destination wedding in Jim Corbett.
One of the oldest and the most scenic forests in the country, Jim Corbett has been widely known for expansive tiger conservation. Although the conservation has been luring wildlife lovers for years now, the breathtaking landscapes and dense forest covers offer a scenic retreat. This explains why the craze for a lavish wedding in Jim Corbett has spiked over the years. From the verdant canopies of decadent oak trees to the alpine mountains of the Kumaon, Jim Corbett truly offers a picturesque backdrop for a romantic wedding.
Why is Jim Corbett a top pick for wedding destinations?
Weddings are more than just ceremonial affairs. Don't you agree? The rituals mark the bond of love and new associations in intimate and exorbitant settings. Don't you wish to pledge your love in the close-knit company of your kith and kin? If yes, there is no destination more perfect than Jim Corbett.
Tucked away in the valleys of the beautiful Kumaon, the wilderness of Corbett offers serene, offbeat, and mesmerizing venues to take your vows. Experience the unrivalled charm and tranquillity of nature as witnesses to your love and relationship.
What's more, enjoy the perks of extending your lavish wedding celebrations into a hearty good vacation for all your dear ones. A destination wedding in Jim Corbett is a wedding and holiday curled up in one.
Where can you host your wedding in Jim Corbett?
A beautiful destination wedding in the gorgeous woods of Jim Corbett is indeed a dream come true. Are you excited to plan a fancy and pompous wedding celebration in Jim Corbett? Surely, you will first need to narrow down a good resort to host your celebrations. Thinking about how to start your hunt for a property that is all set to bring your vision of a fairytale wedding into reality? List down your requirements first. Ask yourself:
Are you looking for a resort that offers the most bewildering and beautiful nature views?
Should it be a star resort that caters to your requirements for a luxurious wedding affair?
Do you need the best of both worlds?
If the answer to the last question is a 'Yes,' here's a resort you should definitely check – Resorts By The Baagh. The fancy good 5-star resort is tucked away in the verdant and dense areas of the Sitabani forest zone. Welcome your guests to a surreal wedding experience in the beautiful lap of nature and reward them with a taste of luxury.
So, are you wondering why Resorts By The Baagh should be a preferred pick for a grand destination wedding in Jim Corbett? Frankly, there's more than one reason. However, the top-notch hospitality and the scenic hill views are some of the most revered reasons. Further, let's quickly elaborate on why the resort stands out as an unparalleled choice of venue in the region.
1. A premise that promises grandeur in every corner
Weddings are expected to showcase spades of pomp and glamour in every way possible. Of course, the beauty of a venue matters big. Little did you know that Resorts By The Baagh offers a sprawling and gorgeous venue featuring beautifully manicured open lawns, decorous banquet spaces with state-of-the-art equipment, an ornate pool for your celebrations, and more?
Hence, organizing a king-size and picture-perfect wedding in Jim Corbett, and especially in Resorts By The Baagh, is ideal.
2. Out-of-the-world catering
Is there a way to wrap up weddings without serving an array of delicious foods? Definitely not! Hence, the culinary experts at Resorts By The Baagh ensure treating your guests to palatable and rich flavours of cuisines from across the country and the world.
3. Luxury accommodations for all
Resorts By The Baagh is a luxurious 5-star resort in the serene wilderness of Jim Corbett. Welcome your dear guests to the comforts of swish and rich accommodations. The rooms here are abundantly furnished with the best-in-business amenities. Moreover, watch your guests have the time of their life lounging in the arms of nature.

Unbeatable concierge, seamless logistics, heart-winning al fresco and indoor venues, and more; your dream of a fairytale and Luxury destination wedding in Jim Corbett couldn't get better. Host your love-filled nuptials at Resorts By The Baagh.
By: nitish