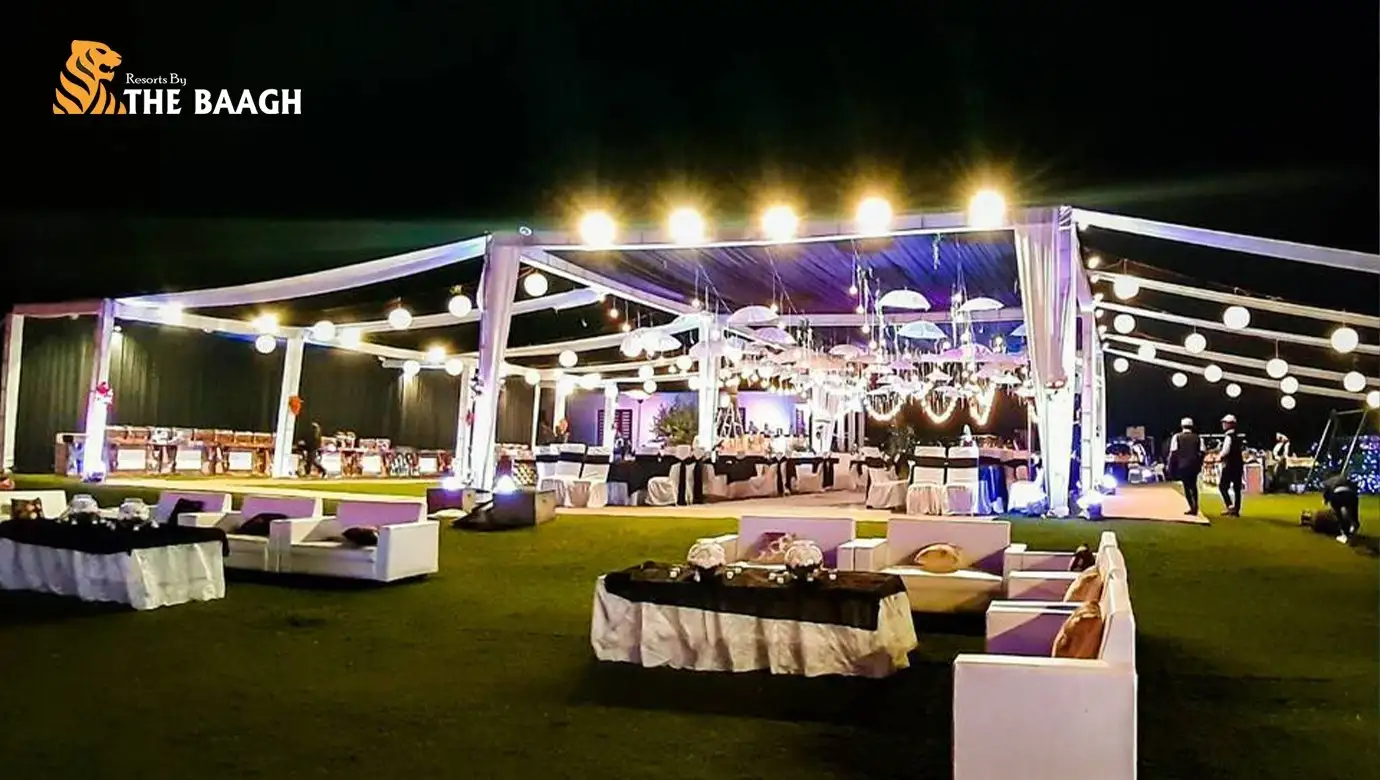 August, 01 ,2023
Traditional Elegance With Modern Details - Weddings In Bhimtal
A dreamy wedding in the heart of a lush green landscape is no more a fancy dream; you can now have the facilities to make your big day as glamorous as a Bollywood wedding. When you talk about a setting with a magnificent view of hills and azure rivers, and where the rustling of leaves and chirping of birds provides the perfect soothing soundtrack music as you walk down the aisle. What an incredible, inexplicable experience! Resorts by the Baagh is here to provide you with an unforgettable wedding experience.
And when it comes to a lovely wedding destination, Bhimtal is the first place that every nature-loving couple thinks of. Bhimtal, a hidden jewel of Uttarakhand's valley, is surrounded by natural beauty and has a rich cultural legacy. Weddings in Bhimtal offer an appealing background for couples looking for a wedding event that perfectly blends the beauty of tradition with modern aspects. Continue reading to see how Bhimtal captures the essence of traditional weddings while combining modern twists to create remarkable and one-of-a-kind experiences.
Beautiful Scenery For Your Bhimtal wedding: Bhimtal offers a variety of breathtaking sites, ranging from mediaeval palaces and havelis to modern resorts like Resorts by the Baagh and lakeside gardens. At Resorts by the Baagh, you will find specialists that provide a perfect blend of old-world elegance and modern facilities, providing couples with the ideal environment to exchange their vows. Imagine exchanging vows against the glittering backdrop of Bhimtal Lake, or hosting a spectacular event in the majestic setting filled with rich artwork and architectural splendour.
Traditional Ritual And Customs In The Enchanting Bhimtal Valley:- Destination wedding in Bhimtal reflect the age-old traditions and customs of Indian marriages. Couples can immerse themselves in the region's rich cultural heritage, from the colourful and intricate mehendi and sangeet festivities to the religious rites conducted during the wedding ceremony itself. The brilliant colours, exquisite mehndi designs, and beautiful traditional music create an atmosphere of celebration and joy, making the event really unique.
The Perfect Blend Of Traditional And Modern Attire: A magnificent Bhimtal wedding offers brides and grooms the unique opportunity to experiment with their clothes, blending traditional aspects with modern styles. Traditional lehengas with rich embroidery can be worn by stunning brides, who can accessorise with modern jewellery and accessories. Grooms can wear a classic sherwani or experiment with the perfect fusion attire, which mixes traditional and western features to create a very fashionable and sophisticated look.
Gastronomic Delights: The wedding experience is made even more appealing by the delighted cuisine of Bhimtal. The menu has something for everyone, from the traditional Kumaoni dishes to a wide variety of Indian and international dishes. One of the best resorts for wedding in Bhimtal is Resorts by the Baagh, where couples can delight their guests with an extravagant spread of local delicacies prepared using cutting-edge techniques.
The Ideal Mix Of Conventional And Contemporary Entertainment:- The wedding without amusement is very much like a birthday without the cake. entertainment is assuming a significant part in Bhimtal weddings, where the customary music and astonishing dance exhibitions become the dominant focal point. The soulful sufi music and classical dance, such as Kathak and Bharatanaytam, create an enchanting atmosphere. Close by these conventional exhibitions, couples can likewise integrate contemporary diversion components, for example, live dhol, groups, DJs, and an intelligent photograph stalls, adding a melodic curve to the celebrations.
What could be more relaxing than receiving a blessing from God following your marriage? Bhimtal, a well-known mythological location. It is truly amazing that you take your vows in the land of God and then receive a blessing from God while visiting various well-known temples in Bhimtal. One of the most well-known temples in the area is the Old Nag Temple, which is on the Kartotaka Hills. This temple receives a large number of prayers from devotees during Rishi Panchami. Legend has it that the natives are protected from being bitten by snakes by the serpent god.
Conclusion
Resorts by the Baagh, 5 star resorts in bhimtal offers an enchanted setting for couples looking for a wedding that consistently mixes customary polish with present day subtleties. Every aspect of a Bhimtal wedding reflects the harmonious blend of tradition and modernity, from magnificent venues to traditional rituals to attire, food, entertainment, and mythological locations. The appeal of this charming objective, combined with its rich social legacy, guarantees that weddings in Bhimtal make enduring recollections for couples and their visitors, making it a genuinely extraordinary encounter.
Thus, let the entrancing excellence of Bhimtal bring the sorcery into your important day! Book your visit at Resorts by the Baagh, 5 star resorts in Bhimtal and let the experts handle all your wedding necessities.
By: Resorts By The Baagh