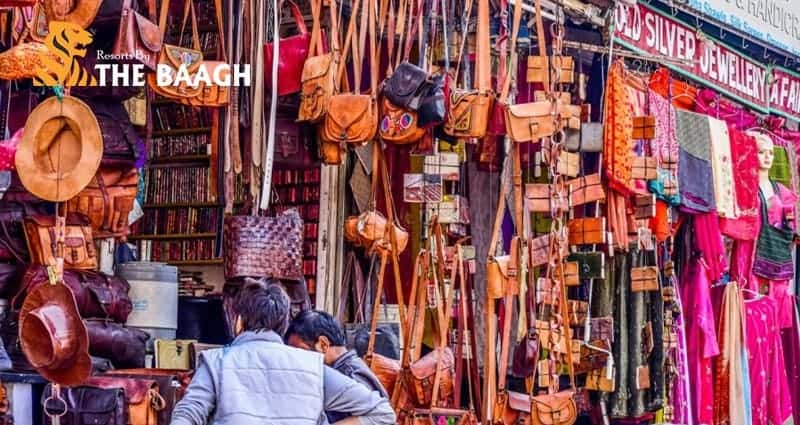 March, 24 ,2023
Top Most Famous Markets For Shopping In Nainital
Nainital, also known as the 'Lake District,' is an idyllic Himalayan hometown in the country's northern belt. The verdant valleys and the beauteous lake views of Nainital are picture-perfect, luring travellers from across the globe. Are you planning to drop your anchors in the quaint hill station soon? Wonderful idea! Especially with the hot and sultry summers swinging in, there couldn't be a perfect time to explore and unwind in the sublime mountain air of the Kumaon.
Mountains and malls are pretty synonymous, right? Well, Nainital is certainly no exception. The sublime hill retreat is much more than the sweeping views of the Himalayas and the crystal waters of a gorgeous pear-shaped lake. Shopping here is just as popular as the breathtaking scenery. So, are you excited to explore the famous markets in Nainital? Let's curate a list of the popular shopping places in Nainital.
1. Mall Road
No points for guessing but 'Mall Road' is one of the most enticing hubs for shoppers visiting Nainital. Do you know why Mall Road is one of the most famous markets in Nainital? It is one of the most primordial commercial places built during the colonial era of British times. Whether you are a soft heart for local handicraft products or someone with a flair for local tastes, the mall is unquestionably a great place to explore. Get your hands on an amazing range of textiles, souvenirs, candles, and more. In addition to merchandise, you can always explore a galore of cafés and restaurants here.
2. Tibetan Market
Operated by the regional traders and natives of Tibet, the Tibetan Market is one of the traveller hot spots in Nainital. Wondering why? Well, describing the market as a fiesta of colours and local goods is appropriate. You can discover a wide variety of ethnic dresses, mufflers, capes, trinkets, and woollen wear here. While it is easy to lose yourself in the vibrance and joyful aura of the market, you should brush up on your bargaining skills to shop for exclusive merchandise at great prices.
3. Bara Bazaar
Speaking of the famous markets in Nainital, Bara Bazaar is another popular name. Nestled away in the busy streets of Mallital, the market is well-known for the abundance and variety of fruits, pickles, and jams. So, if you are looking forward to stacking up succulent and exotic fruits like cherries, blueberries, apples, strawberries, and more, Bara Bazaar is the right place to shop. Besides, you can also find some fancy candles, incredible wooden handicrafts, and showpieces made of organic cane in the marketplace.
4. Bhotia Bazaar
Are you eager to explore handicrafts, woollen wear, and products that reflect the true taste of local Kumaoni aesthetics? If yes, touring the Bhotia Bazaar is a must. You can always find some amazing knitwear and craft pieces here. Also, the market is incredibly famous for its extensive collection of marmalade, homemade chutney, pickles, etc. Thus, shopping at the Bhotia Bazaar is undeniably a wonderful experience.
What are the things you must buy in Nainital?
Well, offering a shopping guide is just as crucial as spilling beans about the best markets to shop from. Don't you agree? So, if you are someone who feels easily lost looking at the diversity of products up for grabs, this list is surely going to be a huge help. Let's elaborate:
Woollens – You can't just go to Nainital and not buy some exquisite woollen wear.
Candles – If you know anything about Nainital, you are surely aware of the popularity of the aromatic candles in the hill town. Don't forget to stack your shopping bags with these candles.
Home décor knicks knacks – Handicrafts always earn a special place in home décor. Believe it or not, you could really find some timeless collector's pieces here.
Pine cone decorations – How often do you get a chance to decorate your house with pretty and exclusive pine cone decorations? Find an incredible range of handcrafted pine decorations at any of the famous markets in Nainital.
Why just candles and home décor pieces? You can always hoard fresh and delicious fruits from the markets in the beautiful valleys of Nainital.
What's exceptional about a trip to Nainital?
Nainital is a crown jewel of Uttarakhand. The picturesque hillscapes feature the most alluring locations. For example, you can recline by the idyllic banks of Naini lake, gazing at the pretty green terrains and the snow-capped Himalayan ridges. Besides, you can always traverse the beautiful pine-canopied stretches of Bhimtal for a soulful and serene retreat. Contrary to what many know, Bhimtal is a less-crowded and beautiful hillside getaway, especially for nature lovers. Wondering if there's a good place to stay in Bhimtal? Surprisingly, Bhimtal boasts some unique, luxurious, and boutique properties.
One name that ranks high in the list of the top resorts in Bhimtal is Resorts By The Baagh. Explore the magic of luxury accommodations paired with world-class hospitality and postcard-worthy views. Come and indulge in an experiential retreat on your trip to Nainital.
By: Resorts by the Baagh