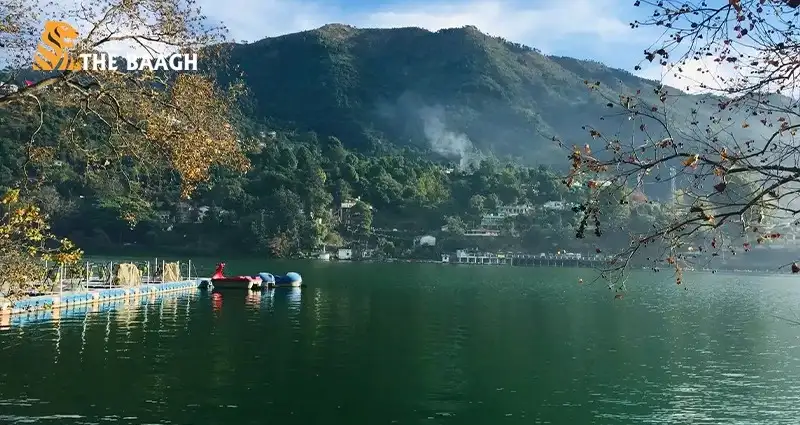 July, 18 ,2023
Things To Do In Bhimtal In Summer
Right now, the monsoon season's bell is ringing! If you missed out on going on vacation this summer, god has provided you with another opportunity. And the greatest area to visit during the monsoon season is Bhimtal. Uttarakhand's hidden, serene beauty, surrounded by beautiful skies, a quiet calm, and lovely shining lacks. Recently, the location has gained popularity among tourists because it is positioned at a height of 1370 metres over the silky sea and is also known for its prominent tourist destination in Uttarakhand's Kumaon region. Where you can find gorgeous mythological sites, lakes, hills, and aquariums.
If you are planning a trip to Nainital district, you may also visit the fantastic adventure places in Bhimtal Valley. This location was named after Bhima from the Mahabharata, who is the main feature of the town, which lacks a gorgeous centre. Which attracts tourists who enjoy water sports such as boating, zorbing, and kayaking.
When taking a boat journey, you may note that the most popular attraction of this site is a wonderful eye-catching island stand in the middle of a clear blue lake. This location is still relatively unknown among the general public, owing to the fact that it offers less pollution, a smaller population, and exhilarating adventure opportunities.
There is currently a monsoon season in India, but if you are wondering which season is best for your vacation in Bhimtal, then listed below are descriptions of all three seasons of Bhimtal, from which you can choose your preferred season and enjoy your lovely and adventurous trip to Nainital.
Summers: If you enjoy temperatures ranging from 10 to 27 degrees Celsius, which are not too hot but not too cold, then summer is the season for you. You should visit Bhimtal between March and May when it is ideal for adventurous activities and visiting some wonderful historical temples.
Monsoon:- Speaking of the current season, I'm referring to the monsoon season. This is the season for those who enjoy rain, which begins in July and finishes in mid-September. This is the time of year when the temperature decreases, making the atmosphere more pleasant. The best suggestion I can give you is to choose a bhimtal tour packages that is reasonable and have your trip organised well so that you get the most out of your holiday. Because of the severe rain, certain places are closed. Thus it is recommended to take a Bhimtal tour package that can assist you on how to have a fantastic vacation.
Winter:- In Bhimtal, winter begins in September and finishes in December, with temperatures averaging approximately -3 degrees Celsius. If you enjoy breezy breezes, gloomy skies, and gleaming sunrises, winter is the greatest time to take a vacation.
Five Most Popular Things To Do In Bhimtal
Fishing:- Bhimtal is a region known for its magnificent three lakes- Sat Tal, Naukuchiatal, and Bhimtal. Tourists visit these places to enjoy the picturesque surroundings as well as fishing and boating. Boating is a wonderful option for getting an unforgettable aquatic experience. A boat journey across the centre of the island is an unforgettable experience.
The Bhimtal Lake is located between the aquariums and provides a lovely eye treat. Here you can have a nice smooth boat ride and a pleasantly fulfilling fishing experience, making your stay in town worthwhile. So, if you are considering a trip to Nainital, you should absolutely go for the boat ride; you will not be disappointed!
Campaigning and astronomy: The pleasant weather and beautiful surroundings make open-air campaigning even more enjoyable and soothing. Open sky camping with a gorgeous windy environment is one of the best ways to make the whole experience more interesting with the hot valley distinctive maggie. While camping, tourists can also appeal to its sky by gazing at the star-studded sky.
Imagine yourself camping in the lush green surroundings of majestic mountains, where you can see a group of people enjoying the hot maggie in the windy atmosphere surrounded by lush vegetation and a lovely clear blue river, which provides an unrivalled experience.
Paragliding and Dirt Biking:- Imagine being able to fly like a bird in the open sky while paragliding or dirt biking! It's just like a movie scenario or a weird dream!! This is exactly how you will feel while paragliding above Bhimtal Valley. Bhimtal is an adventure lover's heaven; you may also go to Naukuchiatal, which is 4 kilometres away from Bhimtal, to enjoy paragliding and dirt biking.
If you enjoy biking and want to go on a wild adventure, here is the place to go. Then Bhimtal is here to provide you with an exciting bike ride experience like no other.
Sightseeing:-The most pleasant experience you may have during your trip to Nainital is doing nothing in this lovely atmosphere and simply enjoying the wonderful surroundings of Bhimtal Valley. The famous Bhimtal Lake, Victoria Dam, Bhimeshwar Mahadev Temple, Nag Temple, Folk Culture Museum, Hanuman Garhi Temple, and many other places may be visited here. The list is literally endless! All of these locations provide an unforgettable experience and are appealing enough to make you want to return.
Shopping:- What is the purpose of visiting Bhimtal if you don't get your hands on its specialities, such as their famed fine wooden handcraft artefacts, organic items, and several sorts of handmade candles that can give your home a new unique and appealing look? If you are a shopaholic, street shopping in Bhimtal will undoubtedly be one of your favourite pastimes. Handmade Garhwali paintings, wonderful aroma candles, and other organic products may be found on Mall Road.
After experiencing the above-mentioned thrilling and adventurous locations, you will undoubtedly require a tranquil location with superior lodging options. Check out the website Resorts by the Baagh, which is one of the best resorts in Bhimtal, offering fully furnished deluxe rooms with all modern amenities, a swimming pool, a play area, a wedding hall and other similar five-star amenities. This provides you with the comfort to reboot your soul and prepare your body for the next great journey.
By: Resorts By The Baagh