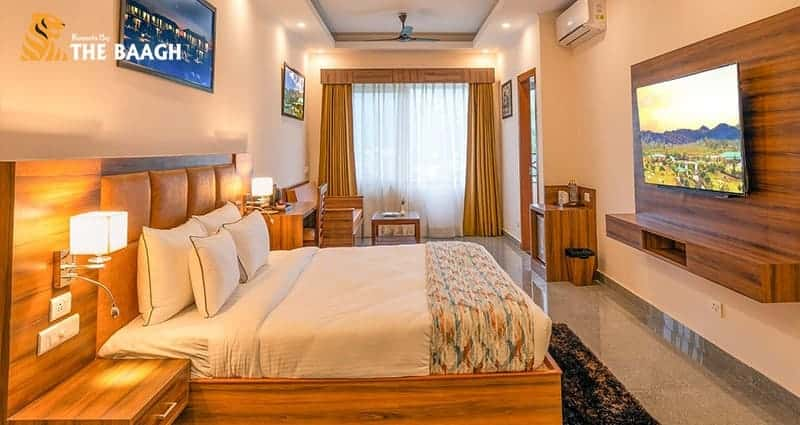 December, 15 ,2022
Things To Consider Before Booking A Bhimtal Tour Package Online
Are you planning a vacation in the upcoming winter break? Thinking about the places you could venture into? If serenity and breathtaking mountain views are more your kind, planning a trip to the quaint valleys of Bhimtal is undoubtedly a great idea. The beautiful hill station nestled in the pristine state of Uttarakhand is picture-perfect, featuring verdant terrains, an enchanting lake, terraced gardens, and picturesque views all across. Are you excited to pack your bags and holiday in the blissful lap of nature? Great! Get your hands on the best Bhimtal tour package for a stress-free and delightful travel experience.
Tips to help you select a good travel package
Picking out a Bhimtal tour package that fits your timeline, budget, and preferences is not as easy as you imagine. There are quite a few tips to bear in mind when booking a good travel package. Wondering what? Let's spill the beans:
1. Check out the different travel portals
It is no secret that there are various players in the market. Hence, do not place your bets on just one travel agent or portal. Sign up on various websites and portals instead. Little do you know that you will soon receive a slew of offers, discounts, and deals to choose from. Does an offer appear a little too irresistible? Do not jump on the first great deal you get. Read in between the fine print to stay abreast of any hidden charges or limitations. Also, it is critical to research and negotiate before clinching the right Bhimtal tour package deal.
2. Book your packages a lot ahead of time
There's much to brood about when planning a vacation in the quaint and remote valleys of Bhimtal. For starters, selecting the best hotels in Bhimtal, arranging private transfers and panoramic tours of the valley, etc. Are you a lazy planner who mostly vouches for last-minute deals? Little do you realise that early bird discounts and deals are far more amazing than the final hour packages you bag in. Besides, why rush and settle for just any accommodation or holiday package? Making reservations in the final hour curbs your options and is more expensive.
3. Speak about your preferences in prior
Are you seeking to enjoy the pleasures of crisp and chilly winters in a luxury resort? Would you be happy if you had to settle for standard accommodation with not-so-impressive hospitality and average services? Of course, not! Therefore, it is essential to talk about your preferences when signing up for a tour package and not rely on the agency's choices alone. For example, speak about the choice of luxury resorts in Bhimtal you are eager to hang hats in, private transfers, the must-do's in your itinerary, and more. The clearer you are about your preferences, the easier it is for tour agents to curate a package more to your liking.
4. Look into the inclusions and exclusions of the package
The myths around a pre-planned Bhimtal tour package are many. There are travellers who reckon tour deals as an expensive and not very transparent ordeal. Is it true, though? Certainly not if you have done your homework well enough. Read between the fine print and figure out the things included and left off in a tour package. It gives you a clear understanding of the itinerary and saves you from blowing out your budget for unnecessary expenses that you once thought were covered.
5. Smaller and lesser-known travel agencies are also worth a shot
Do you always favour entrusting your holiday plans to a reputable travel portal? Believe it or not but lesser-known agencies and tour operators also offer incredible deals at far lesser prices. However, always research about an agency before you bank on their services. Check for genuine customer reviews and compare the charges offered by various other portals to narrow in on the best Bhimtal tour package.
Do not procrastinate any longer! Get moving and book a package to the tranquil mountain valleys of Bhimtal soon.
Where should you lodge in Bhimtal?
Heading over to the scenic mountain valleys for a respite from the clamours of urban lifestyle? Of course, settling upon accommodations nothing short of luxury lodging is only obvious. Have you been curious to know about the swish and best hotels in Bhimtal? Resorts By The Baagh certainly tops the list of luxury accommodations in the quaint valley. Spanned across acres of lush green lands, the resort is nothing short of a luxury retreat for leisure lovers. Spend quality time gazing at the bewildering nature all around. What's more, the wondrous and alpine ridges of the Himalayas paint a perfect backdrop to laze in the serene and magnificent lap of nature.
ResortsByTheBaagh is unlike the standard resorts in Bhimtal. From plush and elegant rooms equipped with leading-edge amenities and class apart hospitality to swish and upscale in-house restaurant, an elegantly appointed banquet space, and more, indulge in bespoke luxuries and world-class stays. Make the most of your trip to the mesmerising terrains of Bhimtal. Book a tour package today!
By: Resorts by the Baagh