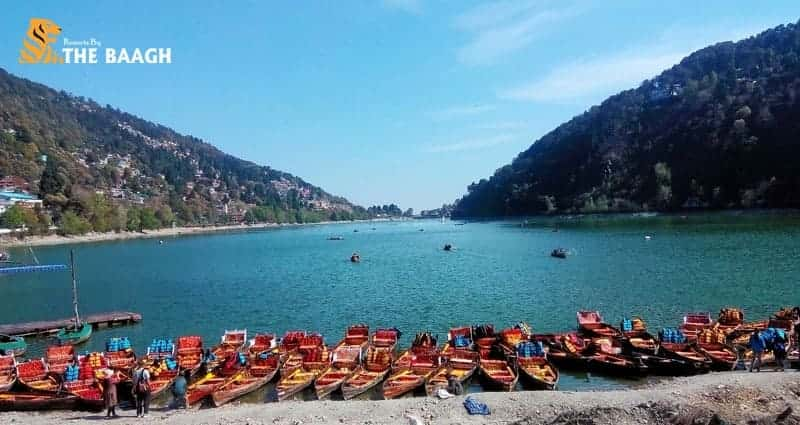 May, 27 ,2023
The Perfect Travel Duo - Bhimtal and Nainital
Do you get frustrated of your hectic daily schedule? Is the city's pollution bothering you? Did you realise that this polluted atmosphere is bad for your mental health? One of the most serious causes of human health problems is air pollution. Every year, millions of humans die as a result of air pollution, with the hectic daily workload also playing a role in pushing humans towards desperation. It will become important to take a break from the hustle of life.
If you're having the same problem, your workload may be making you irritable. This is the clearest indication that you should take a day trip and get away from the pollution of the city. Pick a location where you can unwind, take in the breathtaking sights, and breathe in some fresh air. I can tell you that taking this break will revive both your body and soul.
And the spot with the nicest view and pure air direct from Mother Nature is none other than Uttarakhand. The lovely hill valley is quickly becoming a favourite vacation spot for people, especially from Delhi. But if you're unsure about where to go in Uttarakhand, we have a fantastic suggestion for you.
Bhimtal is the Heaven on Earth
Bhimtal, with its gorgeous blue sky, picturesque lake, and relative quietness, is another pearl in Uttarakhand's crown. At a height of 1370 metres, this Himalayan valley encapsulates the splendour of the Kumaon area. Bhimtal is a spot that tells the narrative of nature, where gorgeous hills meet legendary significance. This is the smallest town in India, and it is named after Bhima from the Mahabharata.
Continue reading these articles if you are planning a trip to Bhimtal. The following are some prominent destinations you should not miss while on your Bhimtal Tour.
Garg Parvat: If you wish to immerse your spirit in the enthralling beauty of nature, travel to Garg Parvat, an unknown area near Nainital. This hill is also known as the Valley of Flowers because it is completely covered with a carpet of colourful flowers. Those looking for an adventurous pastime should visit this location, where you can go trekking and enjoy the breathtaking view of the valley.
Bhimeshwar Mahadev Temple: One of the reasons for Bhimtal's attractiveness is its holy temples. If you are a pious person who spends their vacations visiting temples, you must visit Bhimeshwar Mahadev Temple. This temple was constructed in the seventheen century and is dedicated to Lord Shiva. Because of its pure and modest construction, the temple is visited by worshippers and visitors throughout the year. Bhimeshwar Mahadev Temple is one of the greatest sites to visit in Bhimtal, whether for its natural beauty or for the town's hidden jewels.
The G B Pant High Altitude Zoo was built in 1984 and opened to the public in 1995. This lovely location is located at a height of 2,100 metres on Sher ka danda hill. If you are an animal enthusiast, here is the spot for you. Here you will find spectacular, never-before-seen endangered animal species, which is also known as the Nainital Zoo. This location is a photographer's paradise.
Bhimtal offers a variety of other locations and activities besides those mentioned above. In addition to the Bhimtal, there is another place that is well-known to tourists. Any hunches? Yes, I think the majority of you have a single name in mind. Nainital, yes. One of the most loving locations in the Uttarakhand valley is Nainital.
The followings are a handful of the best stunning locations in Nainital that you may find here:
Zoo in Nainital: Officially called Bharat Ratna Pt. Govind Ballabh Pant High Altitude, is a stunning destination for animal lovers. Animals of many sorts may be seen here, as well as stunningly colourful birds.
Naina Devi Temple: If you enjoy visiting religious sites and visiting prominent temples on your holiday, then pay a visit to the Naina Devi Temple, where you may learn about Indian history.
The Mall Road Nainital:- A journey to Nainital would be incomplete without a visit to Mall Road, right? There are several shops here to help you finish your shopping list. This is a foodie's paradise where you may taste the delicious local pahadi cuisine. This finger-like indigenous cuisine fills your mount with delicious flavours.
Despite the fact that Nainital is more well-known than Bhimtal. This would also be a significant benefit. Yes!! Because that is why we are leaving the city and travelling to these tranquil regions. to get away from the city's pollution and people. Bhimtal is a more peaceful place than Nainital, with fewer people and amazing resorts for your luxury stay in the middle of snow-capped mountains, surrounded by lush greenery and a quiet blue river running through it, providing a picture-perfect view.
The area has several resorts to choose from, but the greatest is Resorts by the Baagh. The well-known 5-star luxury resorts are ideal for your desired serene, relaxing stay. The resort has effectively established itself as one of the best resorts in Bhimtal.
Rekindle your passion for a leisure vacation at Resorts By The Baagh's magnificent and stunning facility. Relax in rooms that are nothing less than a dreamy luxury, complete with the greatest conveniences and strong, modern furnishings. Take advantage of in-room facilities and breathtaking views of the Himalayas.
So, what would you choose, Bhimtal or Nainital, for your next vacation in the Himalayas?
By: Resorts by the Baagh