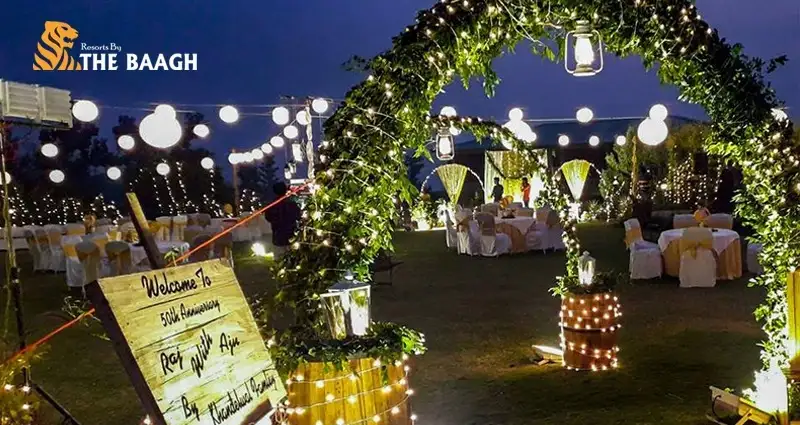 August, 22 ,2023
The Best Wedding Resort In Bhimtal: Your Complete Guide
Enjoy the stunning scenery of the Himalayan ranges. The breathtaking vista from Bhimtal to Nainital sets the scene for a spectacular hilltop dream wedding. Bhimtal, with its heart-melting lakeside beauty and lush, verdant surroundings, is the ideal fairytale background for couples looking for an unforgettable wedding celebration. The glistening water waves of Bhimtal Lake reflect the azure skies and provide an ethereal touch to the picture. In addition, the calming sound of rustling leaves and the musical symphony of birds chirping form a natural soundtrack that adds to the romantic atmosphere.
Imagine a situation in which the full-size sun sets behind the mountains, casting a warm, beautiful golden hue that reflects straight on your beautiful mandap, transforming into a canvas of dreams. When you book one of the best Five star hotels in Bhimtal, you get not only the eye-soothing beauty of Bhimtal but also the opportunity to capture the essence of love on a picturesque canvas, ensuring memories of the special day that will be etched in the hearts of the couple and their guests forever.
Why Is Bhimtal An Appropriate Destination For Couples Who Want To Hold Their Weddings In The Hills
Unrivaled beauty: Have you ever been to Bhimtal? If you haven't already, go ahead and Google it to see how endowed the area is with its beautiful natural beauty, which includes enchanting landscapes, luscious lush green environs, and quiet lakes. This stunning location provides the ideal romantic backdrop for couples to exchange vows amidst nature's majesty.
Intimate and romantic wedding:- The quiet ambiance of Bhimtal to Nainital fosters intimacy and romance, making the location suitable for couples wanting a passionate and unparalleled wedding ceremony away from the bustling, busy city pollution.
5-star venues:- Besides the surroundings, the venue plays a significant part in ensuring your wedding functions go smoothly and cheerfully. The Bhimtal offers a broad choice of wedding locations, from lakefront five-star hotels in Bhimtal to beautiful cottages and luxurious resorts, all of which can be customized to ensure a unique and personalized experience.
Best soothing climate:- Bhimtal is known for its calming climate, which makes it an appealing site for weddings. Couples can organize their celebrations without worrying about inclement weather, assuring the comfort of their guests.
Adventure and leisure: Bhimtal offers the ideal combination of beauty and adventure, including trekking, natural walks, and boating, as well as possibilities for relaxation and refreshment. This incredible combination allows the couples and their guests to participate in fantastic activities before and after the ceremony.
Professional Services:- over time, Bhimtal has developed a network of experienced wedding planners, decorators, and caterers who are well-versed in creating seamless and magical hillside weddings.
Accessibility: Because Bhimtal is close to major cities and towns, it is easy for couples and their guests to travel. It balances between being in the middle of nature and being easily accessible.
Wedding photography and aesthetics: The most beautiful day in a couple's lives should be captured for long-lasting memories. The breathtaking vistas, five-star hotels in Bhimtal, and natural features provide the perfect backdrop for excellent wedding photographs. Bhimtal's picturesque splendor enhances the visual aesthetics of wedding rituals and captures timeless memories.
Local Culture: Couples can include local culture and traditions in their wedding celebrations, giving the occasion a sense of authenticity and individuality.
Memorable Experience: Marrying in Bhimtal is about creating an entire experience, not just the wedding day. The venue provides an all-inclusive experience for couples and their loved ones, from pre-wedding parties to post-wedding relaxation.
If you want to experience all of this, you must reserve ahead of time at the well-known Resorts by the Baagh if you're wondering why, keep reading.
Resorts Along The Baagh - Ideal For Bhimtal Destination Weddings
"Resorts by The Baagh" is a well-known five-star hotel in Bhimtal that is the pinnacle of an excellent venue for your beautiful wedding in the enthralling realm of Bhimtal. The resort, nestled among the magnificent sceneries of this hillside refuge, provides a fantastic canvas for couples looking for a spectacular wedding experience. "Resorts by The Baagh" sets the atmosphere for an extraordinary celebration with its combination of natural beauty and first-rate services.
The resort's beautifully constructed facilities can accommodate every facet of a perfect wedding, from intimate ceremonies overlooking the tranquil Bhimtal Lake to big parties under the starlit sky. Impeccable service, excellent lodgings, and a hint of local character create an elegant and inviting ambiance. "Resorts by The Baagh" ensures that every detail is attended to, making your wedding a flawless and memorable celebration, whether it's a romantic lakeside exchange of vows or a joyful gala.
When you visit Bhimtal for a wedding, you must get out and enjoy the surroundings because a destination wedding is all about the honeymoon. Bhimtal isn't just for destination weddings. It is also a fantastic location for daring adventure activities; mentioned below are the five most remarkable activities included in your Bhimtal tour package.
The Following Are The Five Most Well-Known Activities In Bhimtal:
Boating on Bhimtal Lake is one of Bhimtal's most iconic sports. The idyllic Bhimtal Lake, surrounded by lush green hills, is ideal for boating. Visitors can go paddle boating, rowing, or take a leisurely boat ride to the lake's lovely island in the middle.
Trekking and Nature Walks: The surroundings of Bhimtal are a haven for nature lovers and trekkers. Various trails in the area lead to panoramic overlooks and hidden jewels. Treks like the Bhimtal-Dhokaney Trek and the Karkotak Trek allow visitors to learn about the region's vegetation, fauna, and beautiful landscapes.
Exploring the Butterfly Research Center: The Butterfly Research Center is located in Bhimtal and is a unique site that allows visitors to see an incredible diversity of bright butterfly species. Nature lovers, photographers, and people interested in ecological conservation will enjoy this educational and entertaining trip.
Visit Bhimeshwara Mahadev Temple: The ancient Bhimeshwara Mahadev Temple, dedicated to Lord Shiva, is historically and religiously significant. The temple's beautiful construction and peaceful atmosphere make it the most famous destination for spiritual seekers and historical buffs.
Adventure Activities: For thrill-seekers, Bhimtal provides a variety of adventure activities. The region caters to those looking for an adrenaline rush, with activities ranging from paragliding and zip-lining to horseback riding and mountain biking. Adventure seekers can enjoy the natural beauty while participating in these thrilling activities.
So, what are you holding out for? Allow the beauty of Bhimtal to open the doors to your fantasy wedding, where you can plan your luxury wedding while also enjoying the eye-soothing surroundings and thrilling experiences. Book your stay at Resorts by the Baagh and allow the professionals to assist you in planning your perfect wedding in the magnificent Himalayan valley.
By: Resorts By The Baagh