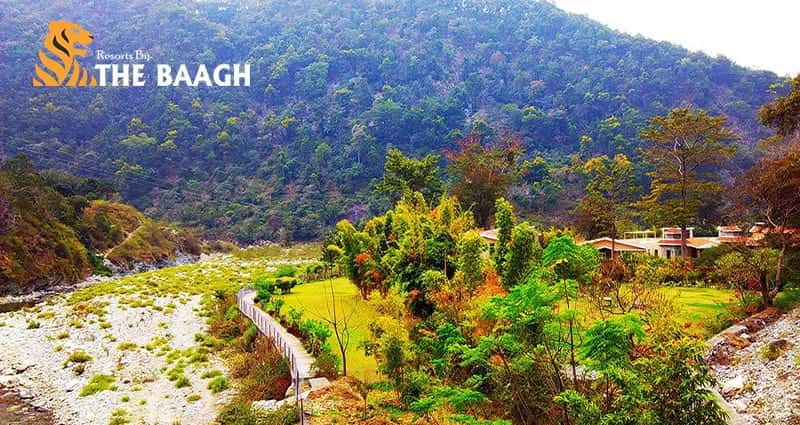 March, 07 ,2023
The Benefits Of Nature Time For Your Physical And Mental Health
How often have you heard that nature is therapeutic? Have you tried basking in the sun and wallowing in calm green meadows? If not, you are certainly missing out on the pleasures of living a relaxing and stress-free experience. Unfortunately, the hustles of life and the noise and commotion in cities have left us crippled, gasping for fresh air. Therefore, taking a break now and then and escaping to the far-off valleys in Uttarakhand is unquestionably a great idea. Wondering where you can plan your next escapade? Make reservations for a weekend holiday at Resorts By The Baagh in Bhimtal.
What's good about a holiday in Bhimtal?
Bhimtal, a pristine paradise in the beautiful Devbhoomi or Uttarakhand, is a haven for nature lovers. The serenity of the place, the lush green views, and the alluring mountain peaks serve as a treat to the eye and soul. Thus, if you have been longing to revive your tired mind in the bright and peaceful arms of nature, there is certainly no place better than Bhimtal.
Explore the green mountain ridges or lounge away doing nothing at all; Bhimtal rounds up the perfect definition of a leisure vacation. Many travellers often find themselves in a pickle, trying to decide between Bhimtal and Nainital. Of course, the gorgeous lake in Nainital, beautifully surrounded by the mist-cloaked Kumaon peaks, is picture-perfect.
Thousands of tourists drop anchors in Nainital only to witness the magical hillscapes and revel in the enchanting views of the destination. However, little are tourists aware that the sceneries in Bhimtal are just as magical and rewarding as Nainital, if not more. What's more, experience the joy of exploring and basking in the beauty of nature without the clamours of crowds.
In short, a holiday in Bhimtal is a joyous and soul-rewarding experience. To make the most of a pleasurable nature time, though, always make reservations at a nice resort in Bhimtal.
The benefits of a blissful nature time in Bhimtal
It is no secret that anxiety and depression have taken over our lives. With busy work schedules, family chores, and stress of all kinds, the hustle is certainly doing more harm than good. Did you know that simple things like basking in the bright natural light or lazing away watching the squirrels frolicking in their hideouts work wonders in lessening the anxiousness of stressed minds? It is true! Nature plays a vital role in keeping us emotionally, physically, and psychologically healthy. Even research proves that a jog in the park or a humble me-time in an open green space has a miraculous impact on our wellbeing and health.
Unfortunately, simple things like breathing in the fresh air are more of a luxury nowadays. Also, a close connection with nature is long lost too. Not many are aware that getting close to nature strengthens one's connection with the natural world. For example, a good and long nature time harnesses emotions and compassion in human beings. What's more, you tend to feel a lot more relieved, calm, and happy inside when you dwell in the lap of nature.
Nature has a healing magic
It is not unknown that anger, stress, and fear are deep-rooted in the minds of many. Exposure to nature heals one emotionally by reducing the production of stress hormones and calming aggravated muscle tension. Well, did you know that luxuriating in nature reduces mortality too?
Why just heal? Nature inherently lifts up mood and wellbeing. It restores a depressed state of mind into a happy and joyous one. Furthermore, simply staring at the green stretches improves focus and concentration in individuals. Thus, the importance of spending quality one-on-one time with nature should not be neglected.
Where can you travel to Bhimtal?
Don't just sit back tied up in the bustling schedules. Plan a break in the alluring valleys of Bhimtal to give your mind and soul a refreshing breather. So, are you ready to plan a short and sweet holiday in Bhimtal? Great! Book your reservations at Resorts By The Baagh.
If you are not already aware, tourists, especially nature lovers, always have Bhimtal on their bucket lists. Hence, finding a pretty and pleasant resort in Bhimtal, specifically in peak times, could be a hard nut to crack. So, book a stay early in time to ensure that there are no interruptions to a peaceful and leisurely holiday.
Moreover, are you curious to discover the hill station at length? Here's a list of the must-visit places in Bhimtal.
1. Bhimtal Lake – A beautiful blue spanning over 47 acres is a major tourist attraction in the hill valley.
2. Victoria Dam – An iconic masonry dam, also the largest in the Nainital district of Kumaon, is a must-visit place.
3. Tiffin Top – Enjoy the thrills of horse-trekking at Kumaon heights and witness the surreal panoramic views of the quaint mountain valleys.
4. Island Aquarium – Take the joy of gushing through the streaming waters of the Bhimtal lake to drop by a beautiful aquarium housing exotic fish breeds.
5. Bhimeshwar Mahadev Temple – Stationed at the height of 1700 meters, the pilgrimage point is highly auspicious and offers the most breathtaking views.
To sum up, there are umpteen places you can visit on your holiday in Bhimtal. Make sure your reservations are made prior for a seamless and pleasurable holiday experience. If luxury and quality living in the lap of nature draw you, make reservations at Resorts By The Baagh for an unforgettable experience.
By: Resorts by the Baagh