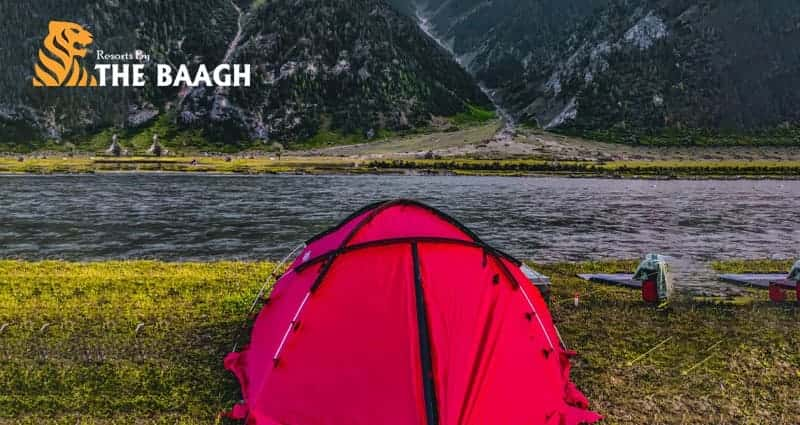 January, 31 ,2023
River Side Camping in Bhimtal at Padampuri Camp
Bhimtal is certainly one of the prime destinations situated near Nainital, the city of lakes, in the beautiful state of Uttarakhand. The place is well-known for its aesthetic beauty and scenic views that attract tourists from all across the world. Moreover, this goes without saying that Bhimtal offers you a great location throughout the year in order to spend your life in a lively nature.
River side camping in Bhimtal camp can be a great experience, especially if you are traveling with your friends and family. The best site for riverside camping in Bhimtal is Padampuri, a location that is comfortably settled at a significant altitude of 5200 ft. You must note that the place serves as the perfect spot for travelers looking for cold mountain breezes, streams, and forests covered with mountains, showcasing the best version of nature.
With ResortsByTheBaagh Bhimtal by your side, the staff considers it as a commitment to facilitate the best services at the most affordable packages. Believe us, the campsite safaris and wildlife tours are a once-in-a-lifetime holiday travel experience. We need not mention the fact, and rather, you would love to feel live that this travel will touch something deep within you.
What adds more to the value of this trip to Bhimtal and planning a riverside camping trip is that it will serve as an affordable getaway that you will never forget. Additionally, there are multi-cuisine restaurants there where you can provide hygienic food with veg and non-veg dishes.
What Makes Riverside Camping in Bhimtal Worth It
There are numerous activities that you can do in Bhimtal while you are camping, such as rappelling, rock climbing, river crossing, night treks, body surfing, rope climbing, raft building, and night treks. In addition to this, there will be numerous activities such as raft building and rafting, cliff jumping, obstacle courses, night outs, obstacle courses, and hikes and treks.
Moreover, activities like swimming, river fording, water surfing, musical nights, and badminton. Enjoy nature walks, jungle treks, angling, and barbeque.
There are beautiful camps surrounded by forest areas and the village of Padampuri. What's more? The Bhimtal camp offers Swiss tents that are equipped with all the basic amenities and features, such as attached washrooms and a spectacular view of the Padampuri area and hills from each tent.
As for the location of the camp, it is located near a river, and Bhalugaad waterfall is just a 20 min drive. It serves as a perfect camp location in order to cover Nainital, Bhimtal, and other surrounding lakes. Resorts By The Baagh is the perfect stay destination for you if you are looking for an adventurous stay with the utmost comfort.
Why Choose River Side Camping in Bhimtal
If you are planning a camping trip to Bhimtal, then you must note that you are going to enjoy your stay in the lap of nature with various adventurous activities, a waterfall, a river trek, and a mesmerizing view. The location is surrounded by the beautiful village of Padampuri, and the camp delivers a spectacular view of the mountains from each tent and an open restaurant.
The campsite is couple and family-friendly and offers a variety of adventure activities. Guests can indulge themselves in a lot of fun and adventure activities. Adventure river camp Padampuri near Bhimtal is located 12 km from Bhimtal, which is around 20 mins drive, and 30 km from Nainital, which will take you around 45 mins to reach if you travel with your own vehicle.
The camp is riverside, and thus, one will be able to experience the soothing sound of the river flowing by your side. The site is cocooned in lush greenery and surrounded by mighty mountains, which are run and managed by youthful and energetic local people who are really polite and dedicated to making your trip one of the best experiences of your life.
The campsite is located away from commercialization and from then the hustle and bustle of city life and extends a completely peaceful ambiance that is just right for camping. One can really make the best out of his trip with a hike through the forest, swim in a natural river pool alongside fish, and the spot is the perfect delight for bird watchers.
The staff there ensures that everything is well-organized, arranged, and managed. Delicious food, comfortable and adventurous accommodations, and a variety of activities make the trip just superb. The trip will certainly prove to be an unforgettable experience of your life.
Bhimtal is undoubtedly one of the best destinations that you can visit throughout the year to have a great experience and a great time with your friends and family. There are a lot of fun activities that will ignite the thrill in you.
By: Resorts by the Baagh