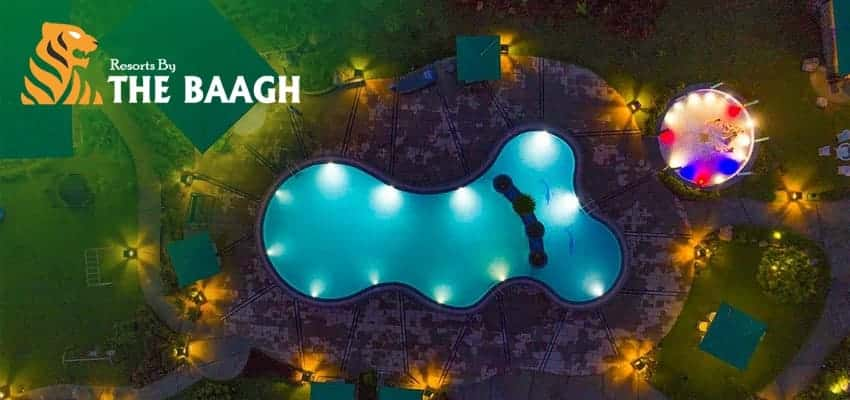 October, 11 ,2022
Resorts The Baagh - A Luxurious Sanctum In The Deep Dense Wildlife Reserve
Are you planning a short getaway recluse from the bustling city life? Do pay a visit to the charming and blissful Jim Corbett National Park, if you haven't already. A bewildering location right at the foothills of the amazing Himalayas, the sprawling jungle is home to the gigantic and royal tigers. Take part in thrilling adventures or spend a leisure day spotting exotic birds, relaxing in the lap of nature is easier done than thought, here at the beautiful national park.
If you've been longing to disconnect from a stressful life and focus only on your inner well-being, indulging in a short trip sounds like the right plan. A respite from the daily grinds is much needed. Arranging a weekend trip is far easy and pocket-friendly, in comparison to a lavish holiday plan. Feeling drained from the daily pressures of life? Just unplug, pack light, and set course to a serene and pretty spot. The lush greeneries and scenic jungles of Jim Corbett fits the description and top the list as a convenient and magnificent option for a short tour. Only a few hours drive from the country's capital, the clean air of the popular jungle is guaranteed to wipe out your stress and revive your energies.
Book a Stay at Resorts By The Baagh - All About The Healing Retreat
Of course, Jim Corbett is a favorite pick among tourists and backpackers. Make sure, you reserve a comfy stay at the earliest to wrap up a sweet and beautiful trip to the tiger reserve. Are you looking to book a cozy stay in a fancy resort? Do check out Resorts By The Baagh. An upscale 5-Star property, nestled deep within the dense jungles, serve as an ideal getaway for families, groups, and individuals. From chic contemporary rooms brimming with amenities to a class-apart spa, the resort displays opulence and grandeur in every nook and corner.
Easing up in this splendid resort is a blissful treat. Enjoy waking up far from the rackety hubbub, snacking on delicious food, and unwinding in absolute leisure. The feeling is unparallel and divine. Resorts By The Baagh aims to treat guests with a holistic experience, without cutting short on amenities and luxuries. Here's what you can expect when stepping foot in the exotic resort:
An alluring and beautifully bedecked campus
Premium lodging options with a bundle of in-room facilities, right from a luxe shower ensuite and minibar to temperature-controlled rooms, a tea maker, and more
A well-maintained outdoor swimming pool to relish taking the plunge
A full-blown fitness center with modern equipment to keep you on track
A luxury spa that helps you slack off and de-stress
Savor king-size seven-course meals in a fine-dining set-up
Hang out at the stunning recreation center and have a ball playing tennis, pool, chess, cards, ludo, and a bunch of entertaining indoor games
An aesthetic and elegant banquet that looks as pretty as a picture.
A sojourn in the state-of-the-art resort, greeting guests with warm hospitality will compel you to revisit Corbett The Baagh over and over again.
Cruising around Corbett - Are the jungles worth it?
The thrill of nestling away in the heart of an enchanting forest is matchless. What's not to love about spending time in the lap of nature, in the tranquil and beautiful jungle? If sitting back and relishing the therapies at the premium wellness spa is not enough to lure you, here's how you can plan an adventure-filled day in Corbett.
Encounter the rare wild
The idea of spotting a big cat, the Royal Bengal Tiger, is a riveting experience in itself - don't you agree? Besides being known as one of the oldest tiger reserves, Jim Corbett is home to many other exquisite and rare wild animals like leopards, sloth bears, deer, fishing cats, and 200 more species. Enjoy an adventurous escapade in the wildlife sanctuary.
Drop by the attractions around the forest
Have fun getting drenched in the freshwater torrents at Corbett Falls. Click snaps or pay witness to the breathtaking view. The national park is well-famous as a haven for the shutterbugs. The picturesque landscapes make for the perfect eye-catching backdrops.
An oasis for bird watchers and nature lovers
Did you know that the sprawling park is land featuring countless species of flora and fauna? If you are truly curious about learnings the ins and outs of plants, Jim Corbett is no less than a retreat. Besides rich fauna, the scenic jungle is a favorite of migratory birds. Don't be surprised if you spot an exotic gray-headed fish-eagle. The forest is a perfect destination for birdwatchers.
The moor is chockfull of fun adventure activities
While you can totally recline and lay at ease at Resorts by The Baagh, the activity options here are plenty. From hiking, camping, rock climbing, and trekking to river rafting, rappelling, and more, you can enjoy taking dips in the famous Ramganga and Sonanadi rivers.
Don't wait up! Head to the bewitching forest of Jim Corbett National Park for your next weekend getaway. Don't miss booking a stay at the luxurious Resorts By The Baagh to wind up a luxe and delightful experience.
By: 1