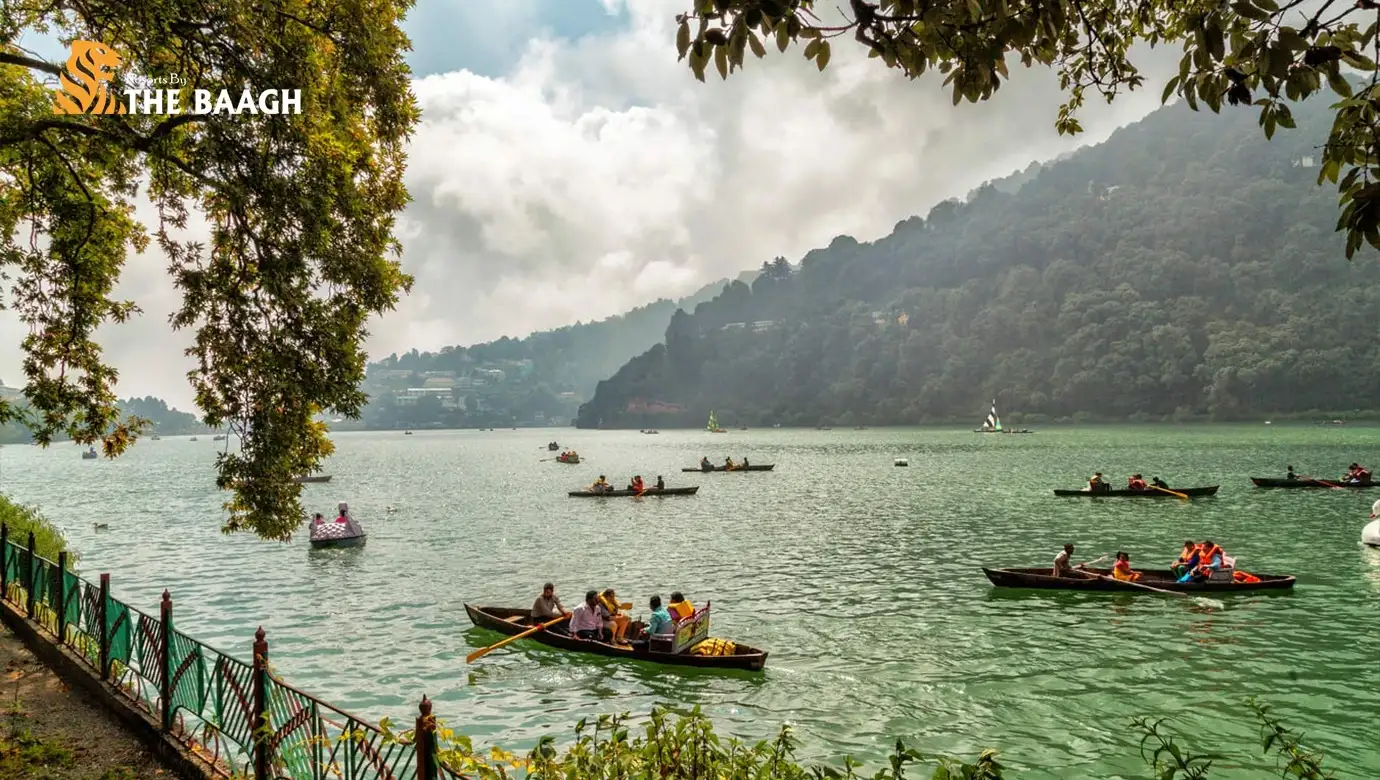 June, 21 ,2023
Places to Visit in Uttarakhand Before You Turn 30
Uttarakhand, commonly known as the "Land of Gods," is a stunning northern Indian state. There are several place to visit in Uttarakhand to experience its gorgeous scenery, tranquil lakes, lush green forests, and snow-capped mountains. Bhimtal, nestled among the scenic valleys of Uttarakhand, is a hidden gem just discovered by keen tourists and wildlife enthusiasts. Bhimtal provides a calm refuge away from crowded tourist areas, with its tranquil lakeside setting, abundant foliage, and panoramic views of the Himalayas.
Bhimtal, located in Uttarakhand's Nainital district, is famous for its pristine lake, which serves as the focal point of this picturesque town. The calm ambience and crystal-clear waters of Bhimtal Lake, named after the mythical Mahabharata warrior Bhima, enchant tourists. The lake, surrounded by hills and beautiful trees, provides an ideal setting for leisure, boating, and taking great images.
This blog article will look at a place to visit in Bhimtal, Uttarakhand, for its beauty and captivating charms, enabling readers to discover the enchantment of this lovely area. Here are some sites in Uttarakhand you should see before you turn 30:
Rishikesh:- Sometimes known as the "Yoga Capital of the World," provides a spiritual and adventurous experience. Visit the famed Ram Jhula and Laxman Jhula, participate in yoga and meditation programmes, and raft down the Ganges.
Haridwar: Haridwar is another sacred city known for its religious significance and the evening Ganga Aarti ceremony at Har Ki Pauri. Visit old temples and local marketplaces while taking a swim in the sacred Ganges.
Dehradun: Uttarakhand's capital city is surrounded by scenic beauty and has good weather. Explore Robber's Cave, the Mindrolling Monastery, and take a cable car to adjacent Mussoorie Hill Station.
Mussoorie: Known as the "Paradise for Hills," Mussoorie is a beautiful hill resort with breathtaking Himalayan vistas. Take a walk along Mall Road, explore Kempty Falls, and admire the views from Lal Tibba.
Nainital: A gorgeous hill station built around a magnificent lake, Nainital is nestled among the Kumaon highlands. Boat on Naini Lake, see the Naina Devi Temple, then take the cable car to Snow View Point for breathtaking views.
Valley of Flowers National Park: This place is a UNESCO World Heritage Site is a nature lover's and hiker's heaven. Witness a riot of alpine flowers, unusual animals, and beautiful scenery.
Jim Corbett National Park: India's oldest national park, Jim Corbett, is a wildlife lover's paradise. Take exciting safaris to see tigers, elephants, leopards, and other animals.
Discovering History: Museums and Heritage: Visit the Folk Culture Museum in Bhimtal to learn about the region's rich legacy via its collection of artefacts, traditional costumes, and historical exhibitions. This is the ideal place to visit in Bhimtal to learn about the local customs, folk art, and craftsmanship that have defined Uttarakhand's cultural tapestry.
Auli: If you like winter activities, Auli is a must-see destination in Uttarakhand. It has superb skiing and spectacular views of the snow-capped Himalayas.
Kedarnath and Badrinath are prominent pilgrimage destinations in the Garhwal Himalayas. Visit the Lord Shiva temple at Kedarnath and the Lord Vishnu temple at Badrinath.
Aside from that, you may also savour Culinary Delights: Flavours of Bhimtal.
No trip is complete unless you sample the local food. Bhimtal has a wide variety of gastronomic delicacies to tempt your taste buds. Bhatt ki Churkani, Gahat ki Daal, and Singori, a traditional dessert prepared from khoya and wrapped in malu leaf, are all true Kumaoni sweets. In addition, the town has numerous attractive cafés and restaurants where you can relax and have a cup of hot tea while taking in the scenery.
Pithoragarh: This picturesque town is located in the Himalayan foothills and provides breathtaking vistas of snow-capped peaks. This is the best place to visit in Uttarakhand to explore the gorgeous Soar Valley and appreciate the tranquillity of the area.
Resorts by the Baagh for an idyllic stay
Resorts by The Baagh are ideally positioned among Uttarakhand's natural beauties, providing visitors with a calm respite from the hustle and bustle of city life. The resort, located in the heart of Jim Corbett National Park, invites tourists to immerse themselves in mesmerising nature. It provides a beautiful atmosphere for relaxation and rejuvenation, surrounded by lush vegetation, towering trees, and the calming sounds of nature.
This is one of the top resorts in Bhimtal, offering a variety of excellent rooms to meet the needs of every tourist. Each lodging choice, from large rooms to magnificent cottages and villas, is thoughtfully created with a combination of modern amenities and classic elegance. The rooms are elegantly designed and exude warmth and elegance, with huge windows offering panoramic views of the surrounding area. Resorts by The Baagh assures a comfortable and enjoyable stay for its visitors by providing facilities such as soft mattresses, private balconies, and well-appointed bathrooms.
So, what are you waiting for? Go there today, and here's a recommendation for you: Check the weather forecast and plan your trip appropriately, as certain areas may be unavailable during certain months. So, organise your trip and immerse yourself in the natural beauty and spirituality of Uttarakhand!
By: Resorts by the Baagh