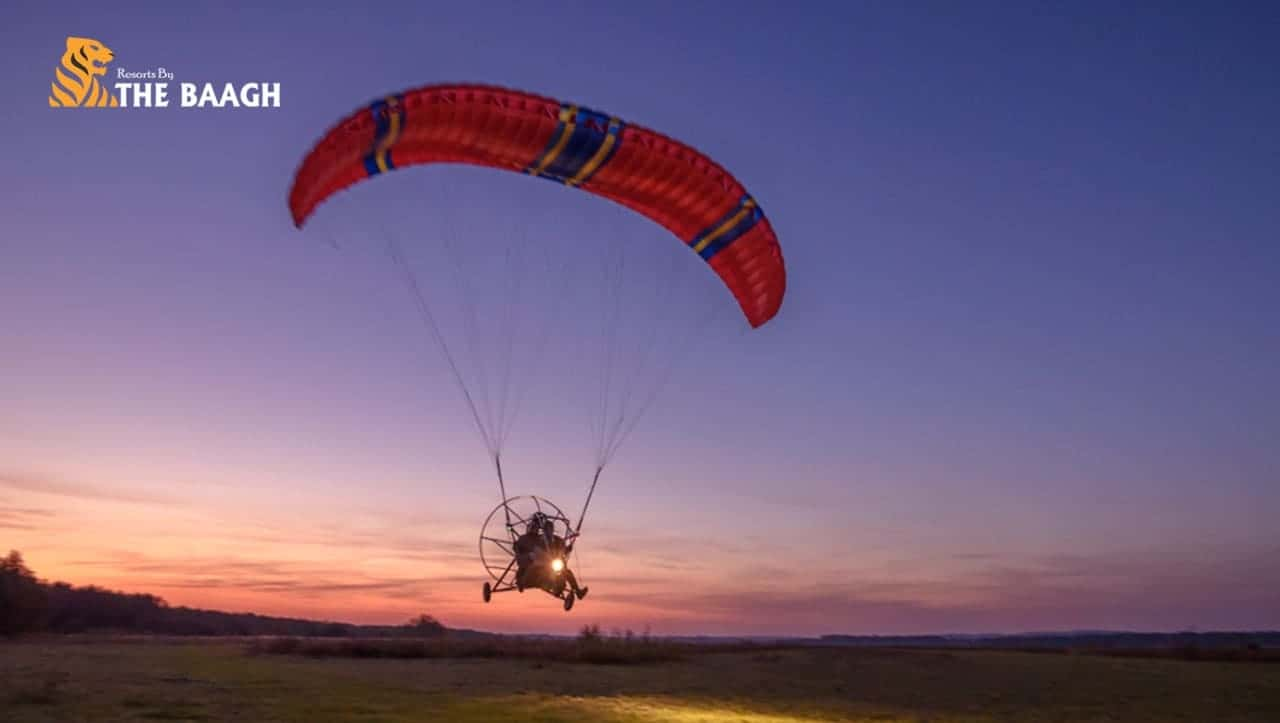 January, 23 ,2023
Paragliding in Bhimtal Uttarakhand Near Nainital
Adventure activities are certainly gaining traction these days, and paragliding is one of the most enjoyed adventure activities. Well, before discussing paragliding in Bhimtal, let's discuss the paradise known as Bhimtal, which is situated in the Nainital region of Uttarakhand. Bhimtal is a small hilly town that is nestled in the Kumaon highlands. This goes without saying that paragliding in Bhimtal, you can get a bird's eye view of snow-capped mountains, lush greenery, and clear lakes.
Thousands of people pay a visit to Bhimtal in order to experience paragliding in Bhimtal, as it is the second-best place for paragliding in India. Nature never ceases to amaze us, and when we talk about the mountainous terrains of Uttarakhand are even more special for they are endowed with breathtaking vistas.
Bhimtal is definitely the perfect location for an exhilarating weekend getaway from Delhi for each and every adventure bug. Paragliding in Bhimtal makes just the most exciting thing to do in the Kumaon hills. It is certainly a wonderful way to experience nature and a great way to spend time with friends and family.
Bhimtal resorts serves as a home to tiny, hidden lakes and deodar trees, which makes it a perfect destination to try a sport that brings as sporty thrills as paragliding.
The location is a spectacular natural bounty surrounded by blissful lakes and hills in the months of March to May, as this is the time of the year when the sky is clear and the weather is pleasant. It is the perfect time to approach paragliding in Bhimtal, which makes your dream come true by soaking you up in the beautiful views. This is your chance to have an experience of flying over the Himalayas.
Why You Shouldn't Miss Paragliding in Bhimtal Uttarakhand
Bhimtal is considered one of those Himalayan lands which are blessed with breathtaking nature and mesmerizing outdoors. The lofty highlands towards Naukuchiatal makes the location a perfect paragliding spot with ample place to fly and make a perfect landing. The glorious mountains of Nainital and Bhimtal contribute significantly to making paragliding the top destination for adventure enthusiasts.
The best time to visit Bhimtal for paragliding is March-June and September-December, and it is when the mild breeze blows, and the weather conditions are absolutely gentle to make paragliding a really astonishing activity.
The location is stationed at 1370 meters above sea level in the lower Himalayan region. Bhimtal is a really pretty place with plenty of adventure activities in the offering. Still, paragliding activity in Bhimtal emerges as the most popular outdoor activity and a major pull for all the travelers that are headed there.
Where to Plan Your Stay in Bhimtal
Resorts By The Baagh is the best place to plan your stay when you are on a trip to Bhimtal, as the staff here will help you plan your paragliding adventure well. The property under the name of Resorts By The Baagh is just the perfect destination for planning your vacation.
The staff at Resorts By The Baagh is dedicated to helping you explore the thrill and excitement of adventure in Bhimtal. They will guide you throughout your trip to Bhimtal and paragliding in Bhimtal Uttarakhand.
How to Reach Bhimtal
You can reach Bhimtal by road, flight, or train. Bhimtal has decent connectivity as it has highways that are connected to most of the major cities of Northern India. Bhimtal is situated around 305 kilometers away from the country's capital, and it takes about 6-7 hours to reach Bhimtal. You can take a bus from Delhi ISBT Kashmere Gate or book a cab in accordance with what suits you the best.
If you choose to reach Bhimtal by train, then you must note that the nearest railway station is Kathgodam, which is 10 kilometers from Bhimtal. You can take a train from Delhi to Kathgodam.
For travelers looking forward to reaching Bhimtal by air, the nearest airport to Bhimtal is Pantnagar, which is around 55 kilometers from Bhimtal. The rest of the distance can be easily traveled by cab.
Summing Up
Paragliding is certainly one such unforgettable experience that each and everyone should do once in their lifetime. There is a thrill in this adventure sport which will make you feel really powerful. Soar through the sky and have an incredible experience. However, you must note that the Nainital paragliding necessitates sensibleness and thorough planning in order to ensure a safe flying experience.
In addition to this, you should emphasize the fact that it is important to ensure that you are paying attention to the instructor and are following his instructions carefully to avoid any kind of mishappening or injury. If you have any kind of doubt related to the activity, you must talk to your instructor and get thorough details.
By: Resorts by the Baagh