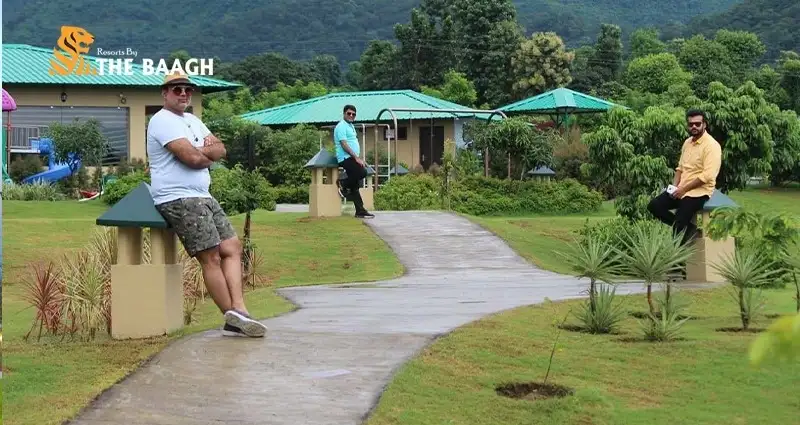 September, 25 ,2023
Luxury Resorts: Elevate Your Corporate Outing Experience
The contemporary slogging culture has become a constant in the entire corporate sphere. Now, a weekend or occasional trip is no longer a luxury but a prerequisite. Corporate outings, team-building events, offsite meetings, and similar events not only weave the bond of your employees stronger but also increase their morale. These activities foster teamwork and rejuvenate their spirits. What could be even better if you get a heavenly abode for your next corporate outing? We are talking about the magnificent Resort by the Baagh in Bhimtal. Let us check out why this resort is regarded as the best resort for corporate outing.
The Need For A Perfect Venue
Corporate outings are no longer confined to sterile conference rooms and mundane hotel surroundings. Today, companies are seeking unique and engaging environments that provide a break from the ordinary, foster originality, and put forward a possibility for employees to bond in a relaxed setting. This is where the concept of a resort for corporate outings comes into play.
Resorts By The Baagh: Your Ideal Corporate Event Destination
Located in the enchanting hill station of Bhimtal, Resorts by the Baagh is not just a resort; it's an experience waiting to be discovered. Here's why it's the perfect choice for your next corporate event:
State-of-the-Art Conference Facilities: For events or offsite corporate events in Bhimtal, the resort boasts state-of-the-art conference and meeting facilities. Whether it is a large-scale conference or an intimate brainstorming session, the resort holds the capacity to organize diversified events and satiate the requirements of the visitors - ensuring a productive and successful event.
Elegant Accommodation: Resorts by the Baagh's property hold an unmatchable magnificence. When it comes to providing a comfortable and opulent stay, you can unquestionably trust Resorts by the Baagh spacious suite rooms. Each room is tastefully decorated and equipped with modern amenities. Your employees will not only thank you for choosing this stay but will totally visit again.
Scenic Beauty: This resort boasts of its location, and there is no dearth in the belief that serenity is actually found here. Lodged amidst the luxuriant greenery and placid waters of Bhimtal, this 5-star resort offers spectacular views that can inspire creativity and provide a refreshing break from the corporate grind. The serene environment is conducive to clear thinking and open discussions.
Team-Building Activities: Bhimtal 5 star hotel, namely, Resorts by the Baagh understands the importance of team-building in corporate events. They offer a variety of team-building activities and adventure sports that can help your team bond, build trust, and enhance collaboration. These adventures are created to create an influx of adrenaline rush and leave your endorphin level quite high.
Culinary Delights: The resort's in-house restaurant serves an array of delectable cuisines, including local Kumaoni dishes and international favourites. Dining together fosters camaraderie among colleagues and adds a delightful aspect to your corporate outing.
Relaxation and Wellness: After a day of meetings and activities, your team deserves some relaxation. The resort offers a spa and wellness centre where attendees can unwind with massages and yoga sessions, ensuring they leave the event reenergized.
Customizable Packages: Resorts by the Baagh offers customizable corporate event packages tailored to your specific requirements. Whether you're planning a one-day team-building event or a week-long corporate retreat, their experienced team can create a package that suits your needs.
Privacy and Exclusivity: The resort is designed to provide privacy and exclusivity for your corporate event. You won't have to worry about interruptions, ensuring that your team can focus on the agenda at hand.
Offsite Corporate Events In Bhimtal
Bhimtal is the perfect venue for off-site corporate gatherings thanks to its peaceful surroundings and natural beauty. Your team may focus on the event's goals and form bonds in a tranquil environment away from the city's distractions. Resorts by the Baagh improve this experience by offering first-rate facilities and services that meet the requirements of business groups.
Conclusion
When it comes to choosing a resort for corporate events, Resorts by the Baagh in Bhimtal is the ultimate choice for companies seeking a blend of luxury, productivity, and relaxation. It's not just a 5-star hotel; it's a destination that can transform your corporate outing into a memorable and transformative experience. Elevate your corporate event to new heights by selecting Resorts by the Baagh as your venue, and watch as your team comes back refreshed, motivated, and ready to take on new challenges.
By: Resorts By The Baagh