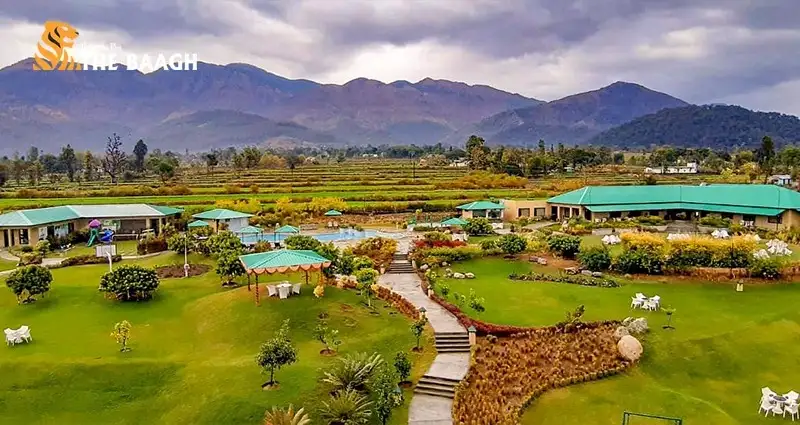 August, 28 ,2023
Luxury Redefined: Unveiling The Charms Of 5-Star Resorts In Ramnagar
Ramnagar, Uttarakhand, has an undeniable allure due to its captivating combination of natural beauty and cultural depth. This lovely village, nestled in the Himalayan foothills, draws in visitors with its lush woods, immaculate riverbanks, and the compelling backdrop of the towering peaks. Ramnagar has the world-famous Jim Corbett National Park and a thriving local culture, traditional bazaars, and 5 star resorts in Ramnagar that give warm hospitality, making every visit a fantastic experience. Whether exploring the environment, immersing yourself in local traditions, or simply relaxing in the tranquil surroundings, Ramnagar's unrivalled appeal will be with you forever.
The Top Five Well-Known Relaxation Places In Ramnagar:
Jim Corbett National Park (Jim Corbett National Park): The national park, known for its diverse fauna and tranquil scenery, provides a peaceful setting for nature lovers and those desiring relaxation.
Garjia Temple: Located on a hill encircled by the Kosi River, this temple offers a calm location and stunning vistas, making it a favourite destination for travellers seeking inner serenity.
Sitabani Wildlife Reserve: This less-known site provides a more tranquil and private experience. It's ideal for relaxing in nature and observing diverse varieties of flora and fauna.
Dhangarhi Museum: For people interested in history and culture, this museum within Corbett National Park features relics and exhibits that can give a fascinating and serene experience.
Ramnagar Kosi Reservoir: This dam and reservoir provide a tranquil setting to enjoy the peaceful waters and lush foliage. It's a nice spot to unwind, walk, or picnic.
The Top 5 Exciting Activities In Ramnagar To Make Your Visit Truly Memorable:
Wildlife Safari in Jim Corbett National Park: Experience the raw beauty of nature and the opportunity to spot elusive creatures such as tigers, elephants, and leopards in their native habitat on a heart-pounding wildlife safari.
River Rafting on the Kosi River: Get your heart racing with a fantastic river rafting journey on the Kosi River, negotiating the rapids and soaking in the gorgeous scenery along the way.
Jungle Trekking: Take an adrenaline-pumping jungle trip through Ramnagar's lush forests. Uncover hidden routes and secret overlooks while encountering varied flora and fauna.
Camping in the Wilderness: Camp in the wilderness near Jim Corbett National Park for a night beneath the stars. The pleasure of being near nature and having the chance to see wildlife after dark is a unique experience.
Elephant Safari: Go on an elephant safari for a very unique form of exploration. Traverse the problematic terrains on the backs of these docile giants, giving you a new perspective on the forest and its people.
These exciting activities will add a dimension of thrills and adventures to your trip, generating moments you will remember long after you leave Ramnagar. Before visiting these locations, make sure to verify the most recent details as well as any travel advisories. What a wonderful thing to have professional advice and luxury accommodations for a restful night's sleep.
Uncovering The Gorgeous World Of 5-Star Resorts In Ramnagar - Resorts By The Baagh
A hidden jewel of rejuvenation and elegance awaits visitors seeking the ultimate in luxury travel in Ramnagar's calm embrace. Resorts by The Baagh, the best resort in Ramnagar, have emerged as the embodiment of reinvented luxury, with their beautiful blend of luxurious amenities and genuine hospitality. This blog will take you on a tour through the outstanding qualities that distinguish these 5-star resorts and make for a beautiful visit.
A Relaxation And Wellness Heaven:
At Resorts by The Baagh, 5 star resorts in Ramnagar, luxury is linked with holistic well-being. The resorts provide various amenities to rejuvenate your mind, body, and soul. Indulge in lavish spa treatments that take you to a serene realm where expert therapists perform their magic. The beautifully maintained lawns are ideal for taking a stroll or relaxing with a book. The welcoming swimming pool provides a refreshing getaway, while the playrooms fascinate guests of all ages. The fully furnished gym and yoga sessions allow fitness enthusiasts to refuel amidst the tranquillity of Ramnagar's sceneries.
Five-Star Rooms With Private Balconies: A Symphony Of Elegance
The instant you enter your room's sumptuous confines, the definition of luxury is redefined. Each room is a work of art, flawlessly integrating contemporary style with Ramnagar's rustic charm. The five-star rooms are opulent, providing a haven of comfort and luxury. The private balcony serves as your personal doorway to spectacular views of nature's wonders and a secluded spot to take in the scenery. These panoramas become cherished memories, whether it's a sunrise over the hills or the quiet beauty of the sunset.
Heartwarming Hospitality: Incredible Staff Who Guide And Treat You Like Royalty
Resorts by The Baagh, Bhimtal best resorts are distinguished by their exceptional hospitality. The staff's dedication to quality is evident in their customized attention to guests. The team ensures that every guest's stay is perfectly tailored, from a friendly greeting to careful counselling on local sites and activities—their passion for making you feel like royalty goes beyond just service - an unforgettable experience.
Restaurants Serving Diverse Cuisine
Imagine entering an enchanted world of flavours at our extraordinary indoor cultural cuisine restaurant, where each dish tells a story, and each bite is a trip. Nestled against the majestic Himalayas, our restaurant provides excellent food and an experience that goes beyond the ordinary. Each meal is a masterpiece precisely designed to delight your taste buds, overseen by a staff of highly experienced and enthusiastic professional chefs. Your gaze is pulled to the beautiful vistas of the majestic Himalayan terrain that unfold beyond the restaurant's windows as you appreciate the vast assortment of delicacies. The combination of excellent culinary pleasures and natural grandeur produces a beautiful environment, making every visit an exciting trip for your palette and your senses.
Conclusion:
Redefining luxury is about creating an experience that speaks to your soul, not just rich surroundings. Resorts by The Baagh- 5 star resorts in Ramnagar perfectly blend luxury, refreshment, and compassionate hospitality to provide an unrivaled vacation. Every element is precisely planned to redefine luxury for the modern traveller, from the quiet spa and vigorous yoga sessions to the private balconies overlooking nature's painting. So, if you're looking for an experience that goes beyond the usual, look no further than Resorts by The Baagh, where every moment is an enthralling tale of luxury redefined.
By: Resorts By The Baagh