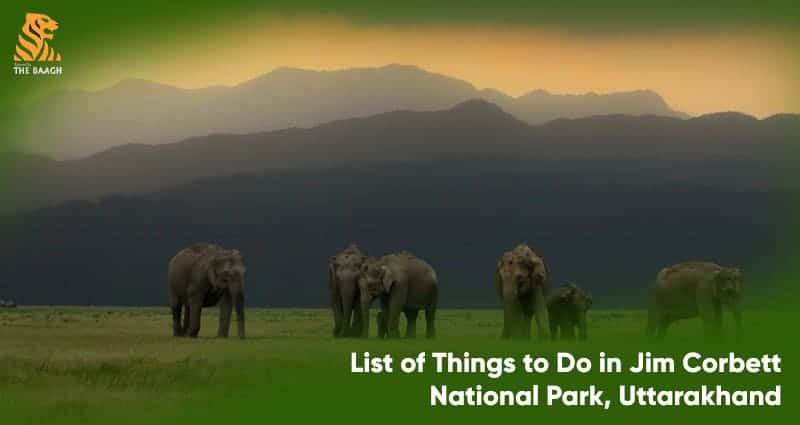 November, 04 ,2022
List of Things to Do in Jim Corbett National Park, Uttarakhand
Jim Corbett National Park is a well-known destination among nature enthusiasts. Located in the beautiful valley of Uttarakhand, the oldest national park covers an area of 1318 square kilometres. This location is a dream for those who enjoy observing the abundance of birds and wildlife dwelling in their beautiful natural habitats. Hence, Jim Corbett Park is often described as a haven for wildlife lovers. If you enjoy being in close quarters with nature, Jim Corbett is an ideal place for you.
Apart from seeing various species, Jim Corbett National Park offers a variety of thrilling activities. If you enjoy adventure and thrill-seeking activities, visiting the location is a must. Are you curious to know about the activities here? Let's take a look:
Five exciting things to do in Jim Corbett National Park
Camping
Camping is one of the most relaxing and rewarding activities available while planning a holiday in Jim Corbett National Park. The park encompasses a large area and contains numerous points of interest. On the other hand, because of the distinctive experience it offers, camping is one of the most well-liked tourist activities.
In addition to guided tours of the magnificent forested surroundings of the National Park and fishing excursions, there are Jim Corbett tour packages available for these activities when you camp here. While camping in Jim Corbett, you can also take in the natural beauty of the adorable mountains nearby and the breathtaking night sky.
Bird Watching
This area might turn out to be a birdwatcher's paradise for those who enjoy viewing various bird species. In Jim Corbett National Park, bird watching is one of the best activities. Over 640 different bird species, including migratory birds, can be found in Corbett Park, which will undoubtedly surprise you.
If you love watching birds and are curious to view some of the rarest species in the forest, learning about the best time to visit this park is worthwhile. The cold winter months of November to January are ideal for birdwatchers and wildlife lovers. In these months, tourists are able to sightsee and spot a variety of birds, including kingfishers, babblers, hornbills, Siberian cranes, forest doves, and finches.
Corbett Waterfall
Have you ever visited a waterfall? They seem like something from heaven! The Corbett Waterfall, another popular attraction in the Jim Corbett National Park, is definitely a must-visit place.
Corbett Waterfall blends offer a picturesque sight for nature lovers. The beautiful water that runs between the lush green surroundings, the sound of water trickling delicately to the forest floor, and the sweet song of birds, no less than heart-warming natural melodies, amplify the beauty of the waterfall in a tranquil setting worth admiring.
Hiking
Do you enjoy hiking? If so, I have some happy news to share with you! The National Park of Jim Corbett now offers trekking. While hiking is prohibited in the park's core areas, it is allowed in the reserve forest area, especially in the area close to the tiger reserve. You can enjoy this thrilling activity with your friends and family. An adventurous hike amidst the dense forest and rugged terrains is guaranteed to be an unforgettable and cherishing experience.
Jeep Safari
A Jeep safari through Jim Corbett's forests and fields is one of the best ways to discover the national park. The most thrilling activity in Jim Corbett maybe this one because you can see the exotic animals in the park thriving in their natural environment. Jim Corbett park is divided into four adventure zones where you can book your safari and enjoy the lush green natural surroundings
In an open-air jeep, you travel through regions where Bengal tigers, elephants, monkeys, leopards, red foxes, black bears, and more animals can be found nesting away. Owing to the opportunity to live and unwind so close to nature, it is also the perfect activity for animal lovers and photographers.
After these adventure activities, you will undoubtedly require a nice, comfortable and well-equipped accommodation where you can relax, take a nice shower, and get a good night's sleep so that you are ready for the next day's activities. And for that, we have the best luxurious resort where you can indulge in the perks of a hospitable and lavish experience.
Relax in Jim Corbett's luxurious accommodation
Resorts By The Baagh combines innovative design and handcrafted luxury in a natural setting. We connect comfort with personalised assistance and exceptional values, distinguishing ourselves through a remarkable level of personalised hospitality, environment journeys, and sufficient private and open spaces. We instil a culture of mutual respect, trust, and integrity in our guests to create a special bond with them.
Our resort is an excellent choice for visitors to Jim Corbett National Park in Uttarakhand. Stationed amidst the lush green grounds, the resort offers a visual treat to all guests. Besides, the magnificence of the Himalayan peaks in the background and the melodious chirping of birds is like the icing on the cake.
In terms of first-class accommodations, we offer our guests a variety of options. From standard and elegant rooms to sprawling, lavish, and cosy rooms with breezy balconies overlooking the sweeping views of the marshy forests of Jim Corbett, we provide guests with five distinct categories of rooms to choose from.
The list of wholesome recreational activity areas we offer includes a multicuisine restaurant, a kid's play area, an outdoor pool with a lagoon-style design, a gym and fitness centre, a spa, an open-air bar, a business centre, a customizable banquet hall with a fully electronic dance floor, and the list is endless. So, don't wait any longer and reserve a staycation at Resorts By The Baagh, undoubtedly the best resort in Jim Corbett National Park.
By: Resorts by the Baagh