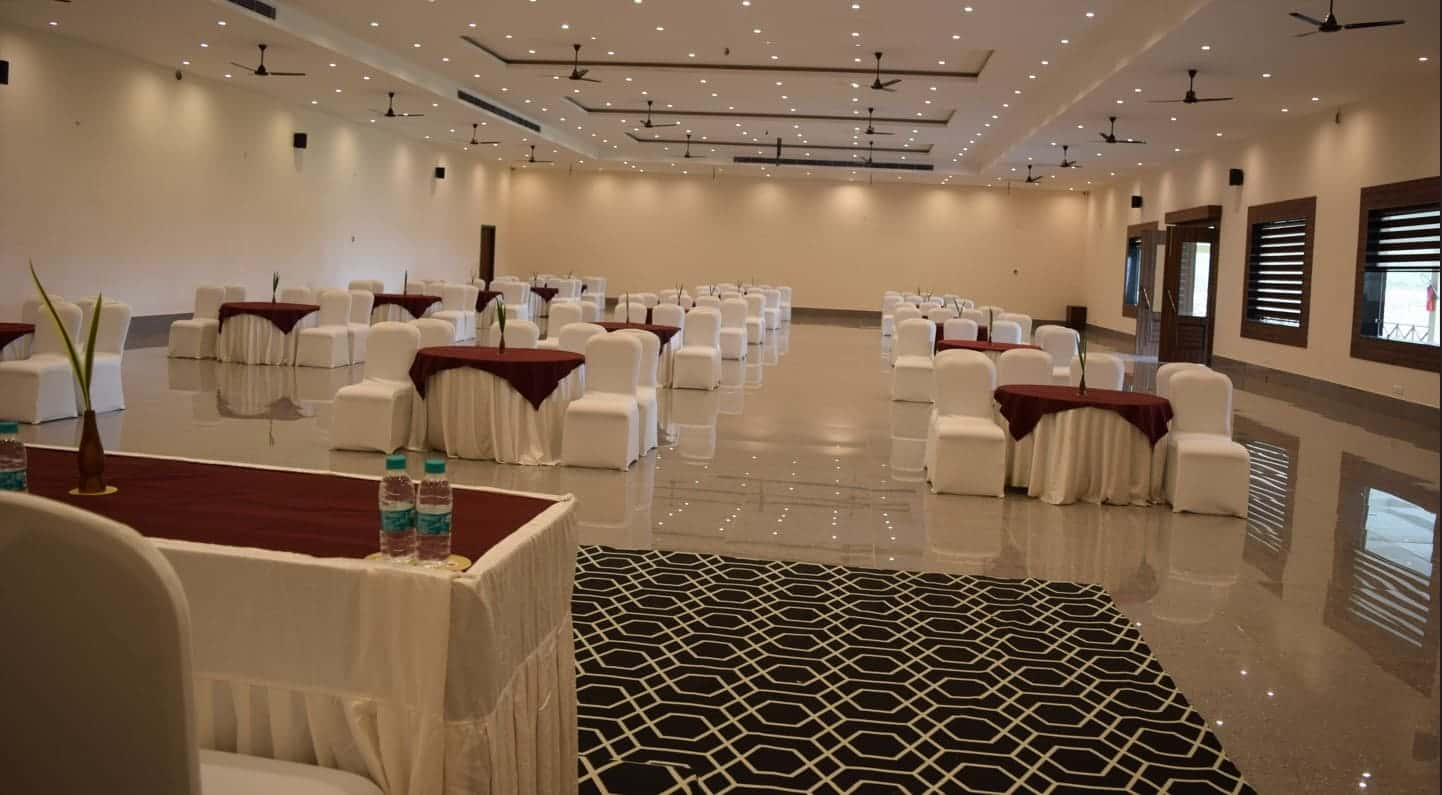 March, 03 ,2023
Largest Pillarless Conference Hall in Jim Corbett
Are you planning a destination wedding or a corporate event amid quaint natural landscapes? Explore Jim Corbett National Park's dense and scenic wilderness, the country's oldest and largest Tiger reserve. The marshy terrains and dense green woods provide the most mysterious backdrop for a romantic wedding. You have yet to learn how popular the idea of a special occasion celebration at Jim Corbett is among the crowds. So why not? The breathtaking forest views at the foothills of the Himalayas provide an ideal setting for you to pledge and celebrate your love in the close company of your family and friends.
At Jim Corbett, bask in the bliss and luxuries of lavish special occasions. Do you need help with how to begin planning for the grand celebration? Of course, the first thing on your to-do list should be to narrow down your options for luxurious and upbeat properties. Tour the beautiful expanses of Resorts By The Baagh for luxurious and elegant accommodations. Additionally, the wealthy and historic 5-star property in the green Sitabani forest zone makes the ideal location for a cosy and extravagant wedding celebration.
A celebration out of the ordinary for a special occasion at Resorts by The Baagh!
Are you debating whether or not the party at the location is a bright idea? The joys of starting to enjoy yourself with your family and friends while they are there are unmatched. In addition, every occasion in the commotion of cities is relatively commonplace. Weddings are known for their bluster, undesired guest lists, and confusion. The clamour is considerably reduced if you hire the greatest event planner in a location like Jim Corbett.
Resorts by the Baagh is the best place to stay in Jim Corbett if you want a lavish hall area. Our resort has the largest conference hall in Jim Corbett. Where you will get a wonderful view of the lush green surroundings that will treat your eyes with a brilliant view of the Uttarakhand valley. There are two halls: the hornbill nest hall, which is 7200 square feet, and the sparrow nest hall, which is 1800 square feet. Where you can hold any type of event, small or large.
Meanwhile, the hassles of organising large events are significantly reduced when the tasks are delegated to skilled and experienced professionals. Do you know why Resorts By The Baagh is a popular vacation spot? Of course, the setting is magical. Consider holding an event in the blissful and serene surroundings of the decadent Corbett forest. Isn't it a surreal experience? Furthermore, the staff at Resorts By The Baagh is knowledgeable and will go out of their way to ensure that your event is as authentic and dreamy as possible.
Also, why is holding an event at Resorts By The Baagh considered a luxury affair? Let us now read:
1. Unbelievable location - Resorts By The Baagh is the perfect location to make your special event one of a kind. The luxury resort's most prominent conference hall in Jim Corbett offers top-notch amenities and unmatched hospitality, surrounded by acres of beautiful nature and sweeping mountain views. Why stop at the exteriors? You will be in awe at the sights within the premises. Look forward to a full wellness experience at the resort with its expansive, well-kept lawns, gorgeous pool, areas for entertainment, outdoor dining, an opulent spa, and more.
2. Hosting a special event requires knowledgeable employees, which is perplexing. The list of tiresome tasks is endless and includes everything from catering to logistics to décor and logistics. Don't you wish someone else could handle all the chores for you? At Resorts By The Baagh, your request is no less than a command. Watch your fantasy wedding materialise right here. Our talented team ensures the food and décor are prepared according to your tastes.
Do you realise that Jim Corbett's breathtaking vistas contain more than just wildlife and peace? The beautiful, mist-covered Himalayan peaks and lush, green surroundings provide for the ideal setting for a cosy pre-wedding photo shoot. You want to stay inside for a pre-wedding photo session. No issue! Resorts By The Baagh's five-star grounds and magnificent vistas make for beautiful backdrops for your wedding or pre-wedding photos.
Speaking about great settings for a pre-wedding photo shoot, Bhimtal's charming and wonderful vibe is magical. Reserve a stay at Resorts By The Baagh, Bhimtal—a sliver of luxury in the enchanted embrace of nature—to explore the pristine hill valleys.
Is it suggested to host a gathering in Jim Corbett?
It is! A unique event at Jim Corbett is very different from a regular event. In addition, it is simple to travel to distant wildlife conservation. Major cities like Delhi, Lucknow, Ahmedabad, and others are connected to the forest via highways, railheads, and airports. Therefore, venturing into the thick, decadent forest is a piece of cake.

Don't ponder further! Plan your special occasion as soon as possible at Resorts By The Baagh's largest conference hall in Jim Corbett. Additionally, visit the property early and do reconnaissance.
By: krishan Batra