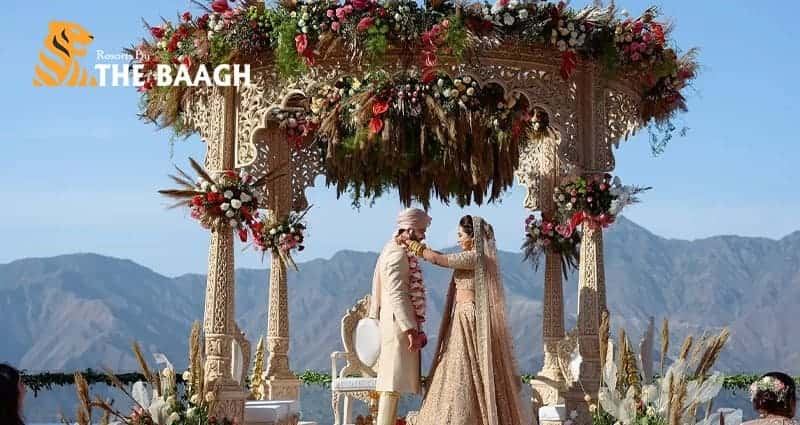 April, 06 ,2023
Kiara Advani & Siddharth Malhotra Ties The Knot – Here's How Much Destination Weddings Are Trending!
Trending B-town couple Siddharth Malhotra and Kiara Advani has been word of mouth since the onset of February this year. The royal wedding in Suryagarh, Rajasthan, displayed spades of opulence, glitz, glamour, and popular celebrity faces. But above all, the love of the duo outshined the pomp and grandeur of the star-studded nuptial celebration.
Have you missed picking up on the nitty-gritty of Kiara Advani and Siddharth Malhotra wedding? Don't worry! We will run you down through the intricacies of the lavish celebrity wedding so you do not sink your heart into FOMO. The royal wedding ceremony was hosted in an exuberant mandap or 'dais' accessorized by pretty and exotic flower arrangements in the expansive courtyards of the royal bungalow in Jaisalmer. Did you know that the swish hotel dazzled radiant like gold, beautifully lit and bedecked with exclusively carved stones, grand chandeliers, and imported décor elements, lending an oomph of grace and grandeur to the royal Rajputana aura?
What's more, Kiara Advani doubled the radiance and charm of the regal heritage hotel in a gorgeous Manish Malhotra ensemble featuring exquisite zardozi work in flattering ivory and champagne pink hues. The Shershaah star looked divine in a luxe bridal outfit embellished with Swarovski crystals and sparkling stones. Siddharth Malhotra looked just as spectacular, dressed in ethnic Manish Malhotra couture. From classic rose garlands to magnificent courtyard venues, Kiara Advani and Siddharth Malhotra wedding were every bit picturesque and luxurious.
Do you know what more this lavish B-town wedding exemplifies? The craze for destination weddings. If you don't have a hint already, destination weddings are quite popular, not just among celebrities but normal everyday couples. The joy of celebrating love and taking heart-felt vows in idyllic backgrounds and offbeat destinations is simply matchless. Far from the noise of cities and from the crowds of unwanted guests, destination weddings have a magic of their own.
Why are destination weddings a winning idea?
Are you contemplating hosting a destination wedding? Well, kiss goodbye to your doubts today. A destination wedding is a fantastic idea, especially if you are looking for solace and a perfect destination to unwind in the close company of your dear ones. Having said this about the perks, are you worried that arranging a wedding somewhere offbeat and scenic will cost you a bomb? Chill! Little do you know that destination weddings are pretty good for the pockets. The shortened guest list and the lesser counts of plates draw fewer expenses. So, find out the perfect location to wrap up the wedding of your dreams. Wondering where? Let's give you some incredible destination ideas:
1. Umiam Lake, Meghalaya
Is there a way to up your intimate wedding ideas than celebrating in the quaint and heavenly hills of Meghalaya? Surrounded by acres of lush greenery, tranquil lake waters and bright blue skies, the Umiam Lake in Meghalaya is beautiful and picture-perfect.
Imagine saying 'I Do' amidst the serene hillscapes of Meghalaya, elegantly lit with twinkling fairy lights and beautiful peonies. Sounds just like a dream, right? Come and explore the idyllic destination today.
2. Bhimtal, Uttarakhand
Pledging your precious vows of love in breathtaking natural settings featuring lofty hills at the knolls of the Himalayas, dense oakwood forests, and a scenic emerald lake, Bhimtal offers an ideal backdrop for lavish weddings. Quaint and serene, a destination wedding in Bhimtal is worth cherishing for a lifetime. Gather your dear ones and begin a journey of 'forever' in the most idyllic settings.
Having said this, don't forget to choose a luxury resort to bring your dream wedding to life. One of the most picturesque resorts in the magnificent hillscapes of Uttarakhand is unquestionably Resorts By The Baagh. The opulent 5-star property features incredible landscapes, fascinating stays, delightful culinary picks, and unparalleled hospitality.
3. Neemrana, Rajasthan
Explore the idyllic and architectural magnificence of heritage forts and picture-perfect backdrops at Neemrana. The swanky resort is a perfect place to pledge your love and host your nuptials in grand and serene settings. Soak in the royal and rich vibes of the Neemrana fort and celebrate in the splendours of a happy carnival.
4. Hampi, Karnataka
Don't you wish to have a royal and resplendent wedding that looks straight out of a movie? If yes, the historical heritage of Hampi fits the checklist just right. Hampi is more than just an architectural marvel. The scenic backgrounds and lavish surroundings of Hampi work like a magical charm.

Whether you are planning a destination wedding in Bhimtal or in the grand stone walls of Orchha, outdoor weddings in far-off destinations have an exquisite charm of their own. Plan your nuptials in a quaint destination today!
By: Resorts by the Baagh