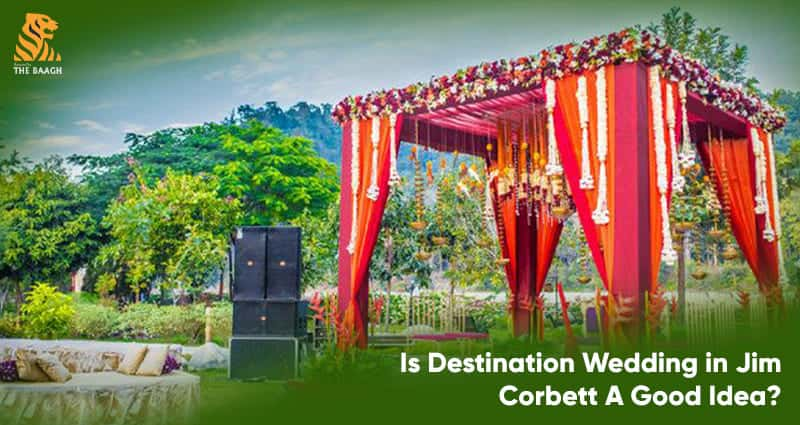 October, 31 ,2022
Is Destination Wedding in Jim Corbett A Good Idea?
Are you planning a destination wedding in Jim Corbett? Wondering if the idea is worth a shot? Believe it or not, the craze for a subtle destination wedding over a pompous traditional affair is relatively high. Getting married in a scenic setting of choice certainly adds spades of oomph to the joyous celebration. The picturesque backdrop of the beautiful Himalayas overlooking the verdant green slopes of the Kumaon wilds is truly unparalleled. A destination wedding in Jim Corbett is nothing short of splendour and magnificence.
Wondering if arranging a gala wedding carousal in a tranquil and offbeat destination is easy or tedious? Not really a hard-won job! However, carefully selecting the right resort matters big. A luxury resort in Jim Corbett hands you the best in business professionals and amenities necessary to wrap up a grand wedding soiree. Nuptials are not a one-day celebration. Guests flock in from the corners of the country expecting a cosy and hospitable welcome, services at their fingertips, and seamless organisation. Hence, selecting the perfect venue and hospitality services is key when deciding on an extravagant destination wedding in Jim Corbett.
Resorts By The Baagh is undeniably a favourite pick for large-scale events like weddings and grand pre-wedding festivities. And why not? The beautiful sprawling campus, stretched over acres of lush green lands, offers the most resplendent views to celebrate wedlock. The ethereal landscapes of the cloud-shrouded Himalayan peaks, the verdure, and the solace in the picturesque Kumaon resort are matchless. If embarking on a new journey of togetherness in a picture-perfect leisure location is more to your liking, hosting a destination wedding in Jim Corbett at the upscale resort is a great idea.
Why are destination weddings in vogue?
Have you been dubious about arranging a destination wedding? It is no secret that planning a big fat traditional wedding involves intricate and detailed planning and long days of hard effort. Little did you know a luxury resort in Jim Corbett, much like Resorts By The Baagh, saves you from the troubles of stressful wedding planning. Besides rewarding you with a beautiful location to host a close-knit soiree, the resort offers fine hospitality and professional assistance to bring your vision of a dream wedding to life. The perks of hosting a wedding in a far-off location are more than you imagine. Let's read a few:
1. Quaint and scenic views for a photoshoot
Gone are the days when classic wedding snapshots were all the craze. Present-day couples reckon pre-wedding photo shoots as essential and showy. The urge to capture cosy clicks in bewildering locations is quite a vogue. Hence, a pleasant destination offers a beautiful backdrop to get the shutters rolling and memories framed.
2. A curated guest list
Indian weddings are mostly big, fat, and pompous affairs with a zillion guests on the list. Not only is this an expensive affair but a clamour too. If you have always envisioned tying the knot surrounded by an intimate and cosy bunch of family and dear ones, saying yes to a subtle destination wedding is only right. Such weddings tend to be close-knit events encouraging you to invite the people you are the closest and well-connected to.
3. An affordable arrangement
Untrue to the myths circling around destination weddings, a soiree in a distant location is quite affordable. Wondering how? Well, a cut-down in the guest list implies lesser expenses of accommodation and catering and, therefore, a turn-down in your overall wedding budget.
4. Easy and expert planning
Are you exhausted trying to map out a Pinterest-worthy wedding backdrop? Of course, nuptials are an extravagant affair with a hundred things on your task list. Right from the décor and hospitality to the catering, videographer, music, and more, the list goes on. Entrusting a professional saves you from the hassles of looking into the nitty-gritty of a grand wedding affair. Resorts By The Baagh, a luxury resort in Jim Corbett, offers skilled and proficient wedding coordinators to wrap up your dream moment seamlessly.
Arranging a destination wedding is easy with Resorts By The Baagh. Don't wait. Enquire about the Jim Corbett packages today. A trip into the dense and verdant wilds of Jim Corbett is no less than a retreat. Tranquil and ecstatic, the thrill of taking a vow of togetherness and forever in the lap of nature is unparalleled. Bring your fairytale moment to life!
By: Resorts by the Baagh