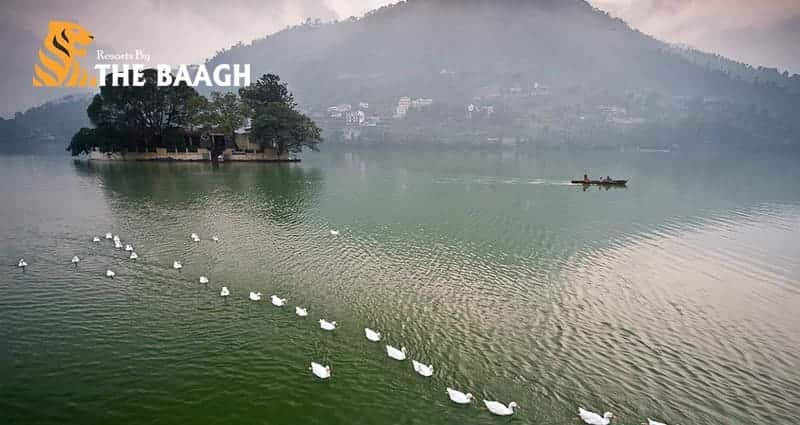 April, 25 ,2023
IRCTC's Bhimtal Special Is Perfect For That Short Break
Are you dreading stepping out in the scorching heat and the befouling air of metro cities? Wish if there was a way to skip the pollution and unwind in some place clean, serene, and irresistibly scenic. Guess what? IRCTC's Bhimtal package is the answer to your prayers. The quaint and alpine valleys tucked away in the green arms of the Kumaon are one of the most revered and tranquil destinations for nature lovers. Home to a gorgeous emerald-green lake, Bhimtal is undeniably one of the less-explored places in Uttarakhand.
Are you curious to know what Bhimtal tour packages mostly include? Let's read:
A tour around the picturesque hillscapes of Bhimtal is more than just a hike up the pristine valleys of great religious significance. Enjoy an extensive tour of the scenic and popular jewels of Uttarakhand, like Nainital, Mukteshwar, Kathgodam, Sattal, and more.
Are you a Paleophile with a deep fondness for all things ancient and old? Great! Bhimtal is just the right place for you. Wondering why? Well, if you are not already aware, the place, rightly named after Lord Bhima, boasts beautiful pilgrim spots across the hill town. Moreover, have you heard of the lore surrounding the history of Bhimtal? It is believed that the entire kingdom of King Nala submerged into the lake centuries ago. Thus, it is a no-brainer that travellers can witness the rich history and the ancient aura of the place in all corners.
What's more, if you enjoy a refreshing break in the arms of nature, a journey to Bhimtal is simply surreal! The verdant valleys serve as a haven for bird watchers and nature lovers. In short, Bhimtal truly promises a rejuvenating and soulful holiday amidst the Kumaon hills.
Also, are you an adventure enthusiast? Would you love to try your hands at mountain biking or nature treks? If yes, Bhimtal is a must-visit. The lush green terrains offer umpteen adventure activities for travellers. From dirt biking to mountain climbing, rappelling, and more, adventure options are pretty extensive in the Kumaon hills. Moreover, the beautiful Bhimtal Lake allows travellers to explore activities like boating, river rafting, and kayaking.
Thus, it is appropriate to conclude that Bhimtal offers an enthralling vacation experience to travellers of all kinds.
So, are you excited to know more about the latest IRCTC tour package in Uttarakhand? Let's elaborate.
All about the IRCTC Uttarakhand tour package
Day 1:
IRCTC has recently launched a special train starting from the slightly distant city of Nawabs. The train offers a comfortable overnight journey to the beautiful and far-off Kathgodam station.
Day 2:
Post arriving at the Kathgodam station, all travellers are transferred to a class-apart hotel in Nainital. Vacationers looking for a more serene and soul-warming retreat are transferred to luxury resorts in Bhimtal, like Resorts By The Baagh.
Wondering how long it would take to travel the alpine terrains of Bhimtal? For those who are not aware, Nainital is almost a one-hour drive from Kathgodam. However, if you are travelling even further to Bhimtal, the destination is another one-hour drive or 23 km from Nainital.
Vacationers are requested to freshen up, unpack, and get ready to hit the road. There are multiple places to visit in Nainital and Bhimtal. For example, the famous Bhimtal lake, the Victoria Dam, the Island Aquarium, Bhimeshwar Mahadev Temple, Butterfly Research Centre, and more. Nainital, too, has umpteen travel points, such as the Cave Garden, Lover's Point, Khurpatal Lake, etc. Travellers can enjoy and spend the evening sightseeing and exploring scenic tourist points. Further, vacationers are encouraged to get dressy for a fine dining affair.
Day 3:
Bhimtal, or Nainital, the picturesque lake district in Uttarakhand, is in proximity to numerous holiday spots. Therefore, travellers can tour away to the heavenly hills of Mukteshwar, almost 40 km from Bhimtal, for a heart-warming experience. The willowy stretches, beautiful fruit orchards, and rolling meadows of Mukteshwar are truly praise-worthy. What's more, you can drop anchors at nearby destinations like Bhowali, Satbunga, tea gardens, Choli ki Jali, and more.
After all that sightseeing, it is no surprise that you will be tired in your bones and looking forward to a good night's rest. So, enjoy a gala dinner and get ready for bed.
Day 4:
How relevant are Bhimtal tour packages if you haven't had a good view of the tals or lakes in the area? Null, right? Well, spend the next day unwinding on the banks of the gorgeous Sattal, Bhimtal Lake, and Naukuchiatal. Soak in the charm of the picturesque mountain views and the solace of the region. Watch the beautiful and rare migratory birds chirp away in glory or recline fishing at leisure.
After a relaxing and resplendent day out on the beautiful banks of the lake, come back and nest away in the luxurious ambience of fine 5 star resorts in Bhimtal like Resorts By The Baagh. Check out the next day, head over to the Kathgodam station, and travel back to your place. Short, sweet, and a soul-refreshing trip, right? Well, Bhimtal for summer is an excellent idea. Plan your itinerary today!
By: Resorts by the Baagh