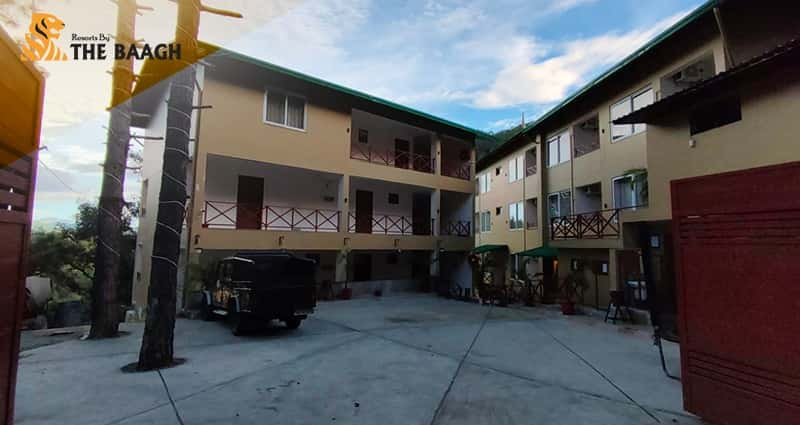 October, 17 ,2022
Indulge Yourself In The Best Resort In Bhimtal: Resorts By The Baagh
The picturesque locales, serene pilgrimage sites, and eye-catching views of the Himalayan ranges make Uttarakhand the number one destination for travelers. Often known as the pristine lake city in the Kumaon valleys, Bhimtal attracts nature lovers in numbers. It is no surprise that Bhimtal is mostly overshadowed by the popularity and beauty of Nainital. However, if you wish to experience the wonders of the bewildering hillscape, sans the crowds, Bhimtal is a must-visit. Enjoy a warm and luxurious 5-star stay experience at the Himalayan knolls, only at Resorts By The Baagh.
Every day is an adventure at Resorts By The Baagh!
If you want to spend your vacation in a beautiful Himalayan valley, then do get your hands on the best Bhimtal tour package. One of the best resorts in Bhimtal, Resorts By The Baagh, could be your ideal destination. Our resort's highlights include a lush green and relaxing atmosphere, picturesque surroundings of the peaceful Himalayan terrain, and a suite of modern amenities. Experience the tranquillity of being close to nature and allow yourself to be pampered because vacationing at Resorts By The Baagh is far more than a heart-warming experience. It is an emotion and a lifetime memory!
Greetings from a captivating retreat! Discover the breathtaking hidden wonders that are concealed within Kumaon's mist-cloaked hillscapes. Enjoy the tranquility; stroll through the beautiful, lush landscapes that boast ample wildlife; and soak in the views of spectacular sunsets. At Resorts By The Baagh, you can enjoy the benefits of renowned hospitality and holistic adventures amidst nature.
Along with luxurious lodging, avail the perks of best-in-class amenities like a swimming pool and a multi-cuisine restaurant. Resorts By The Baagh also provides outdoor recreational activities to enable visitors to fully appreciate Bhimtal's stunning natural surroundings. From trekking to the thrills of paragliding in the wild, indulge in a world of adventures. The magnificent surroundings serve as a constant reminder of how great nature is, and the opulent luxuries available allow you to indulge without any limitations. Enjoy the finest of luxuries and experiences in one of the best hotels in Bhimtal or Resorts By The Baagh.
Resorts By The Baagh, Bhimtal, Offers Luxurious Rooms and Suites
You should add Bhimtal to your travel bucket list because of its beautiful scenery and heavenly atmosphere. Resorts By The Baagh, Bhimtal provide roomy accommodations that offer amazing views of the lovely Shivalik valley.
There are two types of gracefully designed rooms and suites available at ResortsByTheBaagh, namely the Sunbird and Magpie rooms. Luxury suites here include a queen-size bed, a bathroom with three fixtures, high-speed Wi-Fi, handcrafted hardwood furniture, a coffee bar, and plenty of storage space. Our accommodations are elegantly decorated and feature a 56-inch LED television with international channels. Indulge in accommodations that exude warmth and comfort. Following a busy week, this will be the ideal place for you to relax and unwind.
The rooms are opulent, demure, and well-designed. Our uncompromised service at the venue ensures guests a fine and hospitable stay. The scenery in the surroundings is breathtaking, with mountains in the distance. The air is filled with bird songs, and the sunset will leave a long-lasting impression on your mind. Come and explore the wonders of nature in Bhimtal.
Dining at Bhimtal, Resorts By The Baagh
Our in-house dining space serves the finest delicacies from around the world with a rotating menu of home-style specialties, Pan-Indian delicacies, and continental delights. The restaurant exudes an inviting atmosphere and serves a variety of fresh flavours and innovative recipes in a comfortable indoor and outdoor setting with comfortable seating. Our signature dining experience includes an extensive menu, paired with the enriching tastes and warm service of our skilled staff.
Resorts By The Baagh is a perfect blend of luxury and hospitality in the beautiful natural setting of Shiva Bhumi, Bhimtal. The verdant slopes and pretty hilltops welcome you to say goodbye to city traffic and enjoy a peaceful and relaxing stay at our resort, where you can enjoy some fine dining experiences as well as some amazing adventure activities. Visit this captivating location and experience luxury in the midst of nature to bring out the adventurer in you.
Resorts by the Baagh is the best luxury resort in Bhimtal. Discover breathtaking scenery, natural beauty, and thrilling adventures all in one place. Our luxury resort in Bhimtal is ideal for a relaxing vacation with family or friends. If your idea of a hill-station retreat includes verdant forests, beautiful hills, and a luxurious place to stay, then book a stay at Resort By The Baagh and let us make your dreams come true!
By: Resorts by the Baagh