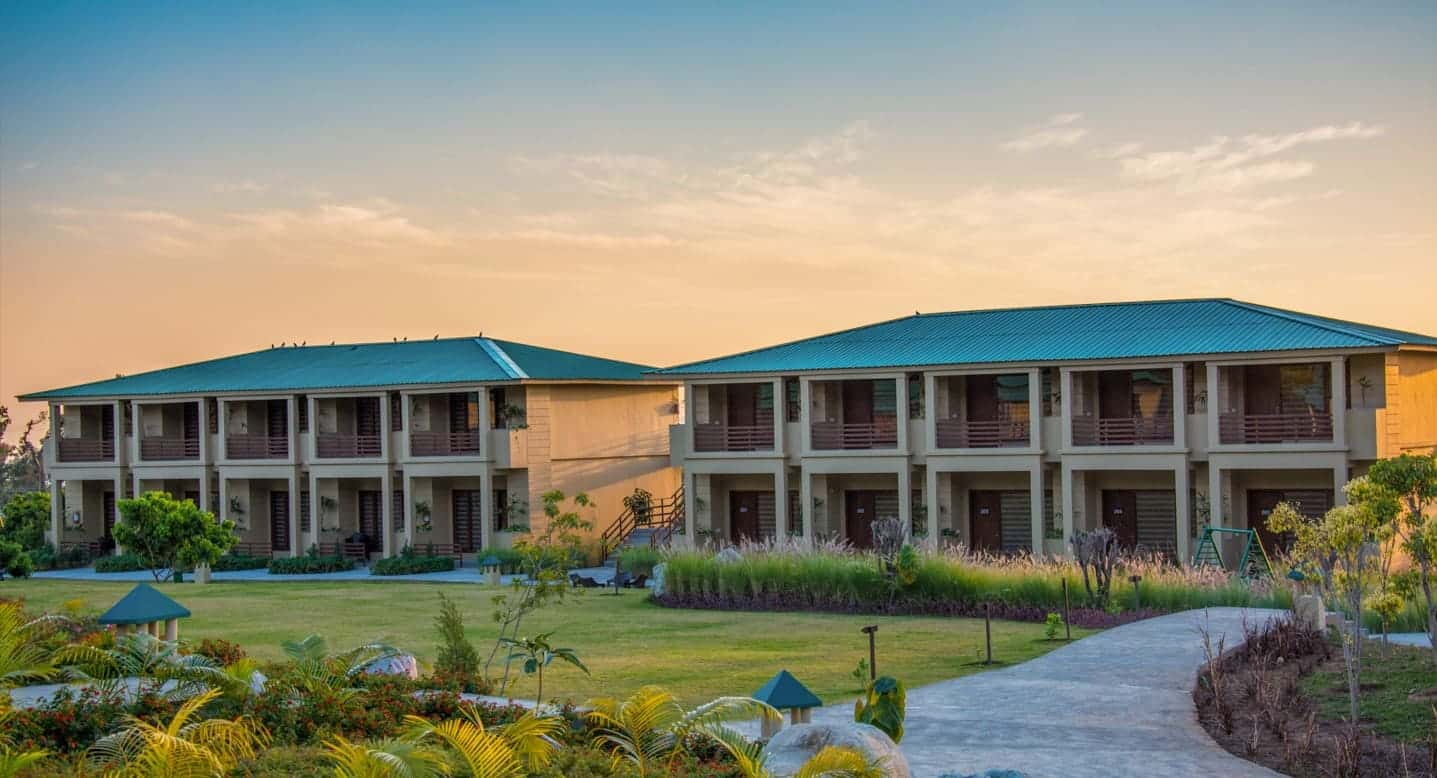 May, 06 ,2023
Indulge in Opulence and Serenity at the Finest Luxury Resort in Jim Corbett National Park
Resorts by the Baagh is a resort that is nestled in a luxurious orchard that is covered in hills and beautiful, lush greenery, providing the ideal picturesque and tranquil setting. The resort is located in between the beautiful surrounding of Jim Corbett National Park. Our hotel is a perfect spot for an outstanding wilderness experience at Corbett. Our retreat is ideal for experiencing the ultimate Corbett jungle experience. A meeting within nature, take a step forward to care for mother nature while maintaining the beautiful green surrounds of our resorts.
Book your stay and be enveloped in unrivalled luxury while experiencing a sense of oneness with nature amidst the pitcher-perfect & majestic Himalayan mountains of Jim Corbett National Park. The resort's exquisite aesthetic, which showcases the embodiment of class, offers the resort a definite in style and the solace matched with the tranquillity. Alternatives by the Baagh, noted for its magnificence and grandeur, promotes itself as one of the most beautiful, elegant, and luxury resort in Jim Corbett.
As one of the best resorts in Corbett, Resorts by the Baagh is committed to providing cutting-edge facilities and services in order to provide their guests with a high-tech advanced hassle-free experience of rejuvenation, relaxation, and comfort. You can have a pleasant holiday or hold a wedding reception, leisure trip, corporate meeting, or family reunion. Our resort understands that individuals plan a holiday away from city pollution just because they want cosy, fresh sensations that help them feel light and fresh. Our resort is dedicated to providing the same on your trip.
Our luxurious resort is a beautiful blend of premium design with a classic aesthetic twist. Give our resort a one-of-a-kind appearance with complementary luxury yet comfortable architecture. While staying at our resort, you can access a wide range of services, including luxurious rooms, a swimming pool area, a bar facing the pool, a conference hall, a multi-cuisine restaurant, lavish master rooms, a relaxing spa, and many more. With these amenities and services, Resorts by the Baagh establishes itself as the premier luxury resort in Jim Corbett.
Things to do in our resort's surroundings
What might be the nicest thing about staying in the jungle? Of course, the jungle safaris will lead you down to the aisle of the woodland, where you may see creatures at their best. You may also enjoy the gorgeous full of exciting, adventurous activities here. River rafting, mountain climbing, trekking, hiking, rappelling, angling, and many more activities are available. Our resort is dedicated to offering the highest quality services under the supervision of experienced employees who attend to all of the requirements and demands of our guests throughout their pleasant holidays. Our expert team is determined to take all the considerations to guarantee the tourist has the most fantastic weekend in the surroundings of our resort, whether it is with the lip-smacking multi-cuisine or housekeeping services.
Why should you pick Resorts by the Baagh?
The Jim Corbett National Park offers the best holiday experience in the midst of the most stunning surroundings with various flora and animals. Our resort's surroundings are well known for their grandeur and splendour, which will undoubtedly captivate tourists. If you want to unwind in the wonderful surroundings of mother nature, plan your stay at Resorts by the Baagh, a resort that is unsurpassed in its grandeur. The resort will give you with the most comfortable stay choice together with a gorgeous view that will really capture you and make this holiday the most memorable and joyful one.
Jim Corbett Resorts offers a variety of amenities and services
Whether you wish to relax in a luxurious spa or eat at a multi-cuisine restaurant, our resort will give you a superb dining experience together with free parking and Wi-Fi. Aside from the aforementioned amenities, our resort will provide you with a beautiful view pitcher viewing the swimming pool area. So, without further ado, combine a relaxing vacation with your safari excursions.
The resorts provide features such as a pillarless conference hall and a lush green garden area with a play area for children. Here you can discover a variety of rooms with all modern amenities. While sipping your morning cup of tea, you can take in the lush green surroundings. The stunning lush hill valley vista from our private suite balcony is enveloped in the thick foliage of the Jim Corbett flora and fauna.
So, what more information do you require, my dear? Book your stay at Resorts by the Baagh, Luxury resort in Jim Corbett, now for the most incredible and peaceful holiday of your life.
By: Krishan Batra