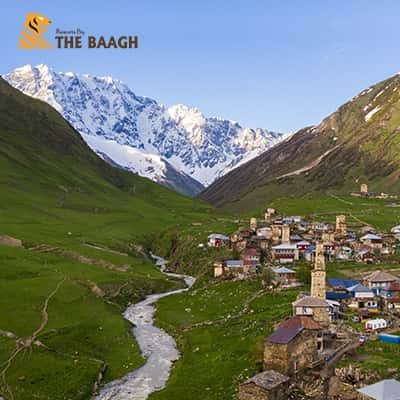 October, 17 ,2022
How To Reach The Shivalik Valleys Of Bhimtal From Nainital?
One of the primordial and well-known lake cities in the beautiful Kumaon districts is Bhimtal. Bhimtal, which is older than Nainital City, is named after the imposing figure from the Mahabharata, Bhima. The biggest feature of this location is a small island in the middle of the lake that is also home to a gigantic aquarium. Bhimtal is a haven for nature enthusiasts and offers breathtaking views of natural beauty. The Bhimtal tour package is the best for adventure lovers. It is one of the top vacation spots for individuals who want to take a break from the noise and pollution of urban cities. Thanks to the clear blue lake and several temples scattered across the highlands, visitors here, inhale the fresh air and rejuvenate themselves in the arms of Shivalik bhumi.
How to reach Bhimtal?
Bhimtal is only 22 kilometres from Nainital. Visitors can drive themselves or take a taxi to Bhimtal. Well connected by roads, the frequency of public transportation between Bhimtal and Nainital is quite impressive.
Bhimtal does not have a separate airport or train station. If you're using the train, the closest station is Kathgodam, which is 30 kilometres from Nainital. To get to Bhimtal from the station, you can take a private or shared cab. From the railroad station to Bhimtal, buses are also available. If you're flying, the closest airport is Pantnagar Airport, which is 56 miles away. A private or shared cab can take you from the airport to Bhimtal via NH 109.
If you enjoy exploring new places, the Bhimtal tour won't let you down. A number of fun events are regularly held in Bhimtal. Bhimtal is surrounded by thick, luxuriant forests, making it an excellent location for hiking and trekking. There are both long and short pathways that go through the Bhimtal Mountains. In these mountains, you can hike and see a variety of plants and migratory birds. This is a popular sight that should not be overlooked while planning a Bhimtal tour package.
Bhimtal Adventure Activities
Fishing and boating
Boating and fishing are two of the main fun activities that attract a lot of tourists. Three stunning lakes—Bhimtal Lake, Sattal Lake, and Naukuchiatal Lake—give you the most peaceful experience you have ever felt. You may also visit the island in the middle of the lake, which offers the most wonderful experience. The setting is quite lovely and gives guests a memorable experience.
Camping
This one is especially for residents of Delhi or other large cities with high levels of pollution who haven't seen a clear sky in a long time. The camp provides visitors with a wonderful experience since it is surrounded by the verdant forests of the Bhimtal mountain range. You can enjoy stargazing while taking in the pure natural air that the location has to offer.
Best Bhimtal staycation options: Resorts By The Baagh
Do you want to take a vacation from the city's hustle and bustle and spend some time in the lovely outdoors with your family or friends? Then take a Bhimtal tour package and spend a weekend in Bhimtal's fresh environment. With its rows of pine trees and verdant hill slopes, this lovely location greets visitors with its beautiful scenery. Bhimtal is surrounded by the majestic Himalayas, with its undulating landscapes and slopes covered with lush vegetation.
The weather in Bhimtal is pleasant throughout the year, allowing visitors to enjoy the magnificence and beauty of the Kumaon landscapes. Bhimtal tour is the best place to get away from the befouled air of cities and rejoice breathing in a fresh and reviving atmosphere. The temperature in the hill station remains pleasant and suitable for weekend trips.
Resorts By The Baagh, Bhimtal is located in the middle of a beautiful lake city and a scenic hill station, away from the busy and chaotic life of metro cities. You will not only feel rejuvenated and refreshed with your dear ones, but you will also have a chance to enrich your connection with nature.
Resorts By The Baagh, Bhimtal Resorts offers unmatched accommodations, services, and amenities. Our rooms are designed keeping in mind our guests' needs. The rooms are fully equipped with luxurious design, and we are well-known for giving our guests the comfort they need to feel good on their vacation, as well as providing the most stunning views of the majestic mountains from our balcony to let you forget about the hectic schedules of your everyday life.
We have two types of rooms: Magpie rooms and Sunbird rooms, both of which have cutting-edge technology such as a fast Wi-Fi connection, plenty of storage space, excellent room service with proper hygiene and fully sanitised turndown service, a coffee and tea maker, a 56-inch television, and much more. Our hospitable staff takes care of your needs and provides you with the best staycation facilities that you have been looking for.
Food and Beverage
Resorts By The Baagh features a multi-cuisine restaurant that offers both vegetarian and non-vegetarian spread in the most enthralling and demure settings. Homestyle specialities, pan-Indian cuisines, and continental delights are available as dining options.
The ideal holiday escape is Bhimtal.
Take a Bhimtal tour package and spend a weekend relaxing on the shores of one of Bhimtal's three lakes with your family or friends. Unwind in our resort's top-notch hospitality. Enjoy this well-known picnic area. Grab some food that won't let you down, relax on our luxurious balcony, and spend a peaceful day with your loved ones while taking in the breathtaking views of the pine forests and the soaring Himalayan hills. If you enjoy exploring new places, Bhimtal won't let you down. Reserve your stay at Resorts By The Baagh right away to immerse yourself in the magnificence of lush and picturesque outdoors.
By: Resorts by the Baagh