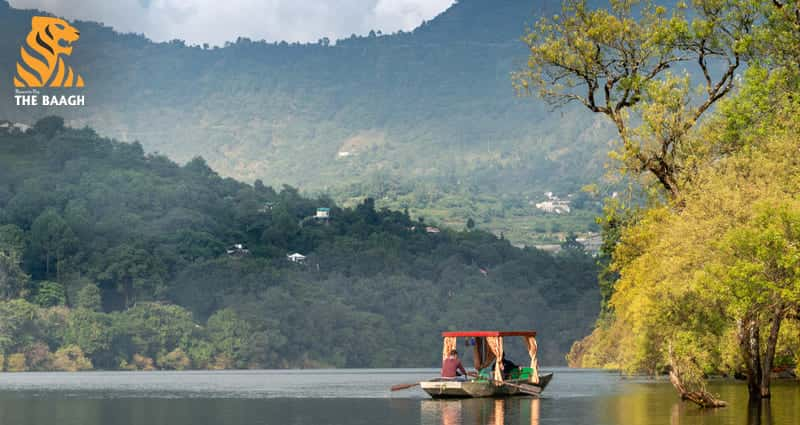 January, 28 ,2023
How To Plan A Trip To The Magnificent Hill Station Of Bhimtal?
An idyllic retreat for nature lovers, the tranquillity and mesmerising hillscapes of Bhimtal are hard to miss. The picturesque hill station tucked away in the quaint altitude of 131 metres treats all eyes and heart to the beauty of mist-cloaked Himalayan peaks, the verdant and marshy woods of the Kumaon, an ethereal lake, and the quaint aura of the beautiful hilly valleys. Are you excited to voyage into the coarse terrains of the peaceful destination? A weekend in solace and in the lap of nature is a rejuvenating and unforgettable experience. Hurry and check out the best Bhimtal holiday packages for seamless and delightful experiences.
Have you always envisioned exploring the beauty of offbeat destinations? Are the mighty mountain peaks dear to your heart? If yes, travelling to the beautiful lake valley of Bhimtal is undeniably your best bet. Around 300 km from Delhi, there are multiple travel options you can pick from. For instance, you can take pleasure in a 7-hour scenic drive via National Highway 9, travel by train, or opt for a flight. Are you unaware of the nearest railhead or airport? Well, embark at Kathgodam if you are travelling by train. The station is in proximity (around 30 km) to the majestic hill station. Are you prying to find out about the nearest airfield to Bhimtal? It is the Pantnagar airport in Uttarakhand.
Now that you are familiar with the convenient modes of travel, scroll through Bhimtal holiday packages and pick one as per your preferences, dates, and availability. Bear in mind that the packages sell out quicker than you know.
How to curate the perfect travel plan to Bhimtal?
Do you wish to map out a well-thought itinerary for your next visit to the pristine and idyllic hill station? Of course, creating a checklist is primary. Sorting out your conveyance is first on the list. What's next is making reservations at the best resort in Bhimtal. It is certainly not as easy as it sounds. Bhimtal, although less crowded than the hubbubs of Nainital, is a must-visit pick for tourists and mountain lovers. Hence, rooms-with-a-view sells out in a spry. Finally, getting the hang of the places to sightsee is quintessential. While the beautiful mountain stretches attract your attention, multiple scenic spots in the nooks and crannies of the picturesque valley deserve a visit. In short, meticulous planning is essential when venturing into Bhimtal. However, if you are a laid-back traveller and prefer relying on professional tour planners, checking out Bhimtal holiday packages is ideal.
A lakeside retreat or a breathtaking mountain view – are you torn between choices? Wondering how to select from the luxury hotels in Bhimtal? Of course, making an informed choice is worth your money, time, and experience. Little are you aware of the numerous things to keep tabs on when selecting your favourite place to nest away in glory. Here are a few critical pointers:
1. Word of mouth is not enough
Unless you hear a world of praises and recommendations from your dearest kith, avoid vouching for word-of-mouth and put your money in a resort mindlessly.
2. Check for genuine guest reviews
Experienced lodgers provide the most authentic reviews. There are numerous travel websites available, allowing customers to write down their experience in a nutshell. Scrolling reviews like such certainly gives you a clear idea of the resort you are looking forward to staying at. If there are images posted along with reviews, it is merrier.
3. Enquire about the location of the property
It is no surprise that the best hotels in Bhimtal are stationed in the finest locations. However, learning about the exact location of the resort prior to your visit is a good idea. It helps you map out your travel plans accordingly. For example, if you are eager to luxuriate in a resort right beside the lake, a cosy and pretty hotel stationed at an elevation will not hit the mark as per your desires.
4. Feel free to enquire about the amenities offered
The idea of a holiday is different for different travellers. Wondering how? Well, an explorer or a nature lover spends more time outdoors discovering scenic new places. On the contrary, a leisure traveller would enjoy lazing in lavish accommodation, gazing at the surrounding picturesque views, and availing of class-apart amenities. Depending on the kind of traveller you are, ensure you enquire about the amenities your shortlisted resorts or hotels offer.
Speaking of a hospitable and luxurious stay, the quaint and small valley of Bhimtal comprises only a handful of premium 5-star resorts and Resorts By The Baagh tops the list as the best resort in Bhimtal. The expansive property is an ultra-modern and elegantly designed addition to the magnificent destination. Wake up to the beguiling views of dreamy sunrises, sit back and laze in the lap of luxury, and treat your tastebuds to the flavoursome delicacies of various cuisines; a stay at ResortsByTheBaagh is nothing short of extraordinary.
Why procrastinate your travel arrangements? Get your hands on the Bhimtal holiday packages, choose the best resort in Bhimtal, chalk out an itinerary replete with activities and scenic tours, and wrap up a delightful holiday plan at the earliest.
By: Resorts by the Baagh