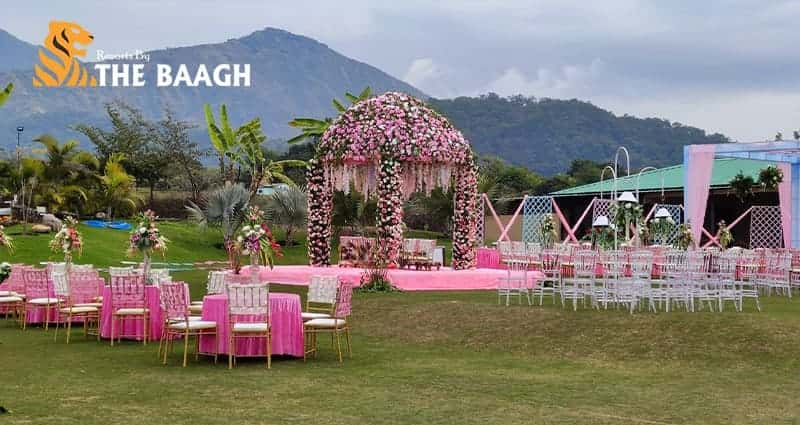 March, 28 ,2023
How To Choose A Wedding Station That's Right For You?
Is your heart set on tying the knot to the love of your life in a fancy and far-off destination? Certainly a big step. However, deciding where to get married is just as crucial. Whether you have guests flying in from all corners of the globe or a quaint, intimate setting for a romantic little nuptial, aren't you excited to make all eyes drool in a destination that's offbeat and pretty as a picture? Little do you know that shortlisting one favourite destination is quite tricky. For example, if a soulful and serene location is more your kind, a destination wedding in Bhimtal is undeniably the right choice. Also, the forts in Jodhpur are just as serene and blissful. The lush greeneries of Wayanad or the majestic hills in Himachal Pradesh, remote and placid destinations are far too many to choose from. Hence, finding the perfect and unbeatable destination for your big day is a tedious and complicated affair.
Expert tips for choosing the perfect wedding destination
1. Strike off the places where you definitely don't want to get married
One of the easiest ways to map out a list of the most promising destination options for a wedding is by eliminating locations that are not your type. This ensures that you have a list that's less cluttered and more concise, making your selection an easy and hassle-free affair.
2. Figure out your budget
Whether you are looking forward to a destination wedding in Uttarakhand or a grand nuptial in the legendary and historical grandeur of Rajasthan, having a budget in place is much recommended. Always leave room for a stretch in expenses because destination or non-destination wedding expenses could shoot up in the blink of an eye.
Wondering if there's a destination that's easy on the pockets but no less extravagant or fancy? A wedding in Bhimtal. The quaint and offbeat mountain destination is a haven for nature lovers. A picturesque emerald-green lake surrounded by the soaring Kumaon ridges on all sides, Bhimtal serves as a perfect destination to say 'Yes' to the precious love of your life. But don't forget to ballpark a budget before you bring your vision of a fairytale wedding to life.
3. Guests flying in from the corners of the country – strategize a destination that's easy to travel
One of the most understated aspects of a destination wedding is the inconvenience of travelling. Think about it – if a place is a little too far-off and isolated, your guests will have a hard time travelling and dropping anchors. Pick a location that's easier to traverse. For example, a destination wedding in Bhimtal is simple to arrange and even simpler to explore.
4. Say yes to a venue that aligns with the picture you have in mind
Sounds quite like an obvious tip, right? Search for venues that check off the aesthetic and elements of a perfect fairytale wedding you have in mind. For instance, if mist-shrouded mountains and green valleys have always been your idea of a wedding backdrop, the 5 star resorts in Bhimtal undeniably hits the mark. Whether you are planning a modern wedding or a nuptial with the flavours of rich traditions, the venue plays a significant role in a grand wedding affair.
5. Narrow down your favourites
Big fat wedding expenses or showy grandeur – isn't it all to offer your guests an extravagant and unforgettable experience? Of course, it is no secret that making a mark is no cakewalk. Therefore, whether you've handpicked the best resorts for a wedding or narrowed down a location that appeals to you, always be sure to enquire about the kind of services and amenities available. Wondering why? Well, venues that provide a complete suite of customized services or are equipped to reward all with a taste of luxury effortlessly round up as the perfect picks for a grand destination wedding.
Also, saying yes to proficient wedding planners is a good idea too. The planners are much more equipped and familiar with the capacities of a place, the time, the essential wedding stationery, and every little thing needed to wrap up the most exquisite wedding. Besides, wedding planners are also aware of numerous locations that fit your price bracket without compromising your vision and a full-blown picture of your wedding.
Thus, don't shy away from the idea of a big fat fairytale wedding in an offbeat and scenic destination of your choice. Are you a little inclined towards hills and meadows? If yes, searching for options for a destination wedding in Uttarakhand is just right. Wondering if there's a luxury and upscale resort in the hilly woods? Try and explore Resorts By The Baagh.
By: Resorts by the Baagh