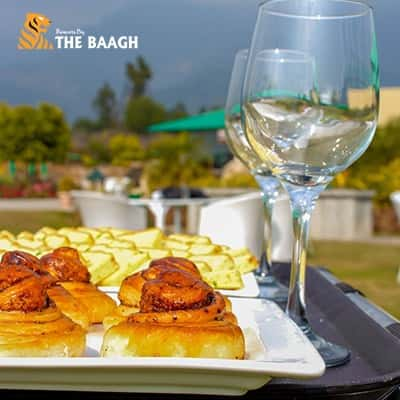 October, 17 ,2022
Host Corporate Affairs In An Upscale Venue At Jim Corbett
Corporate gatherings and group events are significant for businesses. It helps in strengthening new-formed partnerships, promotes networking, and helps businesses flourish. The idea of hosting formal corporate events at upscale resorts and far-away places is quite a trend. Don't you agree? Of course, it motivates the working cogs to congregate, discuss ideas, and network. More importantly, the event works as a breather and a retreat for stressed and busy minds.
Are you looking forward to hosting a business meeting on a large scale? Looking for a top-notch resort for corporate events? Do try to reserve a place at Resorts By The Baagh in Jim Corbett. An adventurous trip to the wilderness of the Corbett national park is no less than a joyride. From your partners and peers to your prized employees, the thrill of wrapping up a business initiative in the lap of nature is truly unparalleled.
How is Resorts By The Baagh accommodating the needs of corporate travellers?
It is no surprise that people travel to the nooks and corners of the world for work. You may be surprised to learn that holding events and corporate meetings at upscale resorts and hotels has a significant impact on brand promotion. Venture owners look for all possible ways to cast a strong impression on their clients, investors, and partners. Hosting an event in a premium and swanky resort serves the objective just right. What's more? A lavish and well-equipped business centre in a 5-star property comprise the best of leading-edge tech-enabled amenities to support a formal corporate event. Don't miss the perks of ace cosmopolitan hospitality and services at your beck and call that are only available at the best-in-class resorts and properties.
Resorts By The Baagh service ensures that hosting offsite corporate events in Corbett is easier than thought. Here's why the resort makes it to the list of the most preferred destination of business for corporate big guns.
Thoroughly equipped meeting rooms
It goes without saying that a well-equipped business centre is an indispensable part of upscale hotels and resorts in present times. The resort is one of the best resorts in Corbett and houses conference rooms and business centres of all sizes to accommodate a large number of attendees. Besides, each venue in the property is tech-powered and includes a suite of cutting-edge amenities to facilitate guests and corporate honchos.
The location
Resorts By The Baagh stands out as a lavish property in the heart of the Sitabani forest zone in Jim Corbett. The pleasure of conducting venture essentials and business meet-ups amidst the verdant nature and the picturesque belt of the Himalayan peaks is a surreal experience in itself. However, the resort adds a dramatic and adventurous touch to the formal meet-up. Wondering how? Well, visitors here are blessed with an opportunity to experience the joys of a reviving nature walk and an adventurous safari into the dense, deciduous forests of Jim Corbett. The thrill of spotting a Royal Bengal Tiger or the infamous jungle cats and wildlife thriving in the area adds excitement to the otherwise informal escapade.
Logistics
Conducting a large-scale business event without the right technical set-up is certainly not a cakewalk. Events imply frantic schedules, tight deadlines, proficient activities to keep the professionals networking and performing, and a zillion other tasks. Of course, keeping tabs on every little nitty gritty like materials, equipment, projects, etc is a far fetched. Resorts By The Baagh ensures that meetings, conferences, and events are wrapped up flawlessly. Businesses are welcome to host and conduct seminars without worrying about monitoring the ins and outs of logistics and technical assistance. Certainly explains why the resort tops the list of favourite offsite corporate events in Corbett.
Food and beverage
The luxury resort in the heart of Corbett understands that a seamless flow of appetisers and beverages is essential to keep the events and seminars rolling. At Resorts By The Baagh, our in-house team of proficient and skilled chefs keeps a steady flow of appetisers and snacks on the pass. Besides, a delicious spread of Indian, Pan-Asian, and continental delicacies is arranged, right on time, for breaks during an event.
In a nutshell, host events in decorous business centers, equipped with enhanced gadgets and a stellar catering service. It surely helps your brand create a fine and lasting impression on your esteemed investors.
Accommodation
A corporate event is not necessarily a one-day affair. It could stretch up to a few days or a week too. Therefore, it is critical to ensure that the lodging options are just as exquisite and fancy as the corporate center. As the best resort for corporate events, Resorts By The Baagh includes as many as 80 or more rooms, in five luxurious categories. There is ample space to accommodate venture capitalists, share holders, working employees, and all attendees of the corporate meet-up.
We truly comprehend your preference for modesty and suave. Nest away in luxurious abodes featuring rich and modish upholstery, class-apart furniture pieces, modern amenities, state-of-the-art televisions, and round-the-clock in-room services.
ResortsByTheBaagh is an ideal place to host big-league corporate events. Indulge in the perks of a luxurious stay and world-class amenities, in the arms of the Kumaon wilds, far away from the chaos and hububs of crowded cities.
By: Resorts by the Baagh