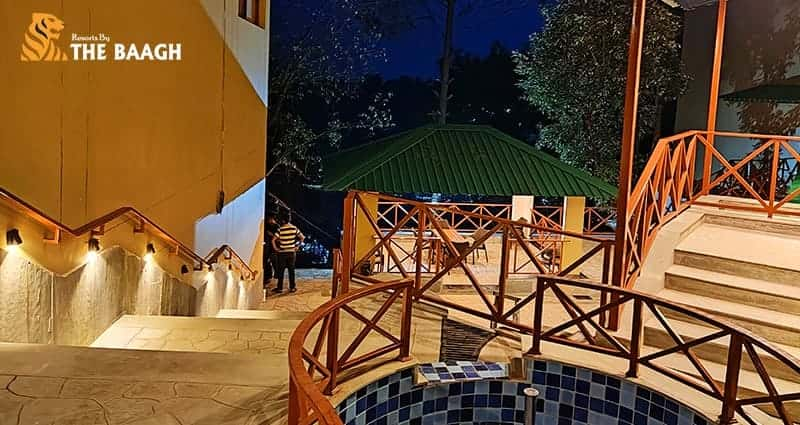 October, 17 ,2022
Give your Soul a Warm Experience in the Blanket of Green Valley!
Bhimtal, located 22 kilometres from Nainital, is a relatively peaceful vacation spot. With the beautiful and mesmerising weather of Uttarakhand, the lake at Bhimtal is a great place to enjoy fun things such as fishing and paddle boarding, and it even has an aquarium on an island in the lake! You can even book the best resort in Bhimtal for a few days to explore more of Uttarakhand and enjoy the beautiful monsoon in the arms of the Shivalik valley.
The trip of a lifetime takes you to the lush hill town of Bhimtal, which is located in the magical region of Uttarakhand. Bhimtal, which is surrounded by charming, hypnotic rivers, reveals the magnificence of greenery, stunning waterfalls and fascinating viewpoints. The journey to Bhimtal is a visual feast, but staying here is an adventure unto itself. If you're planning a trip to Bhimtal, look into the nicest resorts in Bhimtal with pool facilities—you'll fall in love with it.
Resorts By The Baagh is the best luxury resort in Bhimtal
This resort can fulfil your wish if an extraordinarily calm time with your loved one is what you're looking for. You're going to have the best stay in Bhimtal, starting with breakfast and ending with housekeeping. Watch the clouds move over the hills as you wake up and enjoy the plentiful sunlight coming in through the large balconies. On your way down to the lovely lawn, where you may relax with a book you love or have a get-together with your friends, let the sweet sounds of birds sing you a song. Make some beautiful memories while enjoying a few cocktails and a barbeque on your best Bhimtal tour.
Modern glass windows, breathtaking views, and the warmest service. The best resort in Bhimtal, Resorts By The Baagh, welcomes you. The resort's two classifications of cosy accommodations, called sunbird rooms and magpie rooms, both include a naturally lit living and dining space as well as an independent recreational digitally controlled bathroom. The resort is surrounded by a beautiful rainforest and is full of rustic beauty. Stay warm by the fireplace inside, sit with a book and a hot coffee, or enjoy a true authentic Kumaon experience. Watch as the night sky bursts with a million stars, use your lenses to spot some of the rarest birds, and stroll the various nature paths around.
Enjoy the lovely surroundings and the fresh air while relaxing with your loved ones. Throw a huge party on the rooftop and share a special moment with your beloved while gazing up at the stars for some evening adventures. The area is yours to explore, so go out and try some new things and adventurous activities, or rent a car for a quick trip nearby. With your dear ones, reserve this Bhimtal resort, which is the nicest, and take a magnificent vacation packed with fun!
We all know that there is no holiday without good food!
Why not add some colour to your plate and create happy memories with a delicious meal? Resorts By The Baagh offer the ideal holiday getaway! This is how we create delightful meals with love for you to consume.
You are adding the right flavours to your weekend getaway with a delicious meal specially prepared for you and your friends. Our chef cooks home-style meals which are prepared from garden-fresh ingredients and served to your table. Our professional chefs are getting ready to delight your taste buds.
Activities in and around our resort
Bhimtal, just a few kilometres from Nanital, is one of Uttarakhand's most beautiful valleys. It is a widely known vacation spot surrounded by greenery and offers a variety of activities such as boating, paragliding, and other outdoor adventures. You can also try paragliding or go to the top of the mountain to get the most beautiful view of nature. If you are an animal person, you should come here because you'll be able to see a wide range of animals. This is the most thrilling location, which gives you a hand-full of memories. And the beautiful river site, which is suitable for relaxing or healing because it is a visual treat for your eyes, where you can see the best view you will ever see in your life. After all of these activities, you can unwind and enjoy the luxury experience, which includes personalised amenities such as a coffee and tea maker, in addition to a swimming pool!
Swimming pool facilities at Bhimtal Resort
The Resorts By The Baagh, the best resort in Bhimtal, would undoubtedly be your best choice for an intimate family gathering, pre-wedding party, birthday party, vacation trip, or any other occasion that can be managed to be held outside in the natural surroundings. You can also hold a party in the swimming pool area, which is available for pool parties or relaxing poolside with your loved ones.
Conclusion
Resorts By The Baagh in Bhimtal specialises in designing and organising luxury holiday staycations. With our well-known hospitality in Bhimtal and Jim Corbett, our best resort in Bhimtal offers the most luxurious and comfortable holiday experience to our guests.
By: Resorts by the Baagh