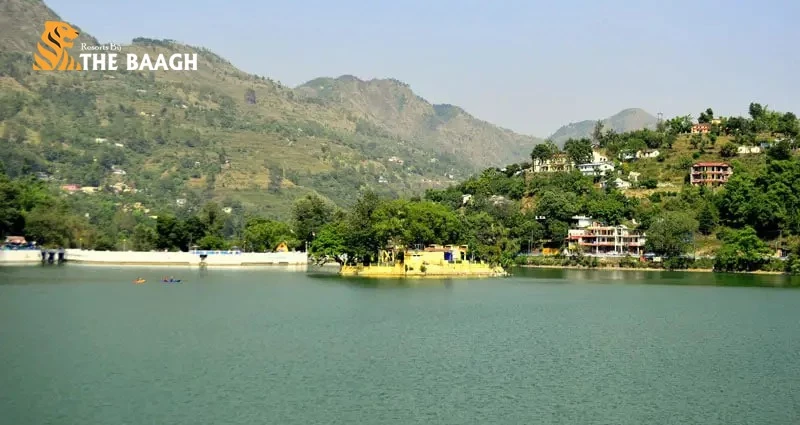 September, 30 ,2023
From City's Hustle Bustle To Nature's Lap: Comprehensive Travel Guide To Bhimtal
Are you sick and tired of the metropolitan rat race? Do you want a peaceful getaway in pristine nature? Look no further than Bhimtal, a jewel tucked away in India's Uttarakhand province's Kumaon region. This tranquil location provides a welcome break from the bustle of the city. Bhimtal has everything, whether you're looking for excitement, leisure, or just a change of scenery. We'll examine the beauty along with the corporate tour packages in Bhimtal, luxury hotels, and Bhimtal travel packages in our thorough travel guide to help you organise the ideal vacation. Additionally, keep a watch out for a subliminal mention of Resorts by the Baagh, the pinnacle of luxury in Bhimtal.
Unveiling Bhimtal: A Nature Lover's Paradise
Bhimtal, named after the fabled Bhima from the Mahabharata, is a spotless lake town that charms tourists with its unspoiled beauty and serenity. It is a lovely lake surrounded by lush vegetation and foggy hills, and it is 1,370 metres above sea level. The town's focal point, the picturesque Bhimtal Lake, provides chances for boating, bird watching, and tranquil strolls along the lake.
Corporate Tour Packages In Bhimtal: The Perfect Retreat For Teams
Bhimtal is a top choice for corporate retreats and team-building activities, as well as for leisure travellers. Corporate vacation packages in Bhimtal are created to meet the demands of businesses looking to promote collaboration and innovation in a peaceful setting.
These deals frequently include accommodations at Resorts by the Baagh, a luxurious retreat hidden away in the hills. Resorts by the Baagh provide the ideal location for seminars and business gatherings thanks to its cutting-edge meeting facilities and serene settings. Teams may collaborate, come up with ideas, and relax in the tranquil environment without being distracted by city activity.
Pamper Yourself In Nature's Lap At Luxury Hotels In Bhimtal
Bhimtal has a variety of opulent hotels to suit your every need if you're looking for luxury and comfort while on vacation. These accommodations offer the ideal fusion of modern conveniences and breathtaking scenery, guaranteeing a restorative stay.
Resorts by the Baagh is an example of an opulent residence that mixes contemporary comfort with the tranquilly of Bhimtal. With stunning views of the surrounding hills and the Bhimtal Lake, this resort is tucked away in a haven of lush vegetation. An inviting respite after a day of visiting the town is offered by each attractively decorated room.
Your Gateway To Adventure: Bhimtal Travel Packages
Bhimtal is the place to go if you're looking for adventure. A lot of Bhimtal vacation packages involve exhilarating pursuits like paragliding, hiking, and natural strolls. A well-liked location for paddling and fishing is the adjacent Naukuchiatal, which has a lake that is nine-cornered.
The Hidimba Parvat, which bears the name of the demon Hidimba from the Mahabharata, is one of Bhimtal's most daring tourist destinations. It offers a strenuous walk through thick trees that reward hikers with expansive views of Bhimtal and the Himalayas.
Enjoy The Regional Cuisine While Eating In Bhimtal
Without trying the local cuisine, no trip is complete. Traditional Kumaoni cuisine are available at a variety of Bhimtal restaurants. Don't pass on the delicious "Bhatt ki Churkani," a spiced black bean curry, and "Aloo Ke Gutke," fried potato chunks with spices.
You can eat at Resorts by the Baagh's on-site restaurant to experience local flavours from Bhimtal. This gastronomic treasure offers a variety of dishes derived from regional recipes, offering
Exploring Nearby Attractions
Bhimtal is a refuge of peace on its own, but it's also a great place to start if you want to see other local places of interest. Visit Nainital, a city well-known for its bustling marketplaces and the beautiful Naini Lake, which is only a short drive away. A trip to Sattal, a collection of seven freshwater lakes tucked away in a tranquil forest setting, is also an option.
The Ghorakhal Temple, which honours Lord Golu Devta, is a must-see for everyone who is interested in spiritual research. A fascinating spiritual site, the temple has a distinctive custom of connecting bells to requests.
The Art of Relaxation
A visit to Bhimtal wouldn't be complete without a session of relaxation and rejuvenation. Several luxury hotels in Bhimtal offer spa facilities where you can indulge in therapeutic massages and wellness treatments. Resorts by the Baagh, in particular, boasts a spa that pampers guests with a range of revitalizing therapies, ensuring that you leave Bhimtal feeling utterly refreshed.
In Conclusion: Bhimtal - A Tranquil Escape Beckons
Bhimtal, with its breathtaking natural beauty, adventure opportunities, and luxury accommodations, is a destination that caters to diverse tastes. Whether you're seeking corporate retreats, a romantic getaway, or a family vacation, Bhimtal has something to offer.
Resorts by the Baagh, with its blend of luxury and serenity, epitomizes the charm of Bhimtal. Whether you're planning a corporate retreat or simply looking for a luxurious escape, this haven nestled in nature's lap promises an unforgettable experience.
So, pack your bags and leave the city's hustle and bustle behind. Bhimtal awaits, ready to unveil its tranquil beauty and the warm embrace of Resorts by the Baagh, offering you the perfect escape from the chaos of urban life.
By: Resorts By The Baagh