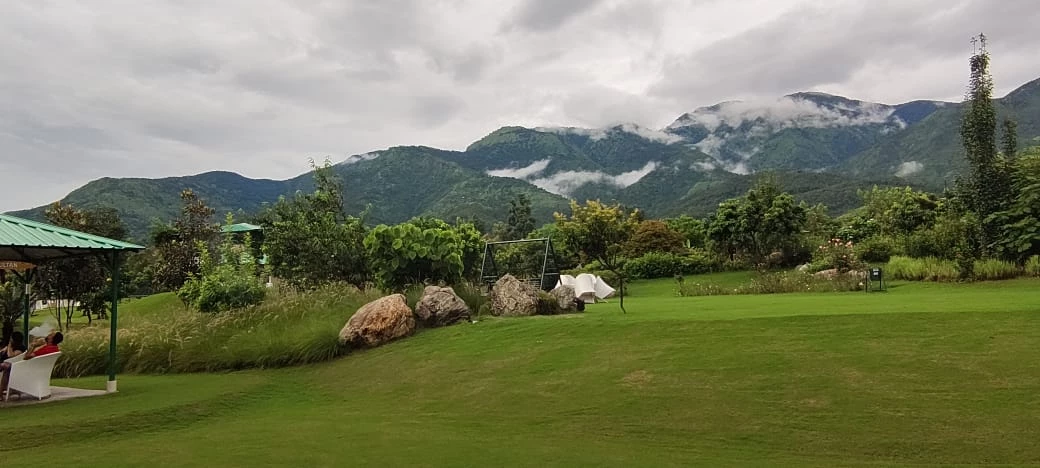 August, 24 ,2023
Family Fun In Corbett: Activities And Amenities At Family-Friendly Resorts
Roaming through the bush is the ideal combination of adrenaline and adventure. Imagine you're walking calmly, and a family of elephants crosses the road, with a giant elephant and their adorable small elephant baby following in their elder's footsteps. This joyous thrill is only available when you choose a site that provides the right jungle experience, and Jim Corbett is the finest option for you.
The oldest national park in India is noted for its thrills, adventure, and biodiversity. The ideal resort for individuals who value nature above all else. Why not organise a vacation to Jim Corbett with your family during this monsoon? We're all aware that city pollution and a frantic lifestyle have harmed our beautiful link with our families. We no longer have time to chat with them or play with our children. This monsoon weekend, plan a vacation to Jim Corbett, which is only a few hours away from Delhi. Perfect location combined with exhilarating thrills, rejuvenating nature, and the best resorts in Corbett.
Resorts by the Baagh - The Best Option for a Family Vacation
When you plan a trip, the first thing that comes to mind is where you will stay. And we all started looking for the best resorts in Jim Corbett on various websites. What could be more exciting than finding a resort that gives the ultimate jungle experience? Thrilling, indeed! When you book Resorts by the Baagh, you may experience this thrill for yourself. With a few short hours driving Jungle Safari, you may experience the delightful, joyous jungle life surrounded by lush foliage in the centre of heaven.
Resorts by the Baagh is an ideal weekend family holiday resort with modern facilities and amenities, which are listed below. What could be better than having five-star facilities and services in the middle of the jungle? The resort is well-known for being one of the top places for family outings. You simply visit the resort and take in the lifestyle surrounded by natural beauty while embracing nature. Book now and enjoy a relaxing family vacation away from the crowds.
Vacationing with family necessitated a location where you could all strengthen your bonds, and Resorts by the Baagh provided exactly that intimate environment. Such as playing games, swimming pool, bar desk, campfire, delicious dining and others.
Resort Amenities & Facilities by the Baagh
Spacious and well-appointed family suites: we all required a comfortable - cosy stay on holiday! Resorts by the Baagh, a luxury resort in Jim Corbett, offers a variety of family cottage alternatives. The rooms are large enough for everyone to relax and unwind after an exhilarating wildlife safari or excursion. The resort's proximity to the national park gives easy access to the enthralling wilderness, allowing families to embark on adventurous jungle excursions that expand their understanding of India's flora and animals.
Rejuvenating spa: After all, the purpose of a holiday is to rest and renew oneself! That is something we all do, and it is not selfish at all! It is only being able to spend time with yourself and treat your body and spirit away from the city pollutants that make it worthwhile. At Resorts by the Baagh, you will have a rejuvenating spa experience where a professional will give you a peaceful massage session while utilising organic products that will provide you with a calming experience as well as a natural glow in your body.
Game Zone: At Resorts by the Baagh, you can find a lush green playground with various game zones where you may enjoy various activities with your children. Aside from indoor sports, you may also play outdoor games such as cricket, basketball, and so on. Meanwhile, the kids can have a great time in the designated play areas or participate in fun-filled recreational activities, which will keep them entertained throughout the day.
Delectable culinary experience: Having a delectable meal created by pros on your holiday is like having the best vacation ever. Families may enjoy delegated local and international cuisines at in-house restaurants that provide a wide range of taste buds at Resorts by the Baagh. The hotel may also be set up for romantic candlelit dinners, allowing parents to relax while their children are cared for by skilled carers.
Evening entertainment and bonfires: the vacation is like a party! When the sun sets over the horizon, Resorts by the Baagh, one of the best resorts in Corbett, organised bonfire evenings. You can wander around the crackling fire while telling interesting stories and enjoying local performances by local artists. These experiences allow you to immerse yourself in the local culture and create memorable memories.
Famous activities to do during your Corbett vacation
Jim Corbett Famous Jungle Safari:- Going to Jim Corbett and missing out on the opportunity to witness a Bengal tiger is no longer acceptable. It's as if you're going to a wedding without meeting the groom and bride. You can experience two types of safaris at Jim Corbett: jeep safaris and canter safaris, both of which allow you to witness the enchanting splendour of the forest.
River rafting: If you want to get your adrenaline flowing, go river rafting on the Kosi River. It is an excellent adventure activity that provides a unique perspective of the park's surrounding scenery.
Fishing in Ram Nagar: If you want to have a memorable experience, fishing in the Ramganga River is the finest alternative. Spend some time on the riverbanks casting your fishing line and taking in the scenery.
So pack your luggage, book your stay at Resorts by the Baagh, one of the best resorts in Corbett, unleash your adventurous spirit, and prepare for an incredible adventure inside Jim Corbett's heart.
By: R.K Batra