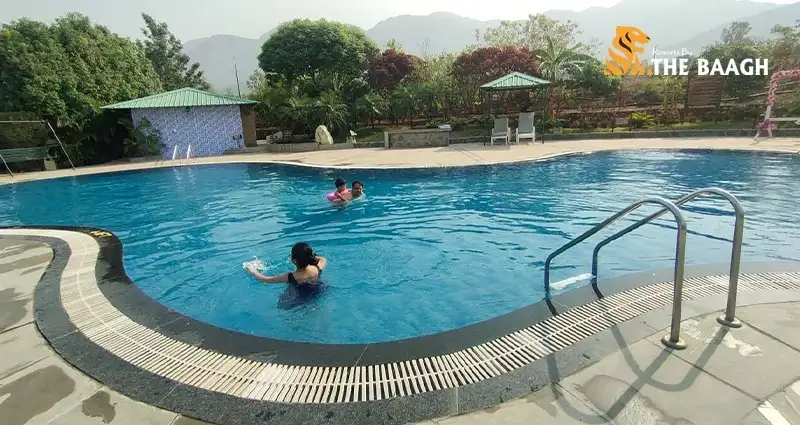 October, 31 ,2023
Experience Luxury And Adventure: 5-Star Hotels In Ramnagar
Ramnagar, in the whole of Uttarakhand, has become a sought-after destination because of its vast greenery and quietude. Located in the foothills of the majestic Himalayas, the location of Ramnagar is often selected as the ideal weekend getaway. Travellers seeking a striking blend of extravagance with adventure find Ramnagar the epitome. Noticing the influx of tourists from across the nation and world drawn by the rampant greenery, lush landscapes, and wildlife wonders, the demand for 5 star resorts in Uttarakhand's Ramnagar has evidently increased. The rise in five-star properties has altogether altered the scenery of Ramnagar, making it quite a demanding destination. This blog will cover in detail the attraction points of Ramnagar and also uncover the top resort.
Ramnagar: The Coveted Destination For Adventure
Wondering what is so special about Ramnagar that masses are heading towards the place? Let us check it out.
1. Close By Jim Corbett
You ought to be overjoyed when you step inside one of India's most remarkable national parks - Jim Corbett. Ramnagar is the gateway to this famous wildlife hub where thousands of people visit to encounter the glorious and endangered Bengal tiger. The excitement doesn't end here, you might also catch hold of elephants, leopards, diverse species of birds, and so more.
2. Jungle Safaris
Within Jim Corbett National Park, intrepid travellers can enjoy elephant, canter, and jeep safaris. These guided tours offer a close-up and intimate encounter with the area's wild residents.
3. River Rafting
White-water river rafting is an option along the Kosi River, which flows through the area. Adventure seekers especially love the thrilling sensation of navigating the river's rapids.
4. Trekking & Hiking
There are many trekking and hiking trails in the verdant, mountainous area surrounding Ramnagar, suitable for both novice and expert hikers. The routes offer amazing views of the surrounding area while passing through thick forests.
5. Bird Watching
With a wide variety of bird species, Ramnagar is a bird watcher's heaven. With a variety of habitats and unspoiled natural surroundings, the area provides fantastic birdwatching chances.
6. Corbett Waterfall
Surrounded by beautiful trees, Corbett Waterfall is a gorgeous destination within a short drive from Ramnagar. It provides the ideal setting for an adventurous day out, whether you want to take a leisurely walk or a cool plunge in the natural pools.
7. Camping and Bonfires
The stunning surroundings of Ramnagar are a popular destination for adventure seekers. A chance to get up close and personal with nature is offered by camping close to Jim Corbett National Park. The adventure is enhanced by bonfires beneath a magnificent night sky.
8. Corbett Wildlife Museum
Discover more about the local fauna at this fascinating museum located near Ramnagar. The museum features a variety of displays pertaining to the local flora and fauna.
Why Resorts By The Baagh Is The Leading 5 Star Hotel In Ramnagar
Spacious Rooms and Suites
Resorts by the Baagh is the greatest 5 star hotel in Ramnagar, with a variety of opulent rooms and suites that satisfy even the most discriminating guest's need for luxury and opulence. The elegantly furnished rooms come equipped with contemporary conveniences to make sure you have the best possible experience.
World-Class Amenities
Resorts by the Baagh offer an all-encompassing opulent experience, complete with a soothing spa, a glittering swimming pool, well-equipped fitness centres, and excellent dining options. The resort's dedication to quality guarantees that every detail of your stay is well thought out.
Adventure Itineraries
In order to meet the demands of adventure seekers, the resort offers specially designed adventure packages that allow guests to explore the wild side of Ramnagar and its surroundings. Adventures in Jim Corbett National Park that are ideal for thrill-seekers include trekking, animal photography, and jungle safaris.
Professional Hospitality Team
At Resorts by the Baagh, the attentive and knowledgeable hospitality team makes sure that every guest's needs are satisfied as quickly and attentively as possible. You feel at ease right away and your stay has a distinctive touch thanks to the friendly and accommodating service. It is, therefore, RBTB is often the first one among the top Ramnagar resorts for wedding and also for corporate events.
Travellers looking for luxury and adventure value Ramnagar because of its rich history, stunning natural beauty, and abundance of exciting activities. The introduction of 5 star resorts in Uttarakhand's Ramnagar, such as Resorts by the Baagh, has elevated Ramnagar's standing as a top location for luxury and exhilarating experiences. Thus, regardless of whether you're planning a dream wedding, a wildlife safari, a spiritual retreat, or a luxury holiday, Ramnagar ought to meet your expectations. This quaint community lets you get the best of both worlds with the ideal blend of luxury and adventure.
By: Resorts By The Baagh