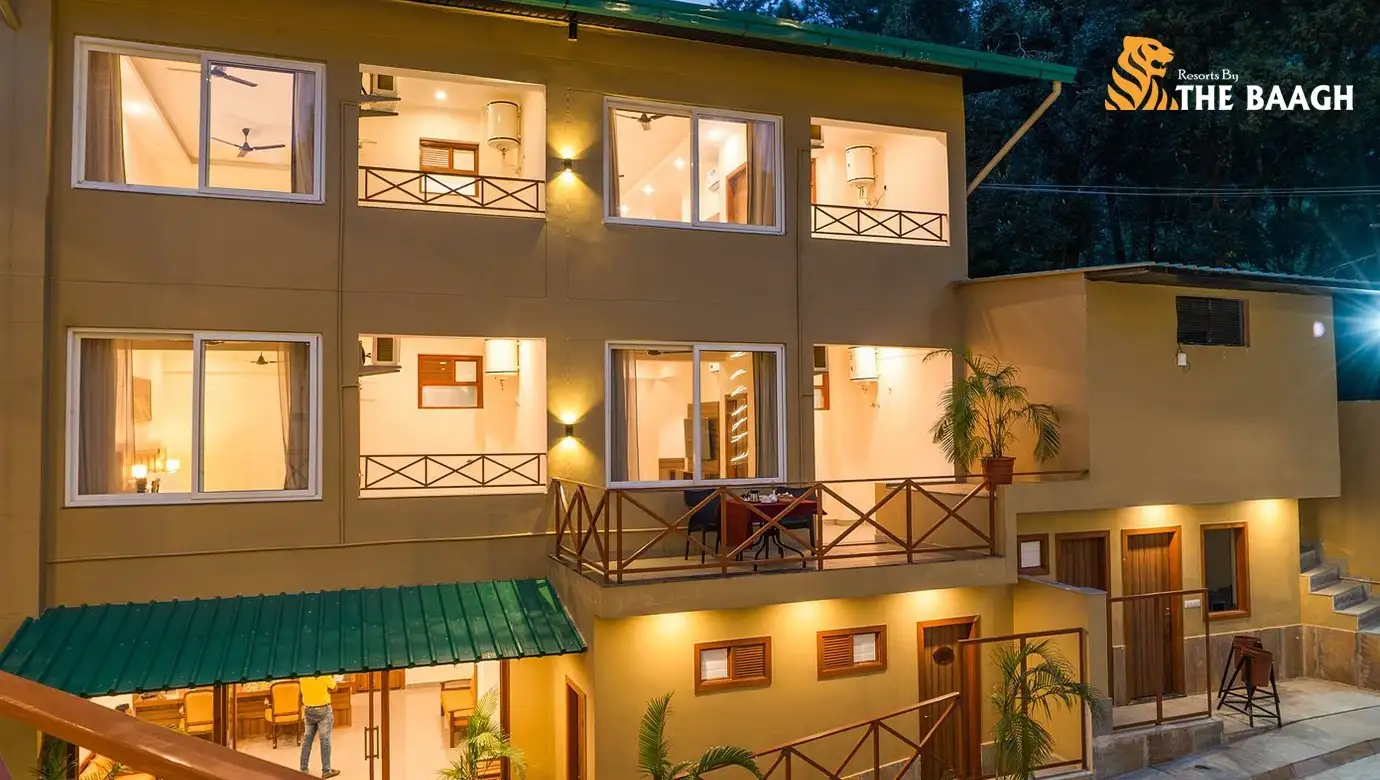 October, 28 ,2023
Escape To Bliss: Bhimtal's Top-Rated Resort
There is a profound sense of belongingness in the mountains. The tranquillity that mountains offer is unrealistic, no wonder people don't feel like ending their hill station vacation. One of those exquisite locations is Bhimtal, cuddled in the breathtaking landscape of the Kumaon region of Uttarakhand. For the masses, Bhimtal is quite synonymous with bliss, and the reason is quite evident. This place is the dwelling of the largest lake in the district of Nainital. The history of Bhimtal Lake traces back to the 1800s when it was only known among the locals as a secret holy lake. Named after 'Bhima', one of the Pandava brothers from Mahabharata, the scenic beauty of Bhimtal is the outcome of the perfect blend of the pristine lake, hills, forests, and sanity.
How about residing in an absolutely lavish resort nestled in this charming place of Bhimtal? Among all the top-notch accommodations, Resorts by the Baagh has positioned itself as the top resort in Bhimtal with its impeccable hospitality.
Exploring Resorts By The Baagh - The Ultimate Top Resort In Bhimtal
Resorts by the Baagh is noted for flawless service and dedication to creating unforgettable experiences. This is what makes the resort unique:
Refined Accommodations
Celebrated as the top resort in Bhimtal, Resorts by the Baagh is known for its diverse accommodation ranging from comfy deluxe rooms to opulent suites. Every room exudes a sense of elegance, intricate furniture, and stunning views of the blissful ambience.
Dining Pleasures
The resort's multi-cuisine restaurant provides a delicious dining experience. Every appetite will be satisfied by the varied menu, which features both foreign and regional Kumaoni cuisine.
Peaceful Spa
The resort's spa provides a peaceful retreat for visitors to unwind in. To feel refreshed and restored, make use of restorative therapies and calming massages.
Lake Views
With a view of the placid Bhimtal Lake, the lodge is perfectly situated. Enjoy the beautiful vistas and tranquil sounds of nature from your accommodation as you wake up.
Outdoor Activities
The resort is perfect for outdoor enthusiasts because it has lots of green space and convenient access to trails. There's walking, picnicking, and bird viewing to do.
Contemporary Amenities
Resorts by the Baagh ensures that guests have all the contemporary conveniences they require, like Wi-Fi, room service, and meeting spaces for business gatherings, even though it is tucked away in the middle of the woods.
Bhimtal Packages: Select Your Happiness
Resorts by the Baagh provides a range of Bhimtal holiday packages to suit different traveller needs and lengths of stay. There's a package that suits your needs, whether you're a family looking to spend quality time together, a couple planning a romantic holiday, or a group of friends organising an exciting trip.
Romantic Retreat
The romantic retreat package is ideal whether you're commemorating a special event or simply want to spend time together. It offers comfortable lodging, candlelit dinners, and leisurely walks by the lake.
Family Fun
All ages can enjoy the range of facilities and activities included in the family fun package. With spacious family rooms and a designated kids' play area, this package ensures a fun experience for everyone.
Adventure Escapade
This package is specifically designed for adventure-seeking individuals like you and your pals. This programme guarantees an action-packed holiday with possibilities for trekking, paragliding, and more.
Corporate Tours
Resorts by the Baagh provide extensive corporate tour packages in Bhimtal for both small and large groups. With well-equipped conference rooms and team-building exercises set against the beautiful backdrop of Bhimtal, these packages are made to offer the ideal balance of business and recreation.
Calm Your Senses With These Attraction Points Of Bhimtal
Bhimtal is celebrated for offering some of the most surreal attraction points. It is a true Himalayan town filled with lush hills, rampant valleys, and an untouched lake. The beauty of Bhimtal doesn't only lie in the lake but in other places as well.
1. Victoria Dam
This dam is located at one end of Bhimtal Lake and it is beautifully decorated with terraced flower gardens. Furthermore, you will come across a 17th-century Bhimeshar Temple dedicated to Lord Shiva near the dam.
2. Naina Peak
Visiting Bhimtal and not getting a splendid view of the Nainital town will certainly do injustice to the place. Naina Peak is the highest hilltop in the area giving a spectacular view of both the town and the Himalayas. If you love trekking, then this 6-kilometre-long steady climb will totally be on your bucket list.
3. Butterfly Research Centre
If you are an aficionado of nature and insects, then the Butterfly Research Centre is a mandate. This is the fourth-largest reference collection of both butterflies and moths in the nation. Resorts by the Baagh has skilled travel planners who will create ideal guided tours
4. Island Aquarium
With a wide range of fish species housed within, this aquarium is a must-see, situated on an island in the midst of Bhimtal Lake.
5. Bhimtal Mahotsav
If you happen to visit during this regional celebration, you'll experience Bhimtal's lively culture, which includes traditional food, dancing, and music.
6. Naukuchiatal
Just a short drive away, Naukuchiatal is another breathtaking lake renowned for its varied water sports and picturesque surroundings.
To sum up, Resorts by the Baagh is unquestionably the best resort in Bhimtal, and Bhimtal is a hidden treasure in the Kumaon region. Offering a sumptuous and pleasant stay in the heart of nature, the resort accommodates all kinds of travellers with its varied Bhimtal holiday packages. This resort promises an absolutely wonderful stay, whether you're looking for a corporate retreat, a family holiday, or a romantic getaway. Bhimtal and Resorts by the Baagh have to be at the top of your list if you're searching for a paradisiacal getaway.
By: Resorts By The Baagh