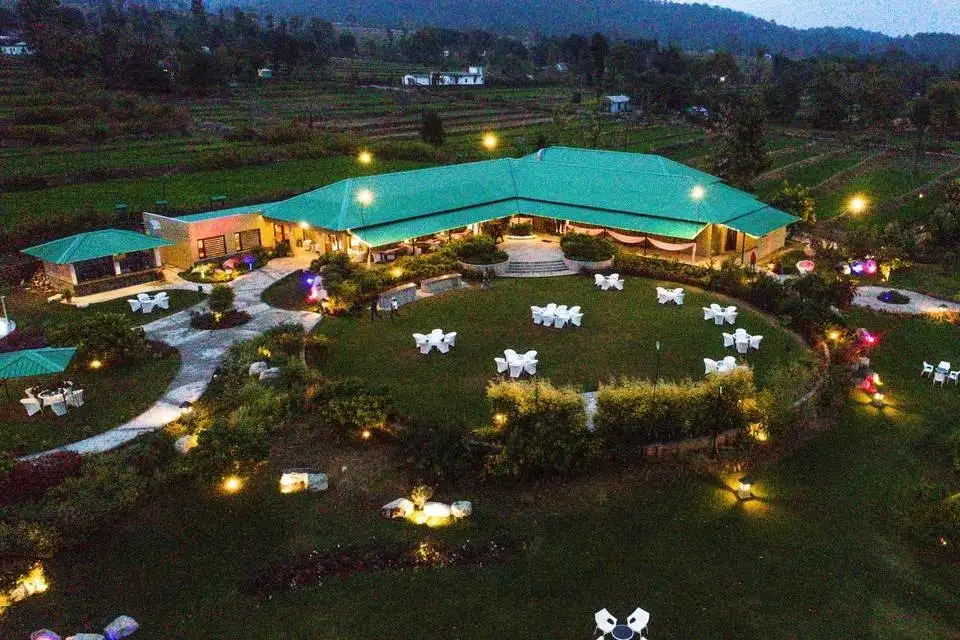 July, 05 ,2023
Embrace the Joy: Celebrating Life's Moments with Family and Friends
Life is essentially a journey filled with innumerable milestones and cherished experiences. Among all the joys we experience, the finest are those we enjoy with our family and friends. The celebration might be for a birthday party, a vacation wedding, or anything in between. Sharing your wonderful experiences with family and friends adds further delight to your life.
And suppose you're celebrating and spending quality time with your loved ones as a nightingale sings a beautiful song with nice and refreshing air that blows away all the city's bustling life strain, where you may gaze out over the beautiful enormous mountains surrounded by lush flora!
Sounds fascinating, doesn't it? However, when you book Resorts by The Baagh, this will become a reality, which is one of the best resorts in Bhimtal, since the resorts give a setting that heals your soul and makes your particular precious moments even more wonderful. In this article, we will look at the significance of these communal moments and the advantages of actively engaging in festivities with your loved ones in Resorts by the Baagh.
Importance of celebrating beautiful moments with Family
It aids in bond strengthening: The celebration provides a chance to reinforce our relationships with our family and friends. Whether it is a wedding or a festive occasion, gathering with loved ones generates a sense of belonging and strengthens the basis of their connections. The shared laughter, genuine chats, and wonderful moments that occur amid the gorgeous environment surrounding our exquisite accommodations create lasting memories that strengthen our bonds.
Bonding: Celebrations provide an excellent opportunity to enhance our relationships with our family and friends. Coming together with loved ones, whether for a festive event or a personal success, generates a sense of belonging and strengthens the basis of our relationships. During celebrations, shared laughter, meaningful talks, and wonderful moments build enduring memories that strengthen our bonds.
Developing traditions: Participating in the celebration with your loved ones allows us to develop and maintain traditions. Resorts by the Baagh, one of the most exquisite resorts in Bhimtal, believes in providing a moment that reflects our lovely culture. Our resort's great chefs produce delectable special foods that are only cooked for specific festivals or yearly reunions, and these wonderful old rituals help cement the precious tie of our culture and familial identity.
Ultimate happiness: With festivity and excitement, the party generates an enchantment in the air. Our joy doubles when we share these wonderful moments with our loved ones. Our resorts provide lovely cosy spaces where you can have fun and enjoy the laughter and pleasant energy that pervade the environment during the celebrations, which has a deep influence on our well-being. Our expert team also organises exciting activities such as dancing, singing, and playing games, as well as just enjoying one other's company, which lifts our spirits and produces unrivalled communal enjoyment.
Note: If you want to celebrate in the gorgeous but calm valley of Bhimtal on a budget, look into the excellent pocket-friendly Bhimtal tour package. Resorts beside the Baagh may be found on our website. You may get your hands on some beautiful warm hotel alternatives here without breaking the bank.
Emotional Assistance: Life is not without its difficulties, and having the support of our loved ones becomes critical during difficult times. Celebrations allow family and friends to gather together and give emotional support to one another. The presence of loved ones may be a source of comfort and strength, whether it's celebrating milestones and triumphs or giving a shoulder to rest on through difficult times. And when this support combines with the magically refreshing surroundings, this brave becomes even more powerful and popular.
Communication Enhancement: Finding time to interact with our family and friends can be difficult in today's fast-paced environment. Celebrations make time for meaningful talks and quality time. These events promote free communication by allowing us to express ourselves, exchange stories, and gain a better understanding of one another. These encounters help to strengthen connections and develop a sense of belonging.
Celebrating with family and friends is a vital element of our life. These shared experiences weave a tapestry of memories, enhance our friendships, and provide opportunities for enormous delight and support. In a world where our attention is frequently diverted elsewhere, it is critical to prioritise these festivities as a way to love our relationships and build enduring bonds. So, let us embrace the joy, be present, and actively engage in the events that bring us closer to those we cherish, which can only be found at Resorts by the Baagh.
Why Resorts by the Baagh?
For its stunning location: Located in the midst of spectacular surroundings, Resorts by The Baagh offers an excellent family tour package that allows you to immerse yourself in the calm beauty of Bhimtal. The resort offers a quiet ambience that rejuvenates your mind, body, and spirit, surrounded by lush green forests, towering mountains, and the beautiful Bhimtal Lake. Wake up to the sound of birds chirping, take a walk among the fragrant flowers, and feel the lovely air whispering through the trees.
Resorts by The Baagh offers a variety of exquisite lodgings, each meticulously designed to provide comfort and elegance. You can anticipate contemporary conveniences, tasteful design, and spectacular views from every corner, whether you pick a cosy cottage, a big villa, or a sumptuous suite. The rooms have luxurious furniture, private balconies, and all of the conveniences necessary for a comfortable and restful visit.
Celebrate in Fashion: The resort is ideal for all sorts of festivities. Resorts by The Baagh provides the facilities and experience to make your celebration genuinely unique, whether it's a wedding, a birthday party, or a business event. With large dining rooms, well-kept grounds, and a dedicated event planning team, you can be confident that every detail will be handled, leaving you free to enjoy the celebrations with your loved ones.
The Baagh Resorts in Bhimtal offer an appealing respite from the hustle and bustle of city life. Its gorgeous surroundings, spacious rooms, kind hospitality, and excellent family tour package make it an excellent choice for celebrations, family holidays, and romantic retreats. Whether you desire adventure, tranquilly, or simply a break from routine, our resort provides an exceptional experience in the middle of Bhimtal's mesmerising splendour. Pack your bags ready to make memories that last a lifetime at Resorts by The Baagh.
By: Resorts by the Baagh