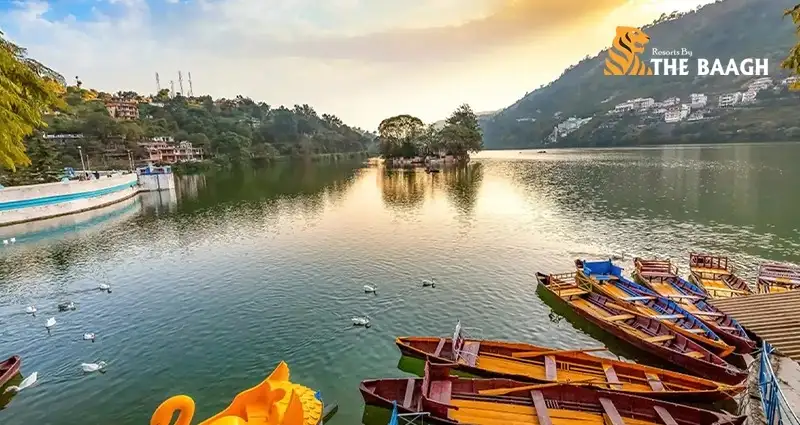 October, 30 ,2023
Discover The Enchanting Duo: Nainital And Bhimtal Tour Guide
The city of Bhimtal carries an enchanting history and entices thousands of visitors every year. The subtle beauty of this scenic place is known for its destressing power. What makes Bhimtal one of the most idyllic destinations in North India is its proximity to Nainital. Sitting at an altitude of 1, 370 metres above sea level, this city is truly a cherry to the eye because of its pristine lake, majestic views of the hills, and immense peace. Most people choose Bhimtal over Nainital because of the former's quietude, but what if we put forward the best of both places? Or, in simpler terms, an amazing insight into a Nainital Bhimtal tour?
A Brief Insight To Nainital And Bhimtal
Nainital:
Tucked away in Uttarakhand's Kumaon area, Nainital is well-known for its emerald-green Naini Lake, surrounded by verdant hills. The Naina Devi Temple, which is devoted to the ruling goddess, is whence the town gets its name. Because of the many lakes in the area, such as Bhimtal and Naukuchiatal, Nainital has acquired the title "Lake District of India". Shops, cafes and restaurants line the Mall Road, which is a hive of activity. Snow View Point, which is reachable by cable car, offers guests breathtaking panoramic vistas.
Bhimtal:
Bhimtal, a hidden gem, is just a short drive from Nainital and is frequently eclipsed by its more well-known neighbour. Located around the charming Bhimtal Lake, which is bigger and less crowded than Naini Lake, the town gets its name from Bhima, one of the Pandava brothers from the Indian epic Mahabharata. One of the main attractions of Bhimtal tour is the Bhimeshwar Temple, which is located on the island in the middle of the lake. The pure environs of Bhimtal are ideal for bird watching, outdoor walks, and boating. Away from the tourist throng, it's a peaceful haven.
Must-Visit Attraction Points In Your Nainital Bhimtal Tour
If you are clueless about where to go next, then Bhimtal and Nainital will be two quintessential places to visit. Not only do these two places have diverse settings to offer, but they also have multiple locations for you to relish nature. Let us delve into the top attraction points of these two places:
Nainital Tour Landmarks:
Naini Lake: Take a boat trip on Naini Lake, a serene body of water encircled by hills and adorned with vibrant paddle boats, to kick off your journey. It's not worth missing the breathtaking sights at dawn and evening.
Naina Devi Temple: A pivotal point in the history of Nainital is the revered Naina Devi Temple. There, pay your respects and enjoy the calm ambience.
Snow View Point: For a breathtaking 360-degree panorama of the surrounding mountains, which includes the Nanda Devi Peak, ride the cable car to Snow View Point.
Tiffin Top: The expansive view and a short walk to the summit will give you a sense of hope and peace. The perfect setting for a fantastic picnic is here.
Eco Cave Park: The Eco Cave Park gives a mystical experience because of its interconnected caves with elaborate rock formations. This place is ideal for a family adventure.
Bhimtal Tour Landmarks:
Lake Bhimtal: Take a boat ride around the immaculate Lake Bhimtal, where the quiet surroundings provide a breather from the bustling tourist regions.
Bhimeshwar Temple: Explore the historic Bhimeshwar Temple, which is thought to be a site of calm beauty and religious significance. It is situated on an island in the middle of the lake.
Victoria Dam: Discover Victoria Dam, a stunning natural region surrounded by lush woodlands that offers outdoor enthusiasts a tranquil retreat.
Butterfly Research Centre: Come explore the vibrant world of butterflies by getting up close and personal with these amazing creatures at the Butterfly Research Centre.
Hidimba Parvat: For those with a daring spirit, ascending Hidimba Parvat provides breathtaking vistas over the Bhimtal area in addition to relishing the sense of peace in the midst of nature.
Book a Stay in Resorts by the Baagh Bhimtal
To maximise your experience during your journey to Nainital and Bhimtal, think about reserving a room at Resorts by the Baagh. Relax and become one with the tranquil surroundings at this opulent resort, which has perfected the art of blending contemporary comforts with an organic environment. Excellent dining alternatives, a wide variety of leisure activities, and cosy lodging are all available. A great option for meetings, team-building activities, and corporate retreats in the serene surroundings of Bhimtal is Resorts by the Baagh, which provides corporate tour packages in Bhimtal.
Conclusion
Nainital's dynamic charm and Bhimtal's profound calmness combine to create a compelling combination on the Nainital Bhimtal tour. Adventure, natural beauty, and cultural history are all combined in these hill stations. Amidst the serene lakes and bustling streets of Nainital, don't forget to explore Bhimtal, a serene haven tucked away from the madness. After visiting these two natural gems, you will surely carry with you a lasting recollection of the Himalayan foothills.
By: Resorts By The Baagh