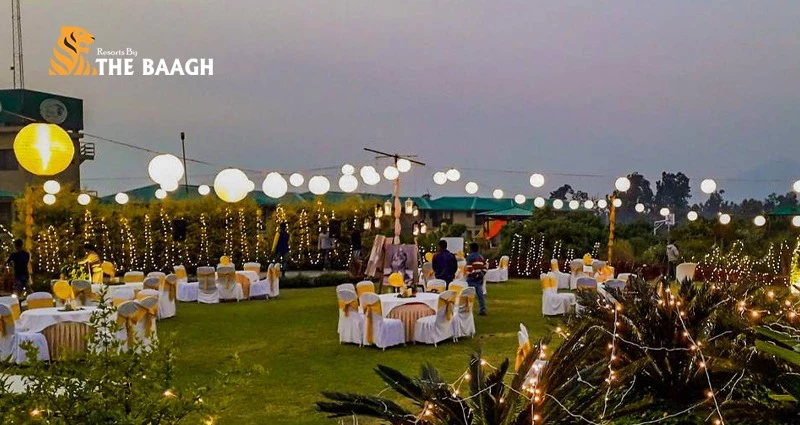 September, 28 ,2023
Destination Wedding in Bhimtal's Serenity: The Ideal Setting for Your Wedding
Envision the instance where you are exchanging vows in the middle of Kumaon Hills, pristine scenery filled with foliage, gentle rustling of leaves, and immaculate waters of the serene Bhimtal lake - isn't that something worth yearning for? If this particular landscape fills your mind with mirth, then Bhimtal is the place for your wedding. Couples these days are going that extra mile to create an idyllic and peaceful ambience reflecting tranquillity, and what can even be more peaceful than mountains? A destination wedding in Bhimtal will welcome you to breathtaking landscapes. On top of that, if you choose 'Resorts by the Baagh' for your merrymaking, you will unquestionably relish lasting bliss.
Destination Wedding In Bhimtal - A Wedding Packed With Splendour
What sets Bhimtal apart from the plentiful wedding destinations across North India is its tranquillity offered by the presence of Bhimtal Lake, greenery, and hills. It is away from the chaos, the hustle and bustle, the traffic, and so on. Here, you will find the much-needed peace that your regular life was craving. And, having your wedding in a 5-star hotel in Bhimtal will totally be an out-of-the-world deal.
The gentle swishing of leaves, the harmonious chirping of birds, and the benign sound of water create a subdued ambience that's perfect for a wedding. It's a place where time seems to slow down, allowing you to savour every moment of your big day and create cherished memories.
A destination wedding in Bhimtal is an opportunity to flee the ordinary and glorify your love in an extraordinary setting. The town offers a range of accommodation options to suit your preferences but for those seeking the ultimate in luxury and comfort, Resorts by the Baagh is a perfect choice. The very epitome of Bhimtal can be marked by serenity. The unhurried pace allows you to experience every intimate moment, fostering a deep connection with your partner.
Resorts By The Baagh: Your Dream Wedding Venue
Resorts by the Baagh is not just a hotel; it's an experience waiting to be discovered. Here's why it's the ideal resort for your destination wedding in Bhimtal:
Spectacular Venue: If you have always wanted your nuptial bond to take place in the midst of nature, then nothing can beat the breathtaking venue that this resort offers. Exchange vows and witness nature celebrating with the lake and hills as your backdrop. The resort's grounds provide a picturesque setting for your special day.
Expert Wedding Planners: Planning a destination wedding can be tremendously overwhelming, but with Resorts by the Baagh as your wedding planner, this huge process will appear seamless. They have the local knowledge and expertise to assist you in creating a wedding that exceeds your expectations.
Lavish Accommodation: As a 5 star hotel in Bhimtal, Resorts by the Baagh offers luxurious and comfortable accommodations for you and your guests. The well-appointed rooms and suites ensure that everyone enjoys a relaxing stay.
Culinary Excellence: The resort's culinary team is renowned for its culinary excellence. They can create a menu that satisfies every palate, from local Kumaoni delicacies to international cuisine, ensuring that your wedding feast is a delight for all.
Customization: Resorts by the Baagh offers customizable wedding packages tailored to your explicit requirements. Whether you imagine a small, intimate affair or a grand celebration, their experienced team will work with you to bring your vision to life.
Solitude and Exclusivity: Your wedding is an emotional and intimate affair, and this Bhimtal 5 star hotel resort understands the need for privacy and exclusivity. They can arrange for a private ceremony and celebration, ensuring that your wedding remains a cherished memory.
Conclusion
Bhimtal's natural beauty and serenity make it an enchanting destination for couples seeking a wedding that's immersed in nature's splendour. Resorts by the Baagh, as a Bhimtal 5 star hotel, combines luxury, expertise, and a stunning backdrop to create the perfect setting for your dream wedding. Make your special day truly extraordinary by choosing Bhimtal and Resorts by the Baagh as your destination wedding location, and let the beauty of this serene town elevate your wedding to new heights of romance and magic.
By: Resorts By The Baagh