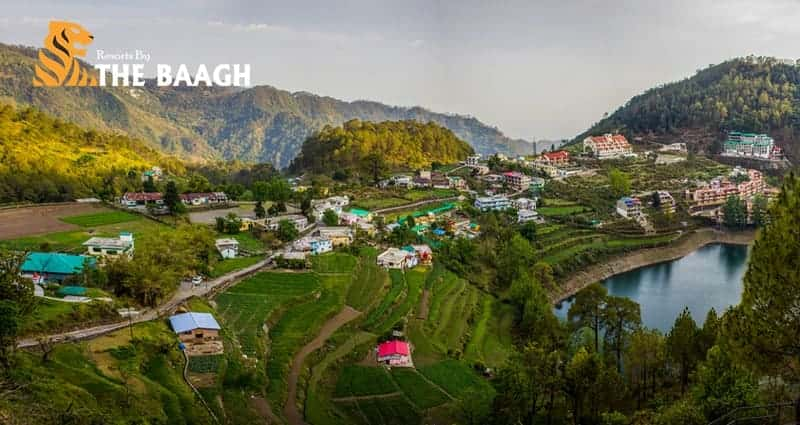 April, 10 ,2023
Delightful Uttarakhand Family Tour
A delightful experience awaits for you and your family in the picturesque valleys of Uttarakhand. Did you know that the beautiful 'Devbhoomi' is home to a bunch of enchanting and breathtaking destinations? From the pilgrim hubs of Haridwar and Rudraprayag to the magnificent lakes of Nainital and Bhimtal, Uttarakhand is undoubtedly the pride of our country. The mountain state features scenic travel destinations for adventure lovers, nature admirers, and leisure travellers. So, are you excited to plan your next venture in the idyllic lands of Uttarakhand? Well, choose a family tour package in Uttarakhand today and revel in the joys of a hassle-free getaway in one of the most beautiful states in India.
Wondering what are the best-selling holiday packages in Uttarakhand? Let's read:
Top favourite family tour packages in Uttarakhand
1. Nature's Haven in Nainital and Bhimtal
A packaged tour of the wondrous lake and hill towns of Bhimtal and Nainital is a soul-warming experience. Enjoy basking in the fresh mountain air as you lounge on the banks of the gorgeous lakes. What's more, gaze at the soaring mountains of the Kumaon, beautifully nestled at the foothills of the magnificent Himalayas.
Are you torn between Bhimtal tour packages and Nainital holiday packages? Little did you know that Bhimtal is a primitive and quaint town, well-known for its religious significance and unparalleled mountain views. The valley is named after Bhima and is popular for its mystical hill views, large stretches of greenery, and a resplendent lakeside. Why just Bhimtal? Nainital is no less a paradise for nature lovers. The gorgeous Naini Lake in the quaint town is a traveller's favourite. However, the beautiful town often witnesses a large number of tourists throughout the year. Hence, Nainital does become overly crowded.
In short, if you seek a vacation in solitude and amidst nature's wilderness, Bhimtal is a charming experience. However, if the hustle and bustle of crowds don't affect your travel mood, a vacation in Nainital is equally a joyous affair.
2. A rejuvenating experience in the woods
Tour packages in Uttarakhand are umpteen. And an adventurous escapade in the dense wilds of Jim Corbett is no short of an exhilarating experience. Enjoy lounging in the lush green arms of nature, exploring the diversity of wildlife and flora in the region. A 3-night and 4-day family tour package Uttarakhand, especially in Jim Corbett, is an incredible idea. Explore the nooks and crannies of the dense Kumaon forest and revel in the adventures of safari rides. What's more, enjoy birdwatching, trekking, river rafting, and innumerable other adventure gigs to make your holiday a riveting experience.
3. A timeless nature trip to Kausani
Did you know that Kausani was named the 'Switzerland of India' by Mahatma Gandhi? The picturesque hill station snuggled amidst the Himalayas is bestowed with beautiful stretches of flora and fauna. So, if your heart is craving a break from the monotony of urban lives, a short 3-day, 2-night retreat in Kausani is undoubtedly a breather.
The beautiful hamlet is easily accessible by road and rail. Vacation away in leisure or sightsee the nearest tourist spots like Ranikhet. Tour packages in Kausani promise a delightful escapade.
4. The magical Lansdowne tour package
Kiss goodbye to the hassles of life in a blissful Lansdowne holiday package. Rejuvenate your soul to the calmness of nature, the sweet chirping of birds, and the picturesque sights of lush green valleys in Lansdowne. Relive the charm of living in close quarters of nature and rejoicing in the fresh mountain air.
Do you stay in and around Delhi? If yes, you could always cruise the highways and treat your eyes to the panoramic vistas of snow-snuggled mountains. Tour around the quaint and historical landmarks in Lansdowne or satiate your taste buds with robust flavours of local cuisine; a family tour package in Lansdowne is a terrific idea.
5. An eloquent escapade to Mussoorie
Are you a hill station lover? The tranquil ridges of the Mussoorie hills are a true escape to the serene and bewildering heights of nature. Do you know what the Mussoorie tour packages include? Right from adventurous excursions to places such as Gun Hill, Kempty Falls, Lal Tibba, Mall Road, and more to a lazy and leisurely vacation in the lap of the breathtaking Kumaon mountains, a travel package to Mussoorie is a must on every traveller's list.
Looking at the Uttarakhand tour packages, are you truly spoilt for choice? Well, if solace and scenic nature views are what your heart seeks, a vacation in Bhimtal is undeniably right. Also, don't forget to check out opulent and start resorts in the quaint Kumaon valleys. One of the best in Bhimtal is Resorts By The Baagh.
By: Resorts by the Baagh