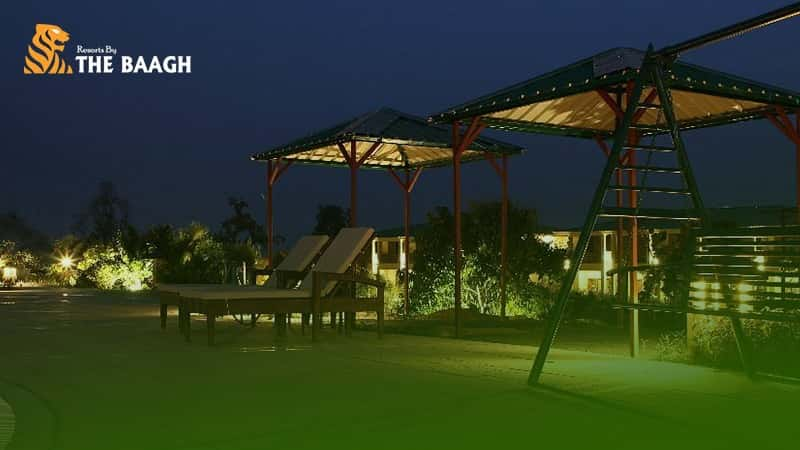 October, 17 ,2022
Create Beautiful Memories In The Lap Of Luxury And Nature in Jim Corbett
Jim Corbett has a total of 26 tourist attractions and places to visit. The oldest national park in India, Jim Corbett, is the crowning glory of the perched Kumaon landscapes. One of the finest attractions for travellers here is the thrill of spotting uncommon and exotic species in their natural habitat. Besides, the idea of unwinding and recuperating in the lush surroundings appeals greatly. Wondering if accommodation facilities in the wild are luxurious and first-class? Well, a favourite resort in Jim Corbett is Resorts By The Baagh. From adventure runs and nature excavations to weddings and grand soirees, the stunning surroundings of Jim Corbett serve as the perfect backdrop for pre-wedding shoots and more.
The places we suggest visiting in Jim Corbett are listed below:
This famous Shakti shrine is in Uttarakhand. Well-known as the Garjiya Devi Temple, it is a holy temple dedicated to Garjiya Devi, also the presiding deity of the temple.
This is one of the Corbett National Park's most popular safari zones, and is located 50 kilometres inside the park's dense forest.
Travel to the Bijrani Range, which is near Ramnagar and Amdanda Gate, if you wish to spot tigers on an adventurous venture. Bijrani Safari offers visitors a better chance of catching the rare sight of tigers.
Besides the famous safari zones, the Kumaon wilds feature various other attractions like Corbett Falls, the Corbett Museum, the Dangadi Gate, and others.
Feel comfort and luxury in the middle of nature!
Resorts By The Baagh, an upscale resort in Jim Corbett introduce a luxurious lodging option located in the heart of Uttarakhand's wild area. It is the perfect setting for a pleasant getaway in a world of opulence, comfort, and luxury. Have you been looking forward to embarking on a dreamy vacation? The location ticks all boxes. Equipped with modern facilities and amenities, the decor of the rooms here is enchanting too. Spacious restrooms with digital tiles, an indoor rainshower, wireless internet connection, coffee and tea maker, and multiple other convenient features enhance your stay. The rooms are hygienic, and they are made to offer the utmost in comfort and isolation. The room service is efficient and timely. Additionally, the hotel is well-known for its delectable food, particularly its mouthwatering Pan-Indian cuisine. When it comes to ensuring complete customer happiness, the location that is surrounded by lovely trees always sets the bar high.
In our resort, we provide a wide variety of rooms, such as spotted cat rooms, jungle cat rooms, Baagh presidential suites, leopard suites, and leopard cat rooms, that ensure a romantic retreat. Enjoy live bar-be-que stations amidst the tranquil and breathtaking landscapes.
Make your special day even more beautiful by booking a destination wedding in Jim Corbett
Nothing beats planning a destination wedding in Jim Corbett National Park for a nature lover.With more than a decade of experience planning destination weddings, our knowledgeable staff has the best planners to make your event even more outstanding. In accordance with your specifications, we arrange the best of services for a luxurious and pompous affair. We plan, execute, and stabilise all aspects of a wedding to ensure that your dream becomes a reality. Right from a pillarless banquet hall, an outdoor lawn,and decorations to lighting, large decorous rooms, and make-up artists, we do it all. A fantastic location for your Jim Corbett wedding, Resorts By The Baagh is a 5-star resort surrounded by natural beauty and lush greenery all around. It is a luxurious property with all the amenities that you desire.
Resorts By The Baagh never fails to impress its guests with modern and upscale rooms, an in-house restaurant serving vegetarian and non-vegetarian food, and an in-house bar. The alluring mountain ranges and natural backdrop make it an ideal location for capturing the most memorable moments of your special day.
Jim Corbett's pre-wedding shoot at Resort By The Baagh
Marriages in an ideal and picturesque setting are perfect. In order to give you a paradise-like backdrop for lifelong memories and the ideal beginning to your married life, we at Resorts By The Baagh believe in providing you with the perfect getaway. The area around Resorts By The Baagh is breathtaking. It is surrounded by the gorgeous and green Corbett National Park jungle, nestled on the banks of a cosy river.
Destination weddings at Jim Corbett reward you with a sense of royalty and the bliss of being at one with nature. It surely provides the ideal setting to start your life together.
Why just weddings? We are aware that pre-wedding shoots are not only a memorable occasion but also a memory that will live forever in your heart. We make sure your big day is beyond beautiful as you begin a new stage of life that fosters love and enhances the beauty of your blissful married life.
Every ceremony that is a part of a destination wedding at Resort By The Baagh, Jim Corbett, will be transformed into an everlasting snapshot of pleasure and joy in your life by our specialists at Resorts By The Baagh, Resort. We not only guarantee to make your wedding moment your best memory, but also gives you the warm hospitality that you will never forget. Organize your special day by making a reservation at Resorts By The Baagh.
By: Resorts by the Baagh