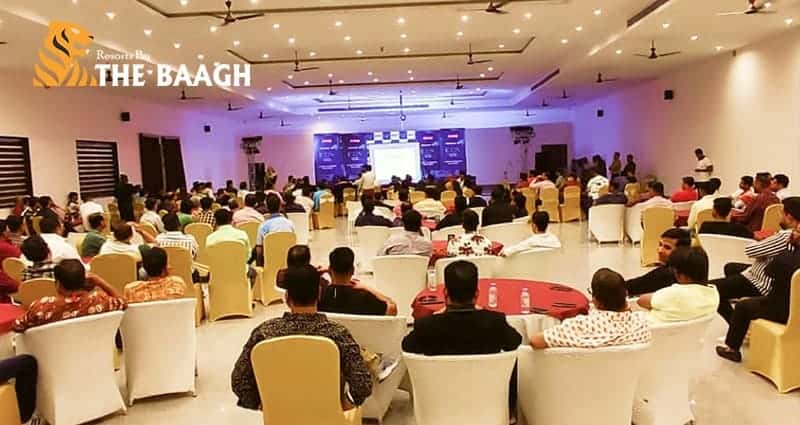 February, 20 ,2023
Corporate Tour Packages In Jim Corbett
Have you heard about corporate tour packages? Simply described as corporate travel packages, companies and businesses leverage travel as a team-building exercise to motivate employees in a fresh and reviving environment. So, are you eager to shortlist destinations for your corporate event? How about offsite corporate events in Corbett? The untamed wilderness and picturesque mountain views serve as an incredible destination for corporate gatherings and stay. What's more, Jim Corbett is one rare destination that sparks a feeling of adventure and joy in all and sundry. Hence, if your employees are brave adventure lovers or leisure vacationers, the destination hits the mark for all kinds of travellers.
Speaking of corporate tour packages in Jim Corbett, are you curious to shortlist resorts that fit your purpose? Don't worry! There are ample resorts in and around the dense wild lands of the oldest tiger conservation. However, a name that crops up as a popular pick is Resorts By The Baagh. Spanned across acres of verdant green terrains, the resort invites you to a world of opulence and luxury. Besides, the hospitality and amenities extended here are truly unparalleled. Let's quickly read about the resort and why it is a cut above the rest.
Resorts By The Baagh – Offsite corporate events in Corbett get a new and elegant address
The palatial and expansive 5-star resort is beautifully nestled in the Sitabani forest zone. Little did you know that the zone is quite popular among nature lovers and birdwatchers. Often described as a buffer zone, the chances of spotting endangered wildlife and, of course, the Royal Bengal tiger is certainly not bleak here. Moreover, it is the resort that makes all heads turn. Lavish and green, host your valuable employees and corporate associates in a premium property. Here's how Resorts By The Baagh is creating a name of its own:
1. Swish and cosy accommodation – A corporate getaway or a family vacation, the pleasures of hanging hats in modern and luxurious accommodations are unquestionably matchless. Resorts By The Baagh features beautifully designed rooms furnished with the latest-in-time and durable fixtures, state-of-the-art amenities like LED television, coffee corners, temperature control, and more. Thus, reward your people with the best possible comfort for a long day of tedious corporate affairs.
2. A well-equipped business centre – Corporate events are all about serious business activities. Hence, the resort provides an exceptionally spacious, tech-enabled business centre to help you wrap up your activities and events seamlessly.
3. Food and beverage – A social gathering or an offsite corporate event, a constant flow of food and beverages is necessary to keep up with uninterrupted meetings. At Resorts By The Baagh, the staff works round-the-clock to ensure that meetings are wrapped up with proficiency and no disturbances.
I addition to the above-mentioned features, one distinguishing aspect of the resort is the incredible picture-perfect hill views. Host your business affairs overlooking acres of green stretches and mist-clouded Himalayas. The resort is undeniably one of the finest resorts in Jim Corbett, offering a perfect corporate getaway.
Why must you opt for corporate tour packages in Jim Corbett?
Are you contemplating if corporate tour packages in Jim Corbett are a good idea or not? Well, it definitely is! Corporate trips allow employees to indulge in quality time, far away from the hustles and noise of everyday life. Did you know that companies and organisations use tours as an instrument to entertain and motivate employees? It works wonders in boosting the morale of working cogs and strengthens the bond between a close-knit team.
Do you wish to know more about the purpose of corporate tour packages? Let's keep reading:
1. Establish a culture for the company
A company or an organisation is not just known for the services they provide but the core values driving the business. Hence, arranging offsite corporate events in Corbett enables companies to engage the employees and showcase the values, identity, and principles of the organisation.
2. Outdoor corporate events reduce stress
Stats show that working tirelessly in the same place for days can wear down your brain and add to the stress and anxiety of overwhelming workloads. Organising an offbeat tour instead depicts a company's sense of care for its employees. Outdoor business events work like magic in reducing stress. Besides, corporate tours also spark renewed motivational energy and happy minds for greater productivity.
3. Helps employees with fresh new ideas
Do you often find your employees caught in a rut with no new ideas and no motivation? Guess what? Offsite corporate events in Corbett work the trick and inspire people to think of innovative and new ideas. What's more, a refreshing and beautiful ambience like Jim Corbett uplifts the state of mind of professionals and helps them perform better.
Thus, now that you know the perks of corporate tour packages in Jim Corbett, aren't you excited to map out your next getaway? Enquire at Resorts By The Baagh for a memorable and exciting stay.
By: Resorts by the Baagh