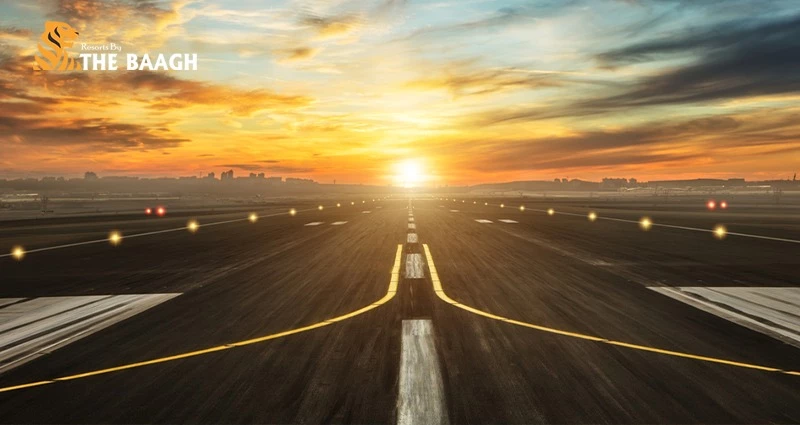 July, 04 ,2023
Bareilly Airport brings Jim Corbett, Nainital, Bhimtal closer to Bengaluru and Mumbai
We're all tired of the frantic city life somewhere! Nothing in the city provides respite from the rising pollution, popularity, workload, responsibility, and loudness. That is why we all want to organise an outstation trip to Bhimtal, Nainital, or Jim Corbett, where we may take a deep breath of fresh air and restore our souls. However, a lack of connectivity might make travelling difficult and lead to the cancellation of an ideal holiday plan. Especially the residents of Bengaluru and Mumbai!
But there is some good news! Bareilly, the dynamic city of Uttar Pradesh, has just seen a significant upgrade of the Airport, offering increased comfort and accessibility to visitors. The creation of Bareilly Airport, which is located near this thriving metropolis, has given up new opportunities for visiting Jim Corbett, Bhimtal, and Nainital. The best aspect about this airport is that it connects these wonderful areas with the major cities of Bengaluru and Mumbai. In this article, we will look at how Bareilly Airport can improve the traveller experience and facilitate seamless travel for both domestic and international visitors.
The Five Most Important Advantages of Bareilly Airport
Bareilly Airport: A Port of Call for Adventure:- The breathtaking landscapes of Jim Corbett National Park, Nainital, and Bhimtal, located in the heart of Uttarakhand, entice adventurers, environment lovers, and wildlife enthusiasts. With the establishment of Bareilly Airport, access to these lovely locations has become astonishingly simple. Travellers from Bengaluru and Mumbai may now begin on an amazing journey to discover Jim Corbett's deep woods, the placid beauty of Nainital's lakes, and the peaceful ambience of Bhimtal.
Accessible Routes and Time-Saving Advantages: Bareilly Airport is a vital transportation hub, allowing easy connectivity between these captivating sites and the booming metropolis of Bengaluru and Mumbai. Travellers may finally say goodbye to long, exhausting car trip to Nainital and difficult multi-modal travels. They can save time and energy by taking easy flights to their selected destinations. The shorter journey time allows visitors to devote more time to seeing Jim Corbett's wildlife, the splendour of Nainital, and the peace of Bhimtal.
Enhanced Tourism Potential: The opening of Bareilly Airport has opened up a plethora of potential for the region's tourism business. A greater number of people from Bengaluru and Mumbai are likely to visit Jim Corbett, Nainital, and Bhimtal due to improved accessibility and convenience. This flood of tourists will not only stimulate the local economy but will also help to preserve these natural treasures through sustainable tourism practices.
A Diverse Range of Experiences: As metropolitan towns, Bengaluru and Mumbai provide a bustling and contrasting cultural experience to the calm and picturesque settings of Jim Corbett, Nainital, and Bhimtal. Travellers may enjoy the best of both worlds thanks to the connection provided by Bareilly Airport. Before heading into Uttarakhand's serene wildness and beautiful landscapes, visitors may savour the urban lifestyle, gastronomic delicacies, and architectural marvels of Bengaluru and Mumbai.
Economic Expansion and Progress: The building of Bareilly Airport helps not only visitors but also plays an important role in supporting regional economic growth and development. The airport, directly and indirectly, generates work possibilities, so contributing to the livelihood of local populations. Furthermore, increasing tourism promotes numerous industries like hospitality, transport, and retail, helping the total economy of Bareilly and its surrounding areas.
Conclusion:
The opening of Bareilly Airport has surely brought Jim Corbett, Nainital, and Bhimtal closer to Bengaluru and Mumbai, improving tourism experiences and fostering economic growth. This enhanced connectedness has opened up a world of possibilities, allowing visitors to discover the mesmerising fauna, tranquil lakes, and stunning landscapes that these locations have to offer. Tourists may now start on exciting adventures with Bareilly Airport as the entrance, immersing themselves in the right combination of nature's richness, urban charm and a beautiful 5 star hotel in Bhimtal. So, pack your luggage, get on a plane, and book your stay at one of the top resorts in Uttarakhand. If you're wondering which one, it's definitely Resorts by the Baagh.
The gorgeous setting of the resort provides panoramic views of the towering mountains and the sparkling Bhimtal Lake, creating a lovely environment. Whether you choose to unwind by the infinity pool, dine on delectable gourmet cuisine at the multi-cuisine restaurant, or go on an adventure with the various outdoor activities available, Resorts By The Baagh promises an unparalleled blend of luxury and natural beauty, making it the dreamy destination for a truly unforgettable getaway.
By: Resorts by the Baagh